Back when we first released the "Disavow Links" feature in Ahrefs, we only allowed you to create a single disavow file that would equally affect all websites you have in your Dashboard.
This was obviously a wrong approach and quite shortly many of you guys asked us for an option to create a separate disavow file for each site.
And last week we have finally did that!
Separate Disavow File For Every Site In Ahrefs Dashboard
We absolutely enjoy it when a new feature that we add is being noticed by our customers before the official announcement.
This means that we did something that people will actually use.
So here's a tweet we saw the other day:
Well done to @ahrefs for now allowing us to upload a separate disavow files for each domain. Great feature now working as it should!!

— Rebootonline (@Rebootonline) November 14, 2015
Yep, from now on you can have a separate disavow file for each of the sites in your Dashboard: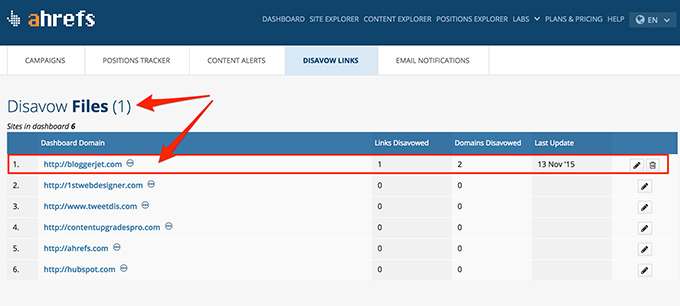 As you can see on the screenshot above, I have only a single disavow file for my personal blog "bloggerjet.com".
And once I click on a small "pencil" button in the right column, I see the actual list of domains/URLs that are present in this disavow file: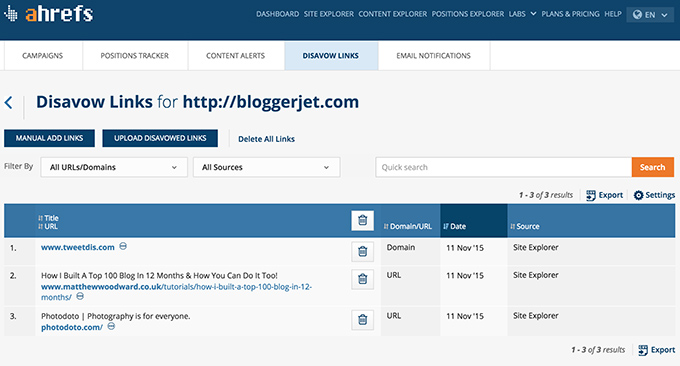 (Actually this is a "dummy" list on my screenshot, because I didn't see any bad links pointing to my blog.)
So that's pretty much it!
Hope you like this upgrade of your Disavow Tool and as always — feel free to reach out to us with any other feature requests (or pretty much any feedback) that you may have.