Psssst.
Want in on a little SEO secret?
A secret known only to a handful of SEOs…
A secret that earns marketers like Neil Patel hundreds of thousands of dollars every year…
Ready?
Here it goes: you can get backlinks from top-tier websites for just $2 per root domain.
Yup, that's right: just $2 per link.
No, this isn't some super shady hack or 'private link network'.
It's a tactic as old as SEO and link building itself: building tools.
You've seen them all over the internet. Some help you analyze backlinks, some give your site a SEO score, and some strip unnecessary tags from your HTML.
They can be simple, or they can be complex. Either way, they remain among the most powerful ways to build authority.
And today, I'm going to show you how you can use them to get tons of backlinks.
Here's what you'll learn in this post:
Why tools > blog content
How one site got 2,460 backlinks from a single tool
How to build tools (even if you don't have money or coding chops)
Lessons from four tools that got > 2,000 backlinks without spending a dime on development
Why Tools Trump Blog Content for Backlinks
Have you ever felt like you're stuck in an unending waking nightmare?
You know, one where you keep on writing blog post after blog post in the hope of getting one or two backlinks?
I know I have. Even with all the promotion in the world, I just can't seem to get more than a handful of links per post.
It's not that the quality of my content isn't good, or my outreach game isn't strong. It's just that there's just too much darn content online.
Over 52 million blog posts are created on WordPress alone every month. Throw in all the other CMSes and platforms, and you're looking at over 100 million blog posts produced each month.
With numbers this big, standing out with content is hard.
Standing out with tools, on the other hand, is as easy as apple pie.
Here are four reasons why tools > content:
1. The barrier to entry is high
Anyone with a domain and a WordPress installation can write a blog post. If they follow the guidelines in this post, they might even do a good job at it.
But making tools is a different ballgame altogether.
You'll have to research the market for the tool, sketch a UI, write the code, get a design…
For your average blogger/marketer, this is just too much work. Most don't have the skills for it, even fewer have the experience to pull it off.
Which means…
2. There is lower competition
Think of the last time you received an email from an SEO asking for a backlink to a blog post.
Now think of the last time you got the same email for a tool.
It's not even close, is it?
Because tools are harder to make, there are few of them to go around. Your blog posts compete with thousands of others. But your tools? The competition is sometimes in the single digits.
3. Tools attract more links naturally
Imagine that you're writing a post about scheduling content on social media.
Which existing content will you refer to – this Mashable article from 2010, this guide from LifeHack, or the hundreds of other posts that talk about the same thing?

On the other hand, if you had to make a list of tools for scheduling social media content, you have just a handful of choices – Buffer, HootSuite, Edgar, etc.
This is the same for most topics – there are hundreds of keyword-focused blog posts, but only a limited number of tools.
Naturally, this means that tools gets more links.
4. Tools are perceived to deliver more value
Don't take this from me – take this from Neil Patel himself:

There's a clear reason why this happens: a blog post tells you how to do something. A tool actually does it for you.
And as Stephen King says, it's always better to show than to tell.
Since the tool actually accomplishes something, users perceive it to have a higher value than content.

Content vs. Tools: A Case Study
If you're still unsure whether tools can really outshine content for getting backlinks, I've got just the right case study for you.
The tool in question is CoSchedule's amazing Headline Analyzer.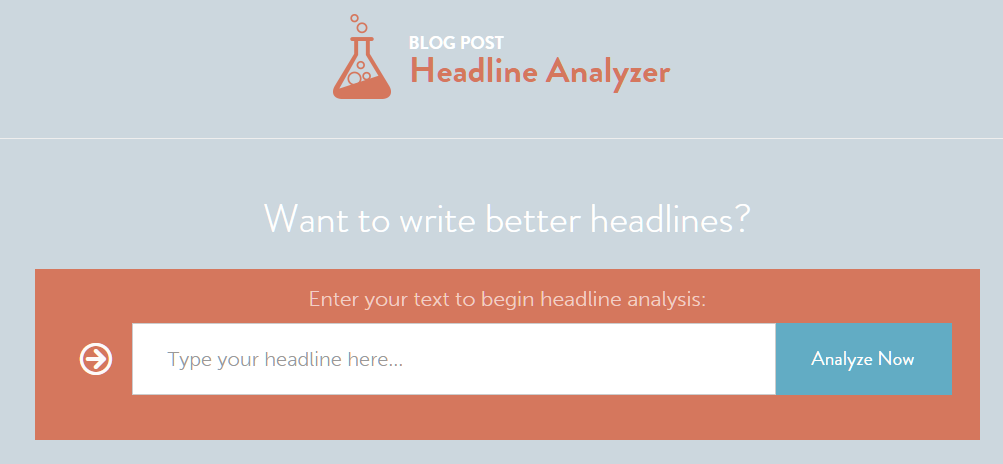 Coincidentally, CoSchedule also has an incredible blog – arguably, among the best in its category.
This makes it the perfect candidate for comparing content against tools for backlinks.
Let's take a look at the most popular content from CoSchedule's blog with the Ahrefs content explorer: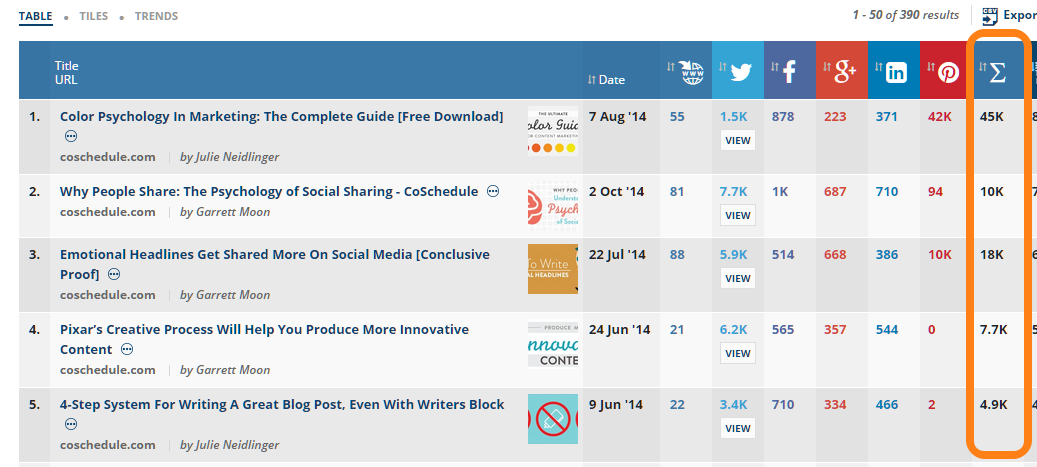 The top 5 content pieces have 85.6k shares, so clearly, people like it.
Now let's check the number of backlinks for the top post with Ahrefs Site Explorer:

Doing this for all the top five posts, we get the following:
| Post | Backlinks | Referring Domains |
| --- | --- | --- |
| Color Psychology in Marketing: The Complete Guide | 369 | 67 |
| Why People Share? The Psychology of Social Sharing | 446 | 105 |
| Proof that Emotional Headlines get More Shares on Social Media | 745 | 104 |
| How Pixar's Content Will Help You Produce More Innovative Content | 185 | 23 |
| 4-Step System for Writing a Great Blog Post, Even if You Have Writers Block | 145 | 29 |
| Total | 1890 | 328 |
Now let's take a look at how the Headline Analyzer performed as far as backlinks go:So the five posts together earned about 1890 backlinks from 328 referring domains. That's 378 backlinks/post on average.

2,460 backlinks from 571 referring domains.
It's not even a competition. A single tool earned 570 more backlinks than five heavily shared blog posts.
This just about sums up why Tools > Content.

"But Tools are Hard to Make!"
Now I know what you're thinking: "tools are amazing, but they're also soooooo hard to make".
Not always.
See, when most marketers think of tools, they think of InfusionSoft or KISSMetrics or Ahrefs — complex solutions developed over hundreds of thousands of man hours.
But that's not building a tool – that's building a company.
We don't want to build a separate business. We just want to get backlinks.
The tools you'll make for this will be smaller and simpler. They won't solve big problems like marketing automation. Instead, they'll solve a small, niche problem.
Think of them as the long-tail of software.
And it is surprisingly easy and affordable to build such tools.
Since I believe in showing, not telling, I interviewed a handful of entrepreneurs who offer tools on their sites. These tools were made either to solve a problem, or capture leads.
I just had one criteria for choosing them: they had to be on the same domain as the site.
Thus, www.site.com/tool-url qualifies. www.tool-url.com does not. This way, all the link juice from the tool passes onto the main site.
I ended up with four tools, each of which performs a different role for the site owners.
Let's look at them in more detail below.


Ahrefs URL Rating: 18
Backlinks: 876
Referring domains: 22
Empire Flippers is a marketplace for premium, vetted websites. Many people who land on the site are website owners looking to sell off their properties. Naturally, one of their biggest questions is "what is my website worth?"
Rather than write a 3,000 word blog post no one would read, the folks at Empire Flippers decided to create an automated tool to answer this question.
And thus the birth of the EF Website Valuation Tool.
This tool is extremely simple to use. Just plug in your site URL and enter your traffic/revenue figures: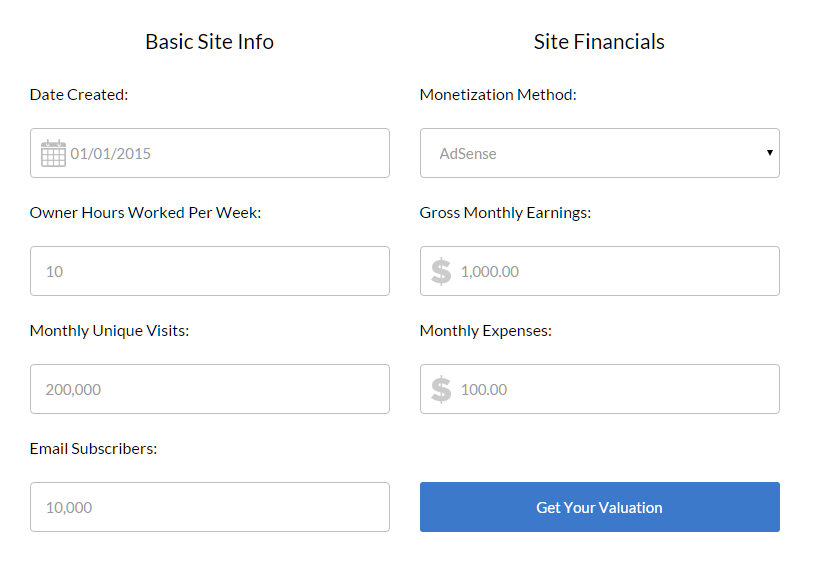 Add your email address…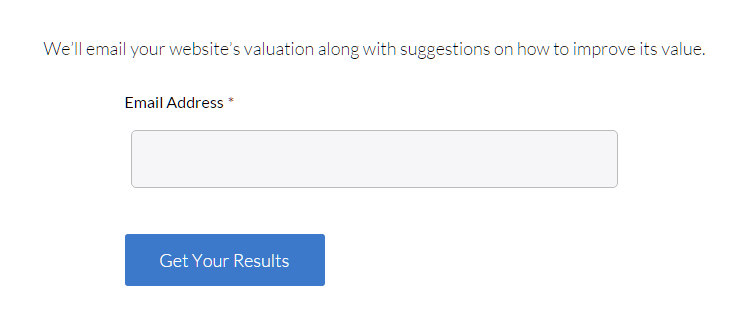 And you'll get a detailed valuation report straight in your inbox: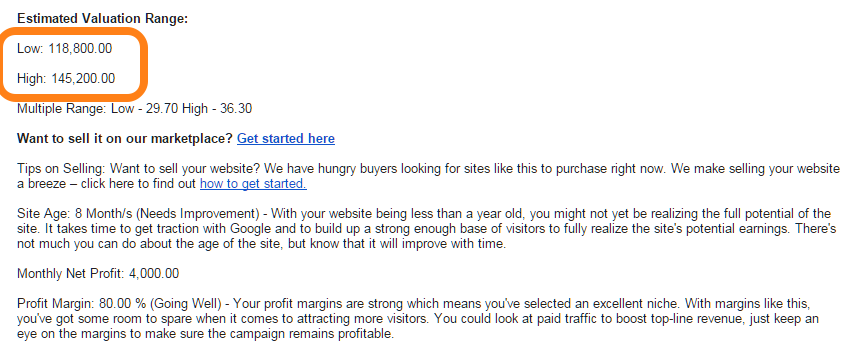 Since they're nice nice, they also give you suggestions on how to make more money from the website.
At the very end of this super useful email, there's a nice plug for the Empire Flippers' marketplace:

The tool works brilliantly well — it gives website owners a valuation, and EF, a valuable lead.
So what does it take to put together a tool like this?
To find out, I spoke to Justin Cooke, co-founder of Empire Flippers.
How Empire Flippers Developed the Website Valuation Tool
Empire Flippers has a pretty good idea of what factors influence a site's final price thanks to all the data from its platform.
Before building the tool, the EF team would plug this data into a spreadsheet to get a price estimate. This worked well enough for internal use, but Justin realized that perhaps others could benefit from it as well.
This was the birth of the valuation tool.
As Justin says:
"We'd already worked out the math and had tested it on around 100 of our previous sales to make sure the valuations held true."
Armed with the data, Justin used internal and external resources to build the actual tool:
"We ended up using our in-house team to build it, but had our (contracted) developer and designer clean it up a bit".
Marketing the tool
Empire Flippers has a pretty well-established presence in the marketing community. Its podcast averages 15k downloads each month, and the site itself gets some 40,000 visitors each month. They also have a strong email list (20k+ subscribers).
Marketing the tool, thus, was simply a matter of advertising it to its existing audience.
So they put it up on their homepage:

And it's pinned right at the top of their Twitter feed: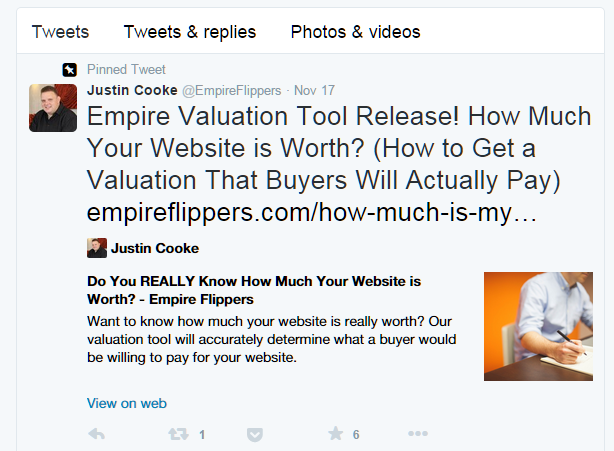 The cost
The big question: how much did all this cost?
Here's what Justin has to say:
"I'd say we only spent less than $2K on the tool, but probably put in 120–150 hours into building it out and testing".
The results
This tool was never about backlinks; it was about leads. And on that front, it performs spectacularly.
Justin:
"Aside from us actually using this tool to price, list, and sell websites internally, it's primarily a lead-gen tool to help us on the supply side. (Sellers) We're currently driving quite a bit of Facebook traffic to the tool, spending around $4K per month. We convert at around $4 — $6 per submission, depending on the week."
The takeaway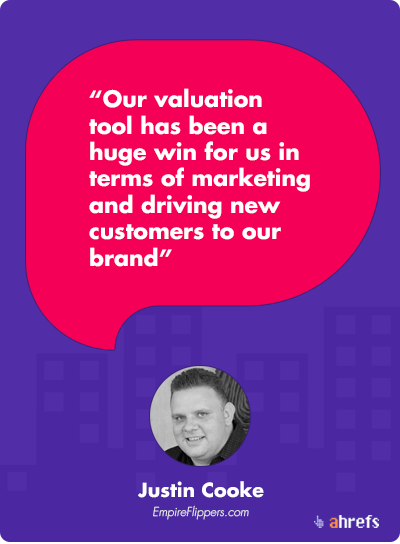 I asked Justin if the tool was worth his time and if he would ever invest in something like this again.
Here's what he had to say:
"Our valuation tool has been a huge win for us in terms of marketing and driving new customers to our brand. Aside from that, it provides us IP and acts as a differentiation between us and our competitors. We have plans for more tools and web apps in the future, for sure."
I'll take that as an emphatic yes!

Tool Study #2: Getting Backlinks (and Helping SEOs) with the Outdated Content Finder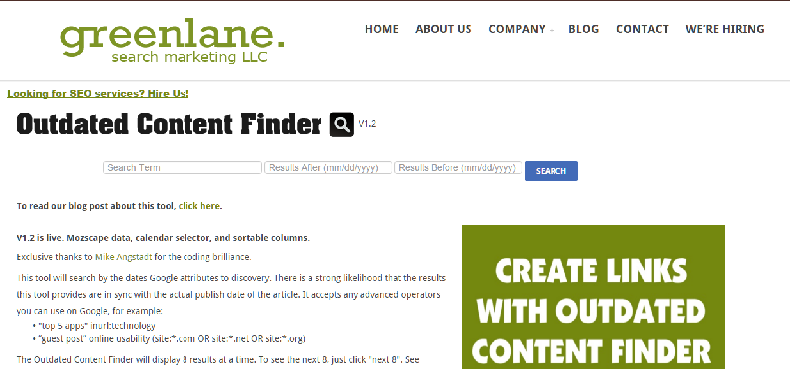 Ahrefs URL rating: 32
Backlinks: 246
Referring domains: 84
You know what's the greatest link building strategy in the world?
Helping others.
This is exactly what Bill Sebald of GreenlaneSEO, a Philadelphia based SEO company, had in mind when he built the Outdated Content Finder. This tool helps SEOs find outdated content, then reach out to webmasters with updated information.
It's the perfect example of a tool that gets a ton of backlinks while also adding massive value.
Here's how it works: plug in a search term (say 'productivity apps') and select a before/after date.

Hit 'Search' and Outdated Content Finder will find content published within the time period.

If any of this content is outdated, you can email the webmaster/editor with updated information.
For example, when I searched for 'productivity apps', I found a post on iPad productivity apps on HowStuffWorks.com (Alexa: ~1600).

One of the apps mentioned in the post was ShoppingList. This tool hasn't been updated since November 2013.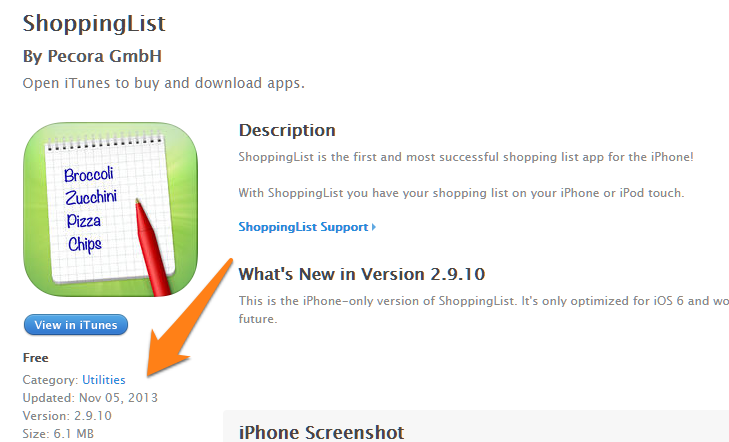 If you were doing SEO for a shopping app, there's a good chance the editors at HowStuffWorks would be interested in updating their post with a link to a fresher app.
It's the broken link building technique, but with a powerful twist. You can read more about it here.
Since I loved this tool so much, I got together with Bill to figure out how he made and marketed it.
How GreenlaneSEO Developed the Outdated Content Finder
If you've ever dabbled in SEO, you probably know that broken link building is a great concept in theory, not quite so in practice. Most outdated resources have either been abandoned, or are run by webmasters who either don't care, or can't be contacted.
This gave Bill the idea for the tool:
"To be candid, I thought of it as more of a companion asset to a post I wrote about the tactic I'd been using to get some low-hanging links. It was a slight twist on broken link building, where instead of helping webmasters see their link was broken, I was showing them where their linked resource was simply outdated"
Marketing the tool
Bill already has a large network of SEOs — the tool's target audience (7600+ followers on Twitter). All it took was tweeting about it a few times to get it noticed.
"I did my normal marketing through Twitter, to get the word out (about 5 times throughout 3 days). Because I have a strong network of SEOs as my Twitter friends, I had my target market already connected. Since I knew I made something that was useful, there wasn't much of a push needed. It started getting mentions all over the place (and still does) even though the tool is very simple and about 2.5 years old"
The cost
Bill worked closely with Philadelphia based developer and SEO, Mike Angstadt, to develop the tool. Between ideation and launch, it took Mike less than 24 hours to develop, test and release a prototype.
The total costs? $0.
As Bill says:
"There was no cost for this, as it was an experimental project between me and Mike Angstadt. I pitched the idea to him and within about 24 hours he had a working prototype"
Even if you were to outsource it, a developer should be able to cobble together something similar for a couple of hundred dollars, or less.
The results
So was the tool worth it?
Here's what Bill has to say:
"I'm very happy with the results. It was a simple idea built off the back of an established idea, with a simple execution. I targeted the right audience and it cut through better than I ever expected."
Even if you assume a development + marketing cost of $500, you've got 240 odd links from 84 domains. This includes links from sites like Portent, SearchEngineLand and VerticalResponse. All at just over $2/link.
But look past the backlinks and consider the impact the tool had on the GreelaneSEO brand. You know you've won when you get tweets like this:
Outdated Content Finder — great tool for "broken" link building w/ outdated content http://t.co/tRJYeploDy Nice job from @billsebald

— Ross Hudgens (@RossHudgens) June 5, 2013
Oudated Content Finder Excellent tool to find outdated content for your #blog & update it with new fresh content #SEO http://t.co/8kd0as6j0u

— Martijn van Dooren (@doorenio) September 20, 2013
if you haven't already done it, then do it! http://t.co/DnnBnqNiC5 Outdated Content Finder by the awesome @billsebald

— barrie moran (@barriemoran) July 12, 2013
The takeaway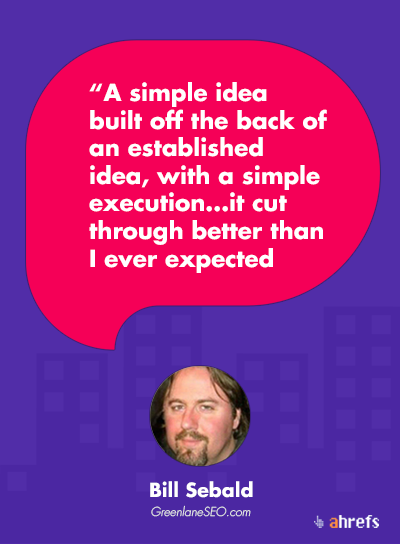 The Outdated Content Finder is neither complicated nor is it technically elaborate. But it solves a problem and it saves SEOs tons of time.
If you can consistently do that, you'll not only earn backlinks, but also grow your brand.
As for GreenlaneSEO, they're pretty committed to building more tools for clients. As Bill says:
"We have a host of tools we'd like to build (and are working on some) but we've been more focused on helping our clients achieve the same types of results."

Tool Case Study #3: Pixel Width Checker - How to Get 74 Backlinks with 2 Hours of Work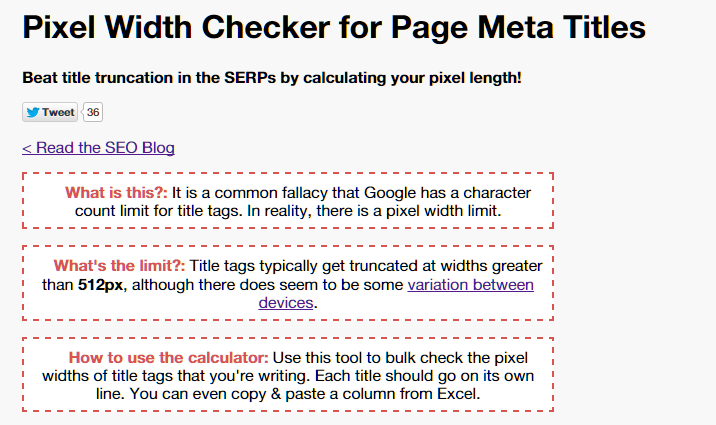 Ahrefs URL rating: 18
Backlinks: 74
Referring Domains: 14
If you're an experienced SEO, you're probably used to counting the number of characters in your title tag to make sure it doesn't get truncated.
You've probably seen advice from experts as well on the maximum number of characters you should have in the title tag.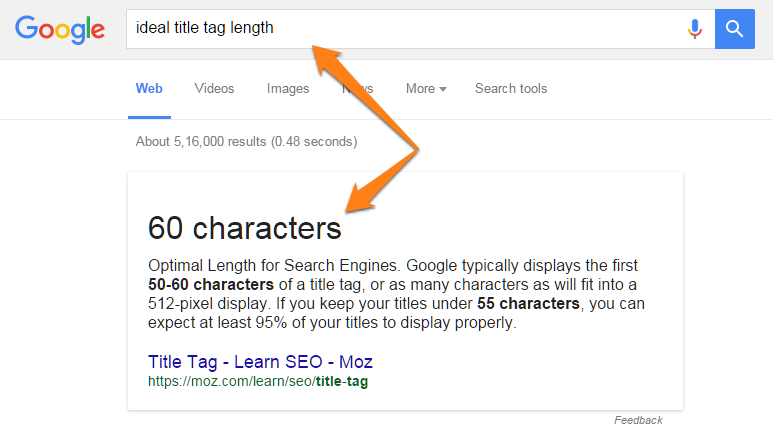 Except that in truth, Google doesn't really care about the number of characters at all.
Instead, it counts the total pixel width of the title to determine what gets shown, what gets truncated. This limit varies a lot, but usually falls between 442px to 552px.
But how do you actually figure out the pixel length of your title?
Enter: the Pixel Width Checker from Paul Shapiro of SearchWilderness.com.
This super simple tool makes it dead easy to check the pixel width of your page titles in bulk. Just enter your titles in the box and hit the 'Yo, Get Pixel Width' button.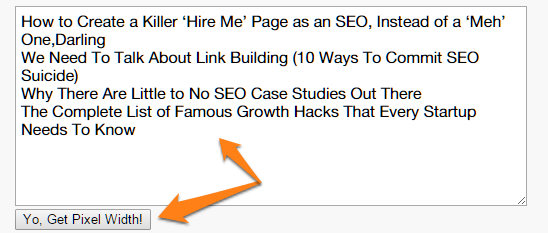 You'll see a table with your titles and their pixel widths:
And that's it. There are no other bells, no whistles. A super simple tool that saves you tons of time.
To figure out how Paul made this tool, I had a quick chat with him.
The Pixel Width Checker Development Process
As with most great tools, this one, too, was born out of a necessity.
Paul says:
"I actually made the tool to solve a business need. I had a client that was very concerned about title tag truncation, so we had to get to right."
Paul hired a contractor to get it right, but there was no easy way to do bulk checking
"I was working with a contractor to get some of the work done and there wasn't an easy way for me to help him craft title tags according to a pixel limit that was up-to-date, allowed for bulk checking, and could be used as he was writing them."
So he built the tool himself to solve this problem. The backlinks were just the cherry on top.
Marketing the tool
The great thing about tools is that you don't have to promote them a lot. If they actually solve a problem, your users will promote them for you.
It was the same with the Pixel Width Checker.
"I didn't really market the tool all too much. I had planned on doing a write-up on my personal blog, but I had shared it around in a private chat room and it caught the eyes of Ahrefs, and they asked me to write a post. So I wrote one and put it up on the Ahrefs blog. I promoted that around a bit."
Here's the Ahrefs post in question btw. It's a great read if you want to learn more about the technicalities of the pixel width limit.
The cost
"It took about an hour to make and maybe an hour test and refine. So, I'd say time wise, the cost was fairly low"
The results
Two hours and 74 backlinks from 14 referring domains. Plus a mention on Ahrefs blog, and the goodwill of SEOs everywhere.
Worth it? You bet!
The takeaway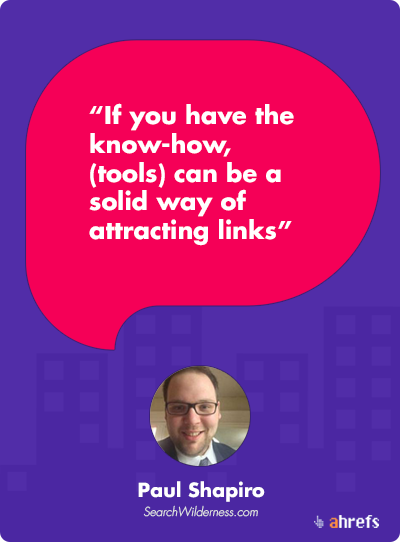 Here's what Paul has to say:
"If you're creating tool internally and it helps your business, then the cost of creating them is low"
Basically, if you can solve a problem for cheap, go ahead and make your tools. Don't fret about the backlinks — they'll come in due time.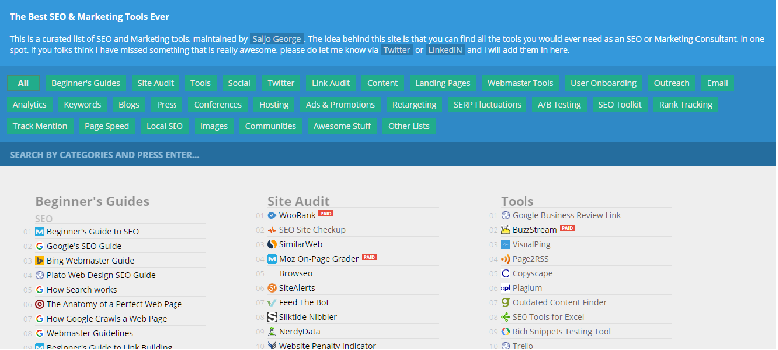 Ahrefs URL rating: 30
Backlinks: 868
Referring domains: 80
If you've read so far, you probably think that a good tool has to solve a technical problem or pull off some coding wizardry.
But it doesn't have to be that way. In fact, a tool can be anything — a resource, a directory, or any web page that actually helps people.
For my last example, I wanted to mention a fantastic resource built by Melbourne based SEO consultant Sajio George.
The 'tool' in question is actually just a single page filled with useful links to SEO and marketing tools. There is no coding magic, no 5,000 word article, no slideshows — just a well-compiled list of stuff marketers might use.
It's super simple, and it has earned backlinks from sites like Buffer, Monster.com and Business2Community.
I sat down with Sajio to figure out the inspiration and process for developing this page.
The tool development process
Looking at the page, you'd probably think you need at least some solid solid HTML, CSS and JavaScript chops to pull it off.
Right?
Not quite.
Sajio:
"In terms of development I used Dominik Serafin's initial version of enboard.co. All I did was customize that, would have taken me a weekend or so. I would say about 5 — 6 hrs to get the initial version up and running"
Here's what an Enboard.co page looks like: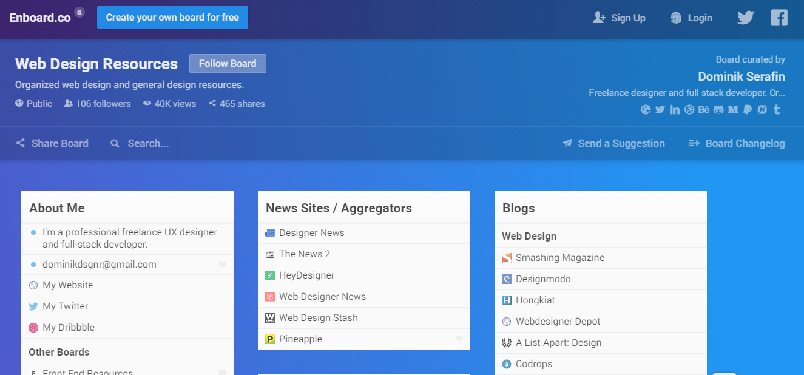 Instead of building something from scratch, Sajio just improved what already existed and saved himself hours of effort.
That's just plain smart.
Marketing the tool
"I haven't gone out of my way to actively promote it. I usually mention it in my talks, keep an eye on people mentioning it via mention.net and suggest it to people starting off in marketing/SEO on various communities."
So zero active marketing. This seems to be a recurring theme in our list.
The cost
Sajio built this himself, so it didn't exactly cost him anything except time. And he estimates that he didn't spend more than 5–6 hours on it over the weekend, making it essentially 'free'.
The results
No promotion, no development cost…how good could the results possibly be?
This good:

On social media:

And #1 in the SERPs:
For 5–6 hours of effort, I'd say this is beyond extraordinary.
The takeaway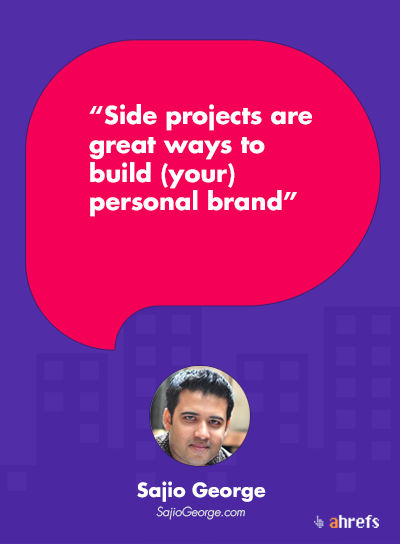 You don't always have to create a 'tool' to build backlinks. Any resource that actually helps people will win you lots of love.
These resources don't have to be expensive to create either. You can often use existing tools and technologies to make such resources, just as Sajio did.

Bringing it All Together: 3 Things You Can Learn from 'Tool Marketing'
This has been a long post and I'm sure you must be itching to try out some of these ideas. But before you start, here are a few key takeaways from this post.
But first, a recap of the results:
| Tool | Backlinks | Referring Domains | Development Cost | Cost/Link |
| --- | --- | --- | --- | --- |
| Website Valuation Tool | 876 | 22 | $2000 | $2.83/link |
| Outdated Content Finder | 246 | 84 | FREE | $0 |
| Pixel Width Checker | 74 | 14 | FREE | $0 |
| Best SEO & Marketing Tools | 868 | 80 | FREE | $0 |
| Total | 2,064 | 200 | $2000 | $0.96/link |
1. Find a problem in your industry, solve it
Whether it's finding outdated content or calculating the pixel width of a title, most successful tools have one thing in common: they solve a niche problem.
Don't build anything elaborate or try to solve big problems. You're not building the next HubSpot; you're just helping professionals do their job better.
Remember this and you'll come up with tons of tool ideas you can build over a weekend.
2. Focus on giving value, not getting backlinks
While I've focused largely on how tools can help you get backlinks, that should never be your goal starting out.
Sure, links are nice, but your focus should always be to give value. Do enough of that and the links will come.
Ali Mese, who wrote a great post recently on side project marketing, seems to think so too:
@puranjaycom not a big fan of SEO. I would much rather focus on value creation and the links will follow?

— Ali Mese (@meseali) October 14, 2015
3. Use existing resources as much as possible
Most marketers reading this will just throw up their hands and say "but I can't code!".
Dive a bit deeper and you'll realize that most tool ideas you'll come up with don't really need any coding skills.
Want to make a directory like Sajio? Just use Enboard.co. Or if that doesn't work, just use a WordPress theme with some CSS customization.
Want to scrape data? Skip the programming and use a tool like Import.io or Kimono instead.
You get the idea.
Even if you have to do coding, you'll find that hiring a contractor isn't as expensive as you think.
After all, you're building a two-step tool, not the next Facebook.
So what do you think? Are tools really worth the effort? And do you have any other examples of great tools that pull massive backlinks and traffic? Leave a comment below and let me know!