I'm sure that if you've ever done keyword research, you used Google Trends to check the interest in a given keyword. But even the SEO experts often don't utilize the full potential of this amazing tool.
That is why we decided to write an article about Google Trends. In this post you will find some cool overlooked features for keyword research and сontent marketing in general.
Google Trends data explained
When I started off this article, I realized there is a sort of confusion about Google Trends data across the internet. Many people think that the trend curve is the direct representation of the query's search volume over time (like the one you can see in Google Keyword Planner tool).
That's not exactly how it works…
Let me show you the trends graphs for the keyword "flowers" in Google Trends and GKP tool: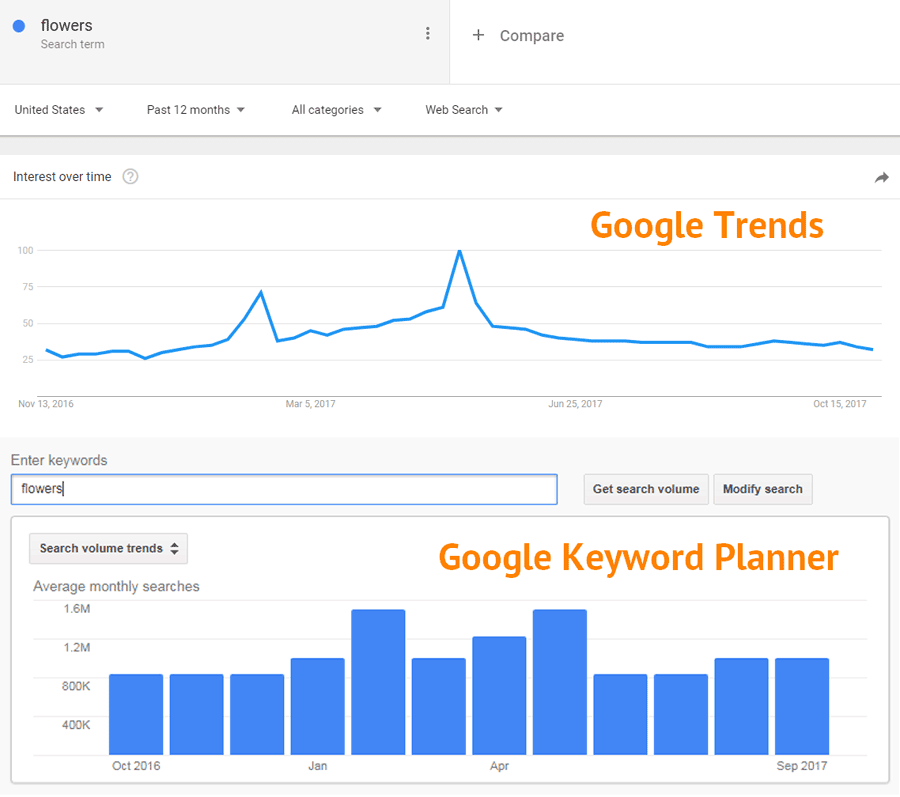 As you can see, they look quite similar but apparently aren't twins.
Google Trends is all based on the relative popularity of a search query. Here's the explanation from Google Trends Help Center:
Trends adjusts search data to make comparisons between terms easier.

Each data point is divided by the total searches of the geography and time range it represents, to compare relative popularity.
In other words, relative popularity is the ratio of a query's search volume to the sum of the search volumes of all possible queries.
The resulting numbers are then scaled on a range of 0 to 100 based on a topic's proportion to all searches on all topics.
Trends eliminates repeated searches from the same person over a short period of time to give you a better picture. And it is important to note that Trends only shows data for popular terms (low volume appears as 0).
Here's the graph Google Trends will show you for a query "Facebook" for the past 12 months in the US region: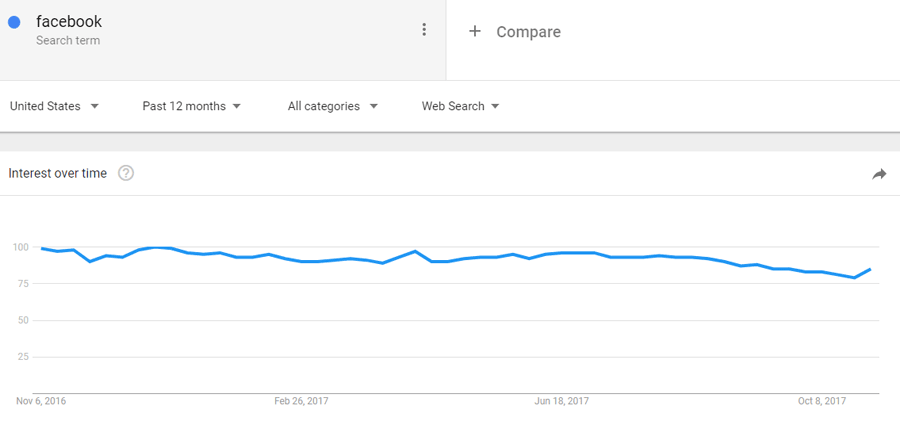 To demonstrate you how Google Trends builds its "Interest over time" graph, let's pretend I have the same data Google has (I don't really have it unfortunately).
The numbers I will use below are by no means accurate. They are just an assumption to demonstrate you how things work.
Assumption 1: the total monthly number of all Google searches in the US is around 10 Billion (Source)
Assumption 2: the search volume for the query Facebook in the US is 83 Million (according to Ahrefs Keywords Explorer)
Here's the table I made for this simulation:

To build a graph the way Google Trends does, you need to take the following steps:
Calculate relative popularity as a ratio of query's search volume to the total number of searches.
Scale these values proportionally so that the maximum value is 100.
Put the dots on the graph.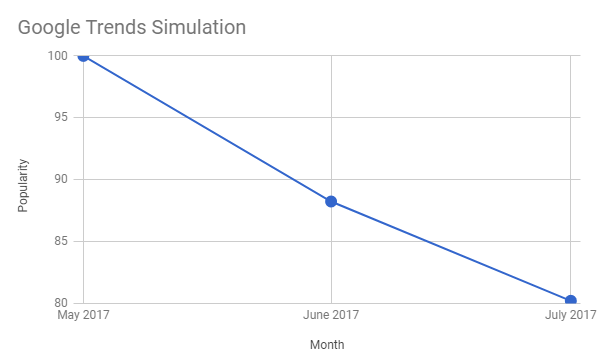 This example gives us two important takeaways:
Takeaway 1: Search term's popularity changes when the query's search volume changes (see May 2017 — June 2017)
Takeaway 2: Search term's popularity will also change if the total number of searches changes, even if the query's search volume is constant (see June 2017 — July 2017 in my example above).
Now you see that popularity used in Google Trends does not always correlate with query's search volume. But in most cases, it does.
For the keyword "Star wars," Google Trends' popularity and search volume trend from Ahrefs Keywords Explorer have the same peak for December 2015.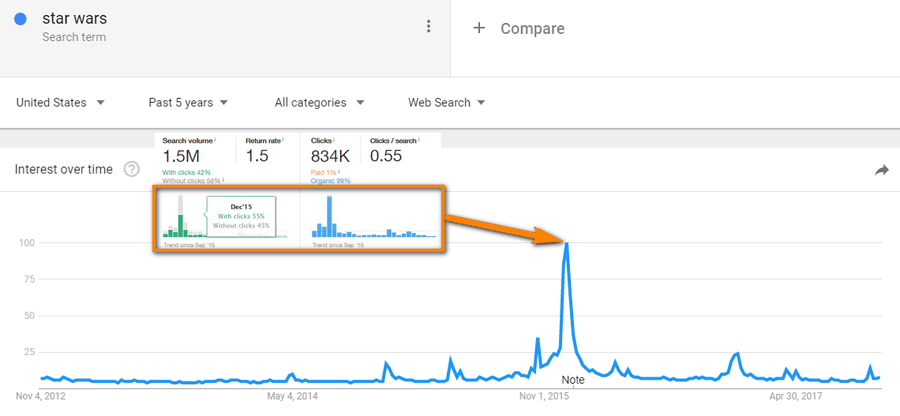 Now let me show you how you can (and should) use Google Trends in your online marketing activities and during keyword research in particular.
Analyzing the search trends
That's the most direct application of Google Trends tool, so I will just show you a few examples.
You probably realize that search volumes for some keywords are affected by seasonality. Have a look at the trend for the keyword "umbrella" in the USA:

And here's the same trend in Australia:

You can see that the query "umbrella" is the most popular in the USA in June while in Australia the peak falls on December. These are the months when the rainy season begins in these countries and people realize they don't want to get wet.
So if your business is season-dependent, you can easily estimate its peaks and bottoms by analyzing the relevant search queries in Google Trends.
Besides this analysis will help you pick a good topic for your next content piece. You can see if the interest in it is rising or falling.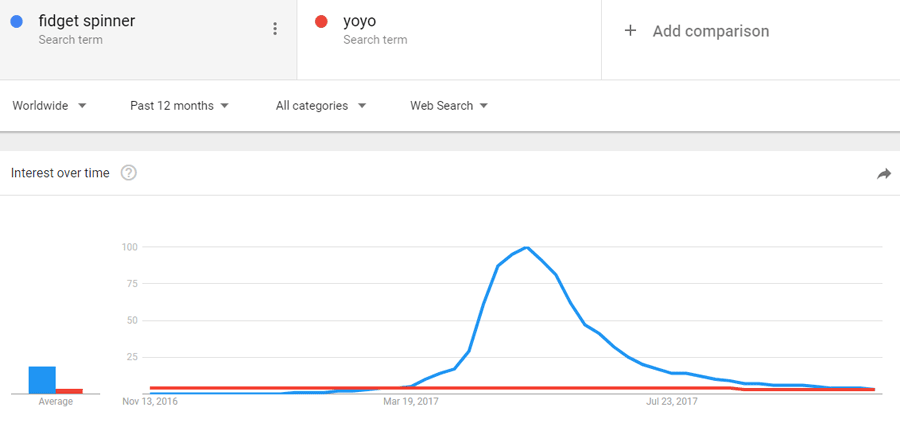 The fidget spinners, for example, are fading away while the interest in an old-school yoyo (I love yoyos) is steady.
See what's trending right now
If you want to keep your finger on the pulse of trending stories, news (and thus searches), you should look at the Trending Searches in a country you're targeting.
Trending Searches of Google Trends shows search queries that jumped significantly in traffic among all searches over the past 24 hours in a given location and updates hourly. Actually, it shows you what people are most interested in right now.
If you're blogging about TV series and movies, today it's time to write about the Stranger Things Season 2 premiere.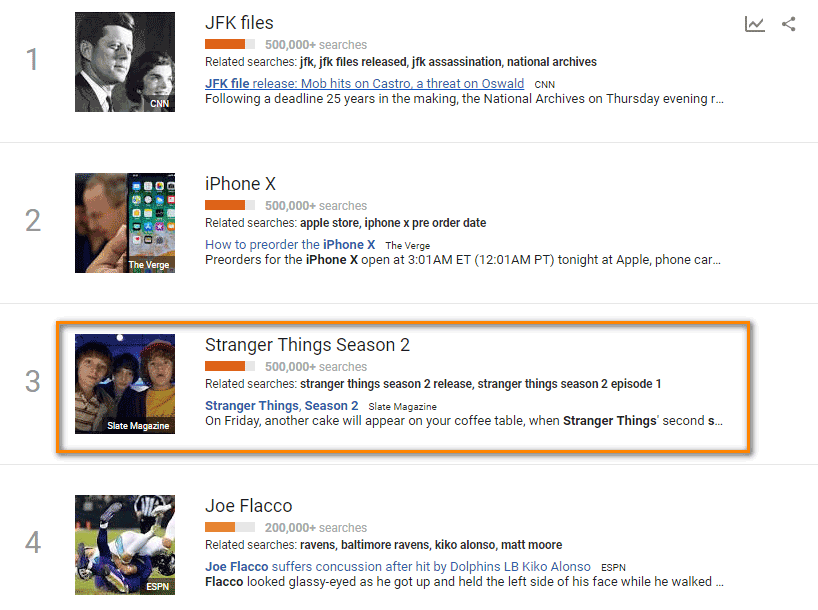 You can take the page suggested in Trending Searches, run it through Ahrefs Site Explorer and see its organic keywords.

Although the page went live just a few hours ago, Ahrefs has already picked up a few keywords that it ranks for.
Find absolutely new keyword ideas and related topics
Google Trends can show you the queries people also search for when they search for your term.
That is an amazing opportunity to find more keywords you might not have been thinking of before. Besides, you will better understand the needs of your potential customer and his "search journey."
Here's an example. When people are searching for "Sneakers" on Google, turns out most of them will also search for Nike and Adidas.
There are two options available for related queries: "Top" and "Rising."
You can take the queries suggested by Google Trends and use them as seed keywords in a Keyword Generator inside Ahrefs Keywords Explorer to get even more keyword ideas.
There you can apply search filters for Search Volume and Keyword Difficulty to find some gems.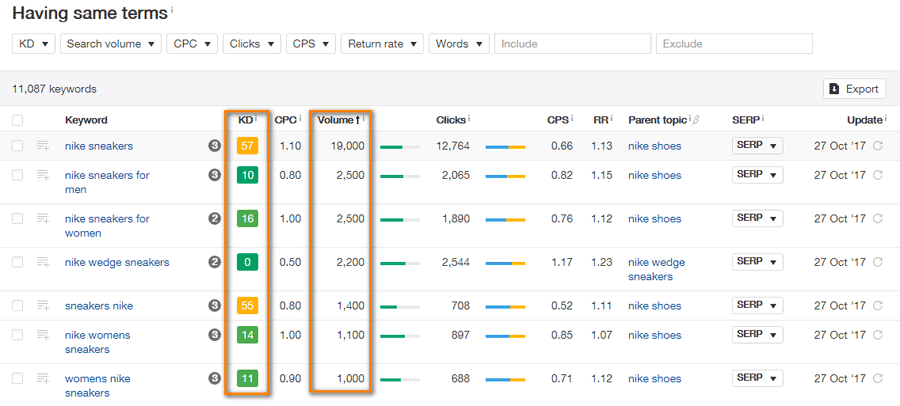 Google Trends can also show you the related topics. However, this section did not come to my expectations.
Only because people are also looking for white sneakers, it suggests "White — Color" as a related topic.

Analyze and compare interest by region
Relative popularity used in Google trends makes it possible to show interest by region for a given query. Otherwise places with the most search volume would always be ranked highest, right?
You can see in which countries, regions or cities your search query is the most popular. This can answer a very important question: Where are your products or services needed most?
Let's see where in the USA the space heaters are widely sought after.

Northern states. Which is quite obvious.
How about a city level breakdown? Google Trends can do that.

Anyone from Portland? What's the weather like?
You can also compare the interest in a search query for different locations in Google Trends. To my shame, I discovered this feature just a few days ago.
To do that you should click "more" in the right side of one of the search boxes and apply relevant filters:

In the screenshot below, you can see a perfect example of popularity concept in Google Trends: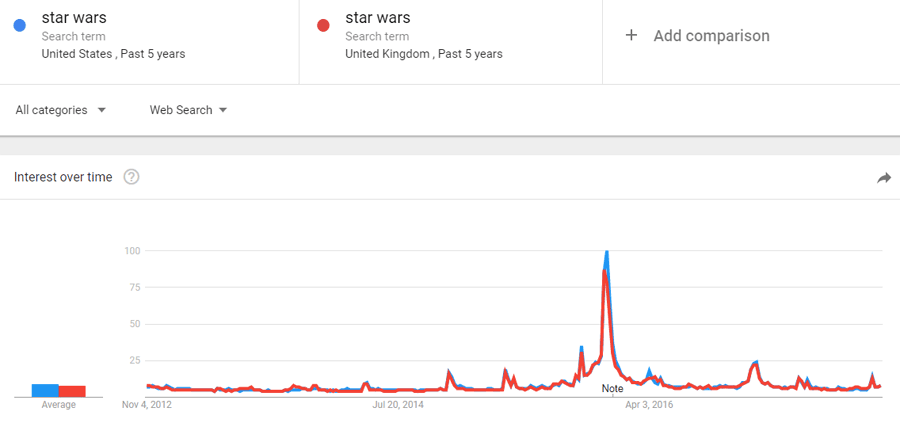 The search volume of "Star Wars" query is obviously way higher in the US than in the UK. But the graphs are almost identical. Which means that Star Wars are equally popular in these regions.
Final Words
Google Trends was not cut out for content marketers and SEOs. But you now see that it can be of great help. Surely there are other tools solely focused on content marketing and keyword research. But you won't find Trends' specific features in any other tool.
And of course no other tool will give you the freshest data on what's trending in search right now.
Do you use Google Trends in your marketing work? I'm looking forward to learning your tips and tricks.