SEO has so many aspects and components that it's very easy to overlook some. Even if you have a detailed SEO checklist at hand, you have to prioritize your activities (if your resources are not unlimited).
Prove me wrong, but if you're doing some quality SEO, you mostly spend your time:
picking the best keywords,
creating great content, and
building quality links.
No wonder you usually don't get around to some seemingly minor, but pretty important SEO issues.
This post is about two such things:
How to find and fix broken backlinks to your website (broken inbound links).
How to check your website for broken links (broken outbound and internal links) and fix them.
#1 will get you backlinks which are already yours and
#2 will improve your website visitors' experience
Let's rock!
1. How to find and fix broken backlinks to your website
On one side, broken backlinks do lead to your website. But since John Mueller promised us that Google does not have anything like a site authority score that could be based on the overall backlink profile of a given domain, these links (as they are) provide no benefit for you.
On the other side, they "spill" the desired link juice, while they could pass it to your existing pages instead.
Where do the dead backlinks come from?
Ther most common sources of broken (dead) backlinks to your website are:
An inbound link to a deleted or moved page on your website
A mistake in the backlink URL
I can't but share an example of the latter.
I was checking and fixing broken backlinks on this very blog, and saw this: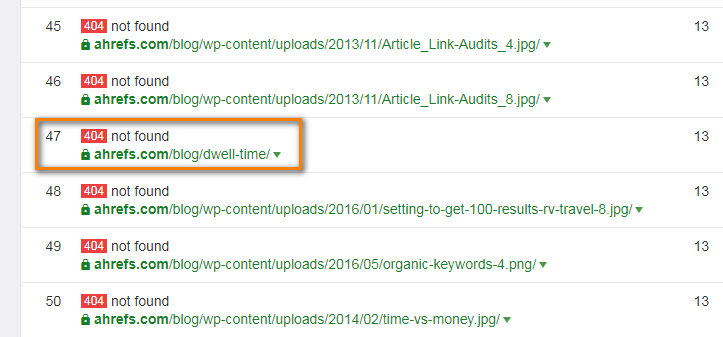 That seemed strange because I knew our post about Dwell Time has never been more alive. We gave it a massive update recently.
I clicked that link and did get a 404.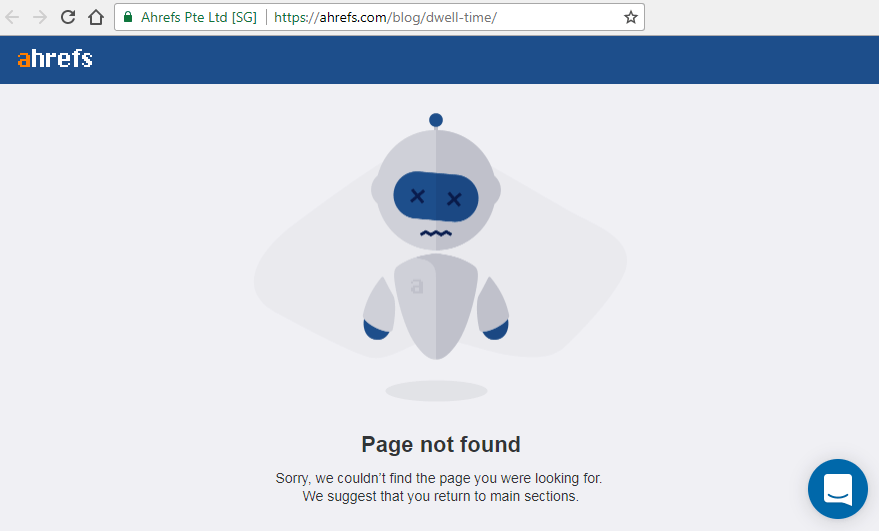 Then I went to our blog and opened that post.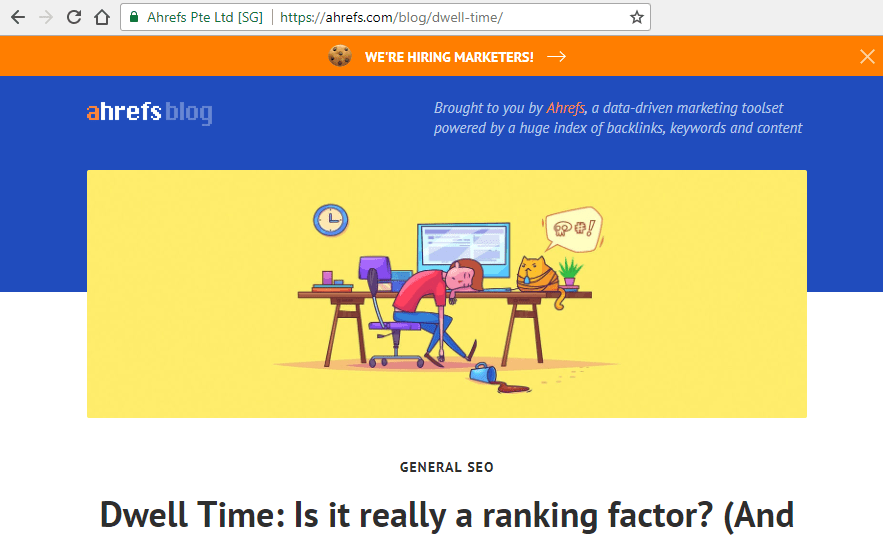 It was fine.
I visually compared the URLs in both tabs in my browser. They looked identical.
My eye started to twitch…
Occasionally, I pasted the broken URL into a Google Doc file and saw that the URL somehow got "zero-width non-breaking space" symbols on a website page that linked to our article.
https://ahrefs.com/blog/dwell-%EF%BB%BFtime%EF%BB%BF/
So that was a dead backlink indeed.
How do you find broken backlinks to your website?
The easiest way to find broken backlinks pointing to your website is to use Ahrefs' broken link checker.
All you have to do is analyze your website in Site Explorer and, go to Best by links report in Pages section and apply "404 not found" HTTP response filter.
I will be using one of my recent-favorite websites zenhabits.net to show you some examples.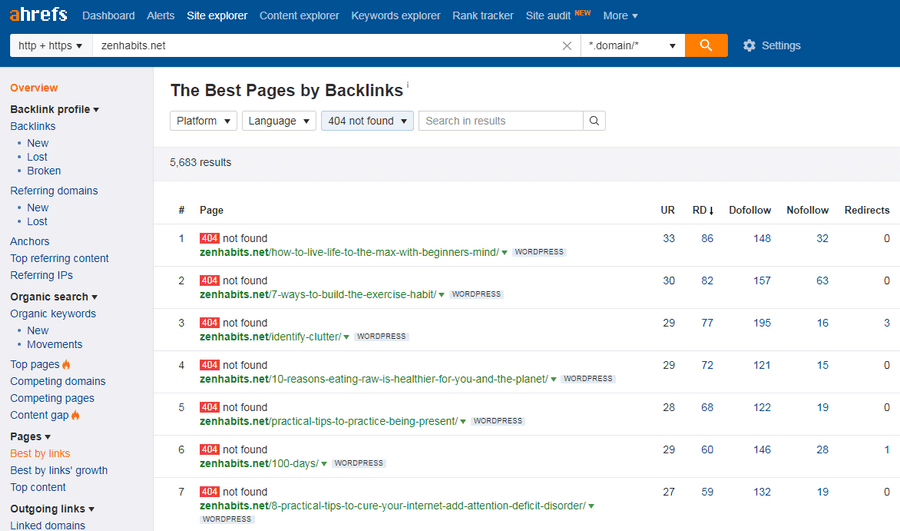 If you're already familiar with Ahrefs, you probably wonder why I recommend this report instead of the apparent Broken backlinks report.
In this layout, you can quickly sort all the URLs that return a 404 code on your site by their UR, number of backlinks, or referring domains count. Therefore you can start fixing the broken backlinks from the URLs with the strongest backlink profile.
The Broken backlinks report, on the other hand, will be useful if you'd like to prioritize your broken backlinks by the Domain Rating or the URL Rating of the referring page.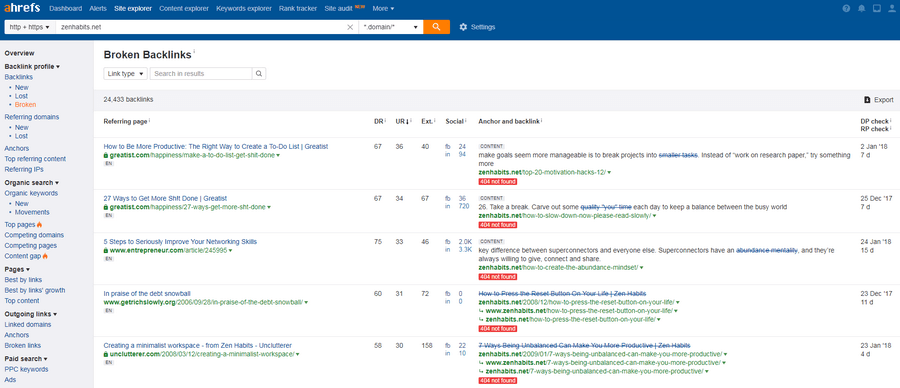 How do you fix broken backlinks?
It goes without saying that you have no control over the links outside your website. You can't just go and edit the broken backlink. And, in fact, you don't need to.
You can direct the desired link juice from the broken backlinks to where it belongs. All you have to do is to make proper 301 redirects. As announced by Gary Illyes from Google, they do pass PageRank.
30x redirects don't lose PageRank anymore.

— Gary "鯨理" Illyes (@methode) July 26, 2016
Getting back to zenhabits.net example, let's see how it could use the broken backlinks to its good: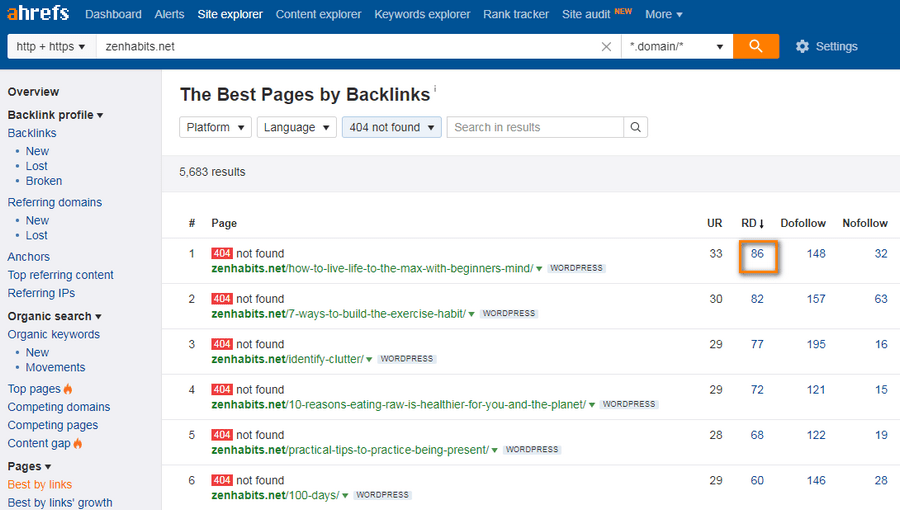 One of the URLs returning a 404 on this website has got 86 referring domains! If only there were a way to find out what that page was about to see if we could redirect all that link juice to some similar existing page.
You can use web.archive.org to see an archived copy of some pages on the web. But what if Wayback Machine doesn't have that page in its archive?
Ahrefs can help.
Open the detailed backlink report of the 404 URL and investigate anchor text used in backlinks and text that surrounds it.
Looks like the article was about the "beginner's mind" attitude to life.
Let's see if there's any similar content at zenhabits.net today: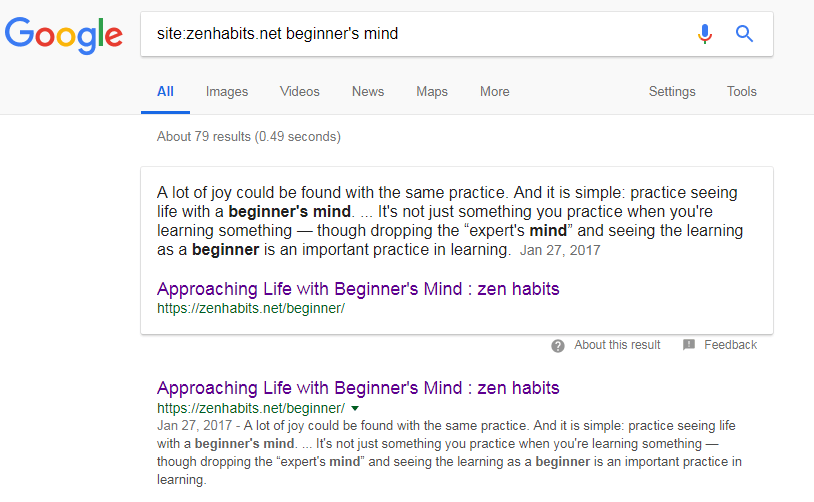 Bingo!
If I managed this website, I could set up a 301 redirect from the now-gone page to point the extra 86 referring domains to the live page.
You can do that for nearly every broken backlink on your site. Just keep two important things in mind:
1. Only redirect broken backlinks to relevant and similar content
Broken backlinks naturally have specific anchor text and surrounding text. Make sure your redirects would not confuse Google because anchor text matters!
Yes, but anchor text (and image alt text) helps us quite a bit in understanding context, so I wouldn't leave it out if you can avoid it.

— John ☆.o(≧▽≦)o.☆ (@JohnMu) May 15, 2017
2. Redirecting broken backlinks to the homepage might not be the best idea
Even if we forget Google for a moment, think about the visitors. They expect to see some specific content as they click on a link to your website but land on your homepage instead. Not cool.
Sometimes you should just ignore the broken backlink, but make sure it shows a nice informative 404 page.
If you're getting rid of that content entirely and don't have anything on your site that would fill the same user need, then the old URL should return a 404 or 410.
Double check that your 404 pages are actual 404s, not soft 404s.
Here's an extract from the Google Webmaster Central Blog:
Another example is when a site redirects any unknown URLs to their homepage instead of returning 404s. Both of these cases can have negative effects on our understanding and indexing of your site, so we recommend making sure your server returns the proper response codes for nonexistent content. Keep in mind that just because a page says "404 Not Found," doesn't mean it's actually returning a 404 HTTP response code.
2. How to check your website for broken links and fix them
You probably heard opinions that broken outgoing links (both internal and external) can hurt your website performance in search.
Some say that they damages your website crawlability and Google will just hate you for that.
But let's see Google's opinion.
Here's another extract from Google Webmaster Central blog post about 404s:
404s are a perfectly normal part of the web; the Internet is always changing, new content is born, old content dies, and when it dies it (ideally) returns a 404 HTTP response code. Search engines are aware of this; we have 404 errors on our own sites.
Google won't magically reward you for fixing these errors on your website. But getting rid of 404s on your outgoing links will definitely improve the experience for those who browse your website.
Long story short: you don't fix broken links on your site for Google, you fix them for your visitors.
How do you find broken links on your site?
Ahrefs is one of the tools to help you. But let's be honest, this is not a super complicated task, and quite a few tools can do that.
You can check the crawl errors in Google Search Console, you can use crawling tools able to report the 404s like Xenu's Link Sleuth, and if your website is powered by WordPress, you can install a Broken Link Checker plugin.
But if you have Ahrefs, there's no need to grow your arsenal of SEO tools unreasonably.
You can do a quick check of broken external backlinks on your website with Site Explorer. It has Broken links report in its Outgoing links section.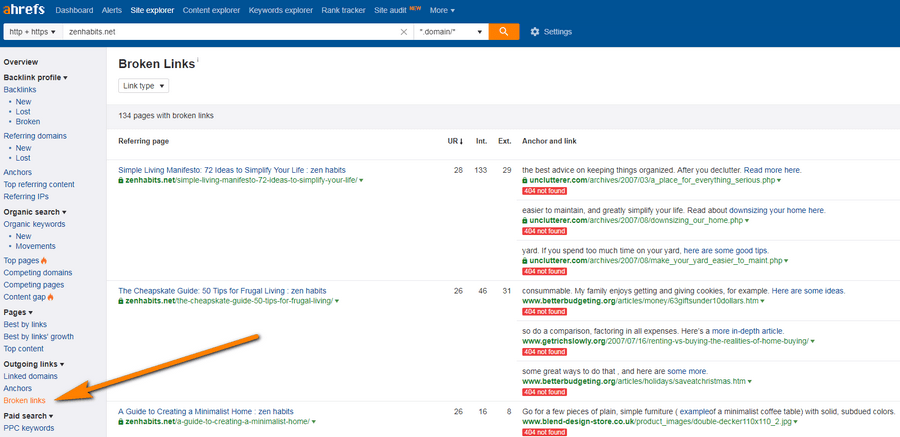 Or you can get the fullest picture of all the broken internal and external links on your site with the new Site Audit tool.
External: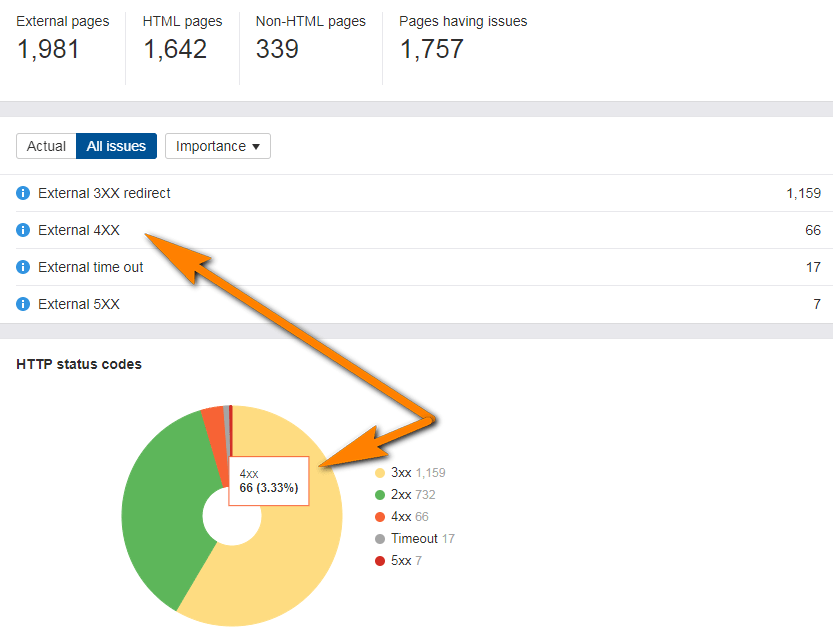 Internal:


How do you fix broken outgoing links?
This is going to be one of the shortest and the most obvious recommendations, but it has to be here for consistency 🙂
Edit the broken links on your website so that they point to relevant live pages. Or just remove them.
Over to you
Now you see that you can easily harness your website's broken links and broken backlinks and make them serve you.
Just don't forget that detecting and fixing broken links and broken backlinks must be an ongoing process, as a part of your sites' regular SEO Audits.
In this post, I questioned some widely-spread beliefs about the influence of broken links and broken backlinks on the site performance in search.
What's your experience with fixing broken links and backlinks? What was the effect?
I'd appreciate if you shared your experience in the comments section below.