You're probably reading this guide because you want to build quality backlinks and grow your search traffic. One of the most effective ways to do this is to find your competitors backlinks and replicate them.
But before we go any further, you have to answer this question:
Who are your top 5 competitors?
If you already know who they are, then add them to a spreadsheet:

If you don't, then open a new browser tab and go and find out before reading on. A simple Google search for your product, service, or niche should do the trick.
In addition, "Competing Domains" report in Ahrefs Site Explorer will show you the websites, ranking for similar keywords to your domain.
Got them? Great. Now you're locked and loaded.
Because today I'm going to show you 8 ways to leverage your competitor's link building efforts to grab needle moving backlinks for your own site.
We'll be using Ahrefs for several of the steps below, so if you don't have an account yet you can sign up for a 14 day free trial here to follow all the steps.
Let's get started!
1: Stay Alerted to Your Competitors' Backlinks and Mentions
Much of what we will be doing today will focus on the past. But we're going to start with the present (and the future).
We want to keep track of our competitors' current link building and online marketing. We'll do that by setting up a series of alerts in Ahrefs.
Step 1: Set Up Backlink Alerts
First we will create backlink alerts for each of our competitors in the "Backlinks" section of Ahrefs Alerts. This will send us a weekly email listing all new backlinks Ahrefs has discovered for the site.
To do that, go to Alerts > Backlinks > New Alert, enter your competitor's URL and choose the desired interval between the emails.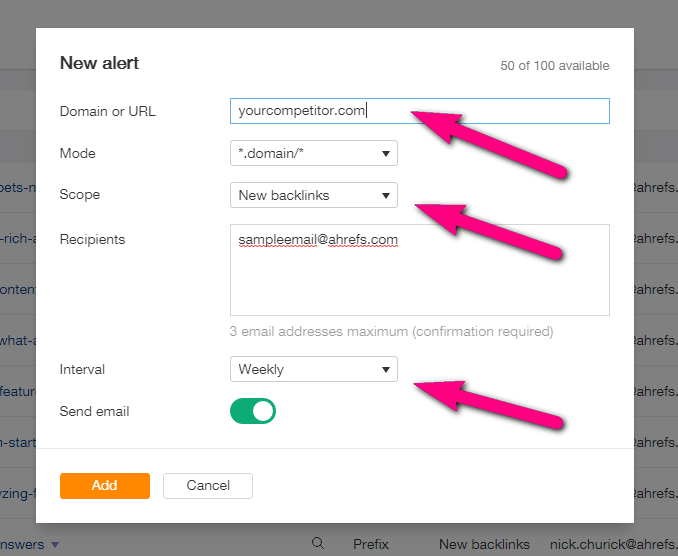 Step 2: Set Up Alerts For Brand Mentions
To make sure we don't miss any opportunities, we'll set up alerts for each our competitor's brand names. This way we'll get a notification whenever they are mentioned anywhere online.
Alerts > Mentions > New Alert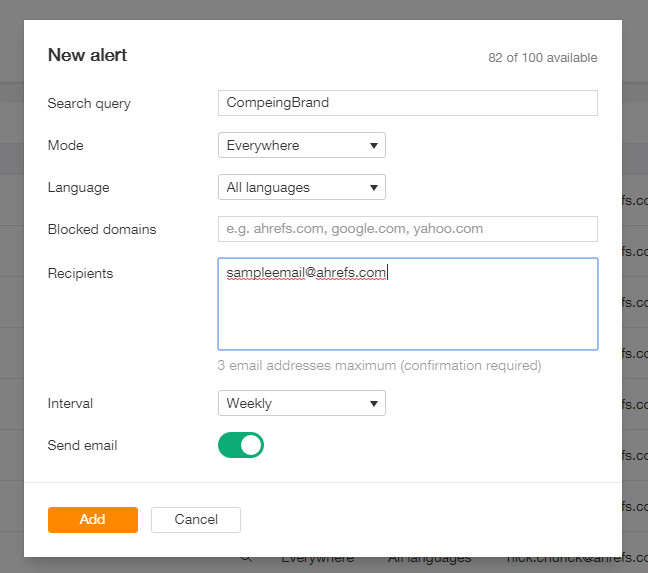 Recommendation
Keep tabs on new links pointing to your competitors and look for opportunities to reach out and promote your own content.
For example, a new link to a page on your competitor's site might be a "further reading" link in a blog post.
If you have similar content on your own site, reach out to the linking site and ask them to consider adding your page as an additional resource. As the post will be fresh in the blogger's mind there is more chance of them being receptive to adding your link.
One advantage of tracking mentions is that you will pick up on any media mentions of your competitors that don't include a link. Look for ways to insert your brand into the conversation, or collect journalist/editor contact details for future outreach.
You have to react to these fresh opportunities as fast as possible. Newly published content is more likely to be modified by its author/publisher.
2: Find Sites Linking To More Than One Competitor
If a site is linking to more than one of your competitors, you'll want to try and get a link from that site too.
These "hubs" can be fertile ground for link building.
So let's say I have a website that sells quadcopters. How can I find sites that are linking to 2 or more of my competitors?
Easy. I use Ahrefs' Link Intersect Tool.
Note:
Link intersect tool is available on Ahrefs Standard account or higher.
Here is the process.
Step 1
Enter your competitor domains into the Link Intersect tool and hit "Show link opportunities". I'll start by looking for sites who are linking to ALL my competitors.
Tools > Link Intersect > Enter domains > Set to "all of the below targets" > Show link opportunities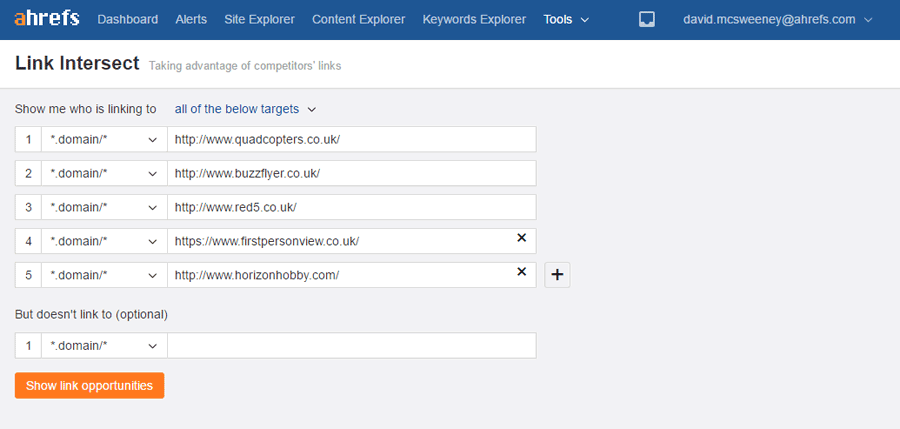 Step 2
Ahrefs will return a report showing sites that link to all the domains you entered. The pink writing is my addition, which I will explain in a moment.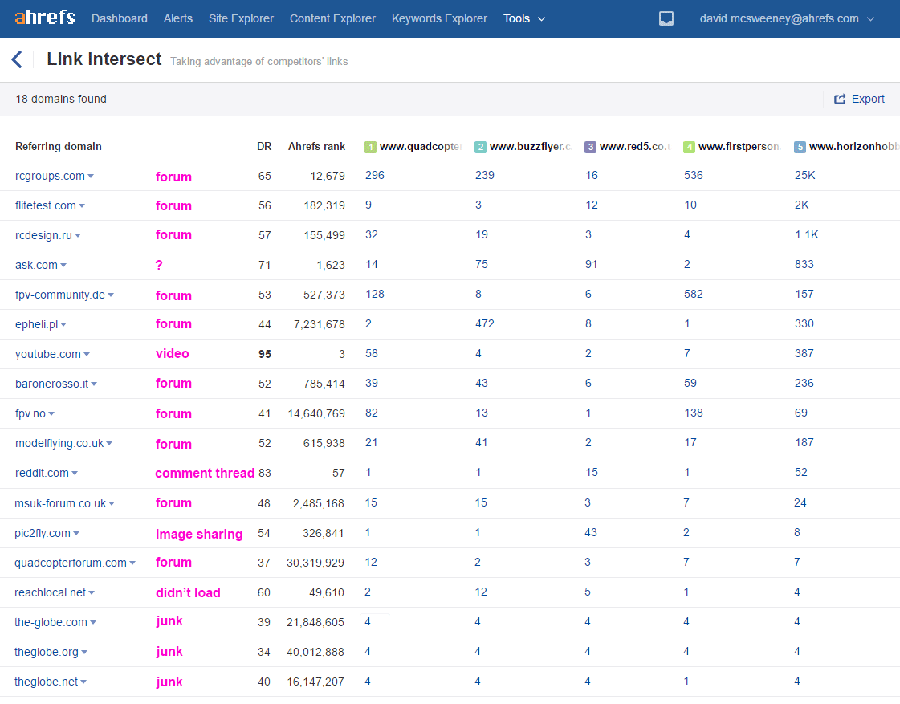 Step 3
To view individual links, click on the numbers.
In the example above, Ahrefs found 18 sites that link to all 5 domains. I already checked each of them and discovered that:
10 of the domains were forums
1 was youtube
1 was Reddit
1 image sharing site
1 didn't load
1 scraped? (ask.com)
3 junk
We could easily grab 13 of those links — the forums, YouTube, Reddit and the image sharing site.
And before you say "forum links are junk"…
These look like niche relevant forums — the kind where our potential customers are likely to hang out.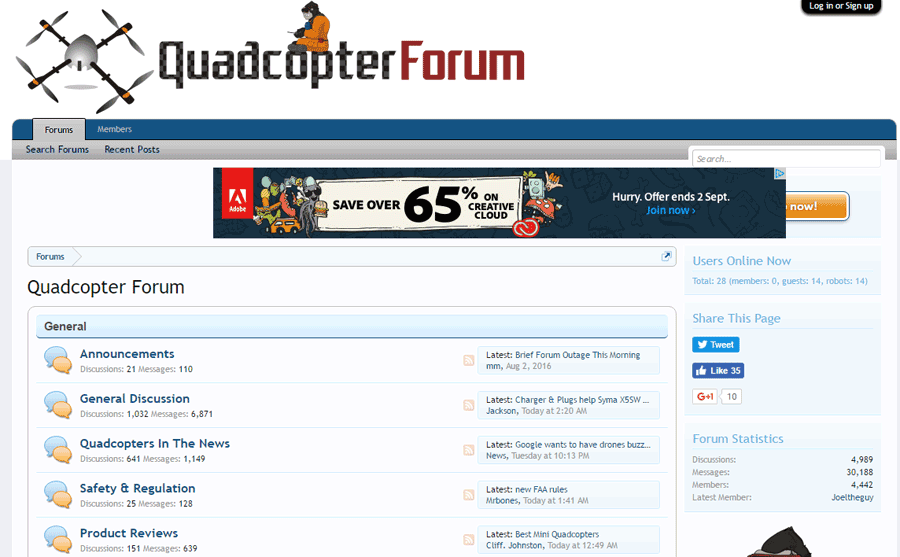 And that's exactly where we want to be promoting our business.
Our customers are there. Our competitors are there. So we should be there too!
Now let's widen the search.
Step 4
Run the search with the Intersect Tool set to show sites linking to ANY of the domains.
Tools > Link Intersect > Enter domains > Set to "any of the below targets" > Show link opportunities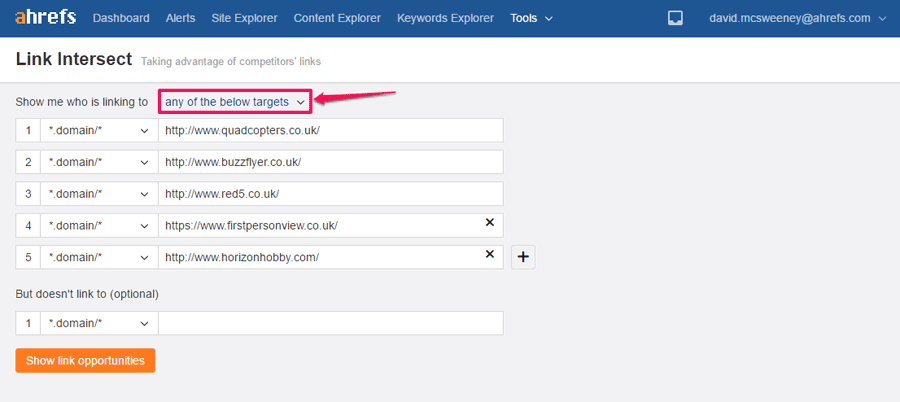 Step 5
This time we will get a lot more results — sorted by the number of intersects.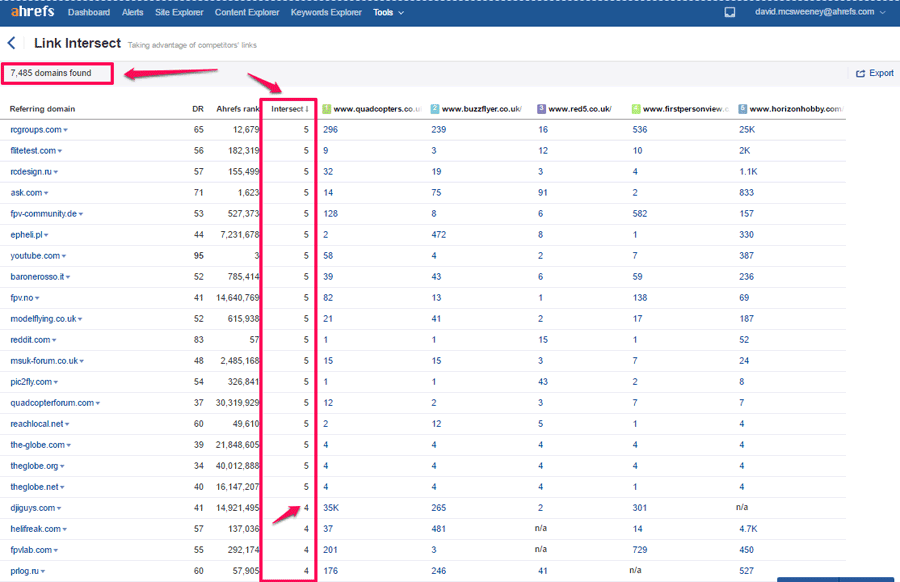 Recommendation
Our
recent study
has revealed a strong correlation between the number of unique referring domains linking to a page and its position in search results.
That is why (especially if you already have a decent backlink profile) you can enter your own domain into the optional "But doesn't link to" field in Link Intersect tool.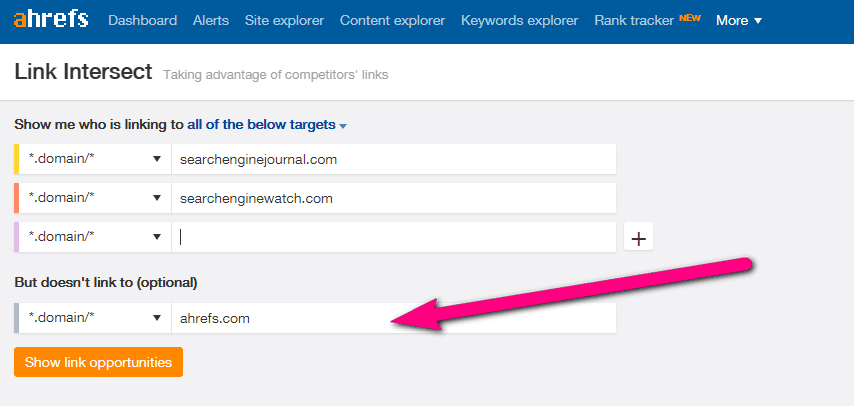 This will show you websites that link to more than one of your competitors, but don't link to you yet.
Step 6
Work your way through the report and you should find a number of backlink building opportunities.
Recommendation
The great thing about finding link hubs is they can give you a real insight into a niche. I already mentioned forums above, but you might also discover:
News sites/blogs covering your industry
Industry specific portals/communities (i.e. inbound.org for marketing)
Quality industry specific directories
All places where your potential customers are likely to be. And all places you should be promoting your business in the future.
3. Check Your Competitor's Branded Home Page Links
Over time you'll want to find all your competitor's backlinks and work your way through them all, looking for opportunities.
But when there are thousands of links involved, that process can be a little daunting.
So here's a hack that can help you uncover some of the lower hanging fruit.
We'll be looking for branded anchor links that point to our competitor's home page.
Why?
Because these are likely to include links such as:
Guest Posts
Directories
Resource/Links Pages
As you find such links, they can be (fairly) easily replicated and will be contributing to your own domain authority.
Step 1
Enter your competitor's home page URL into Ahrefs Site Explorer and run the anchors report.
Site Explorer > Enter domain > set filter to "URL" > Explore > Backlink profile > Anchors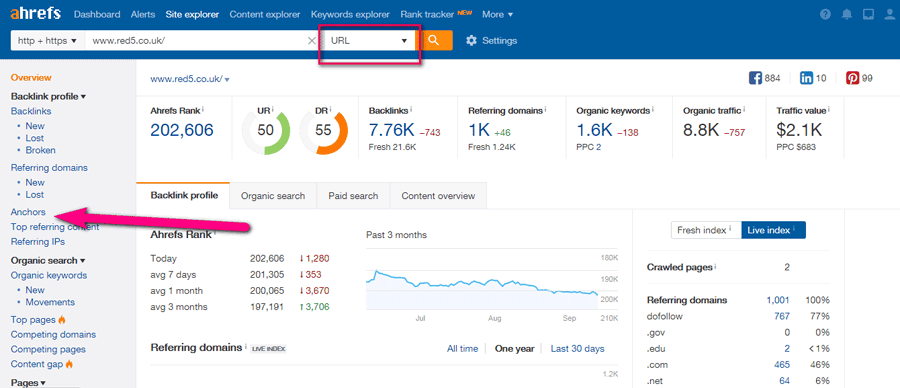 Step 2
Identify branded, or naked URL anchors (more about different types of anchor text here). In the example below there are 6 good variations.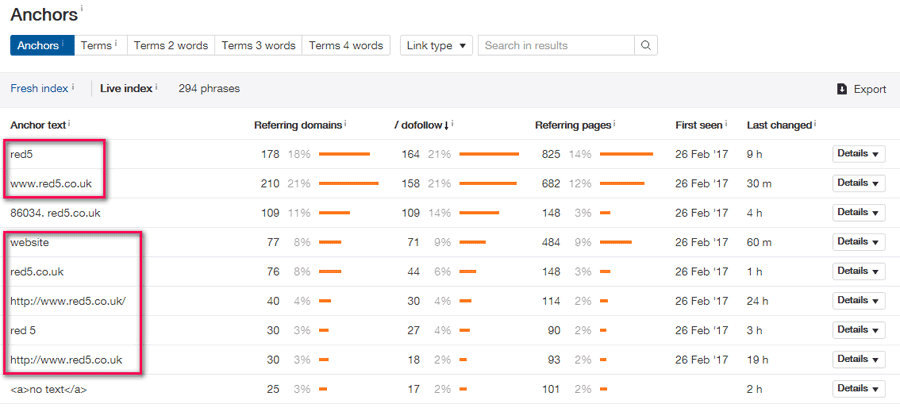 Step 3
Click "Details > Referring Domains" to view linking sites for each branded anchor. Work your way through the report looking for opportunities.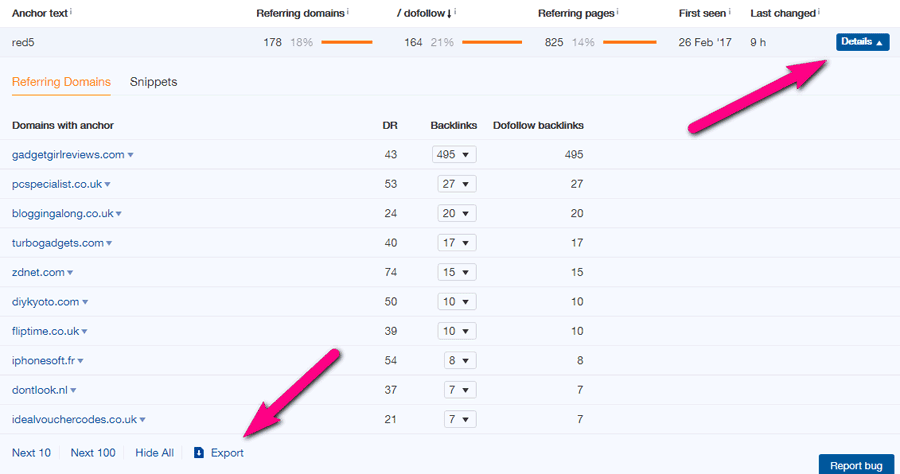 Sidenote.
If there are a large number of referring domains for each branded anchor, you might want to export the results into a spreadsheet. To do that just click on "Export"
(highlighted in the image above)
.
4. Find Your Competitor's Guest Posts
Despite the bad press, guest blogging remains one of the cleanest ways to build authority boosting links to your site. And a bunch of your competitors' backlinks might result from this tactic.
The process above will often surface some of your competitor's guest posts, but here are some other ways to find out where they have been posting.
I'll use Ahrefs contributer Benjamin Brandall of Process.st for the examples.
Method 1: Use Google search queries
Your starting point for finding competitor guest posts should be Google search. There are several queries you can try, but this is the one I find most effective:
"Author name" + "guest post" -site:competitordomain.com -site:https://twitter.com
And here are the results for Benjamin: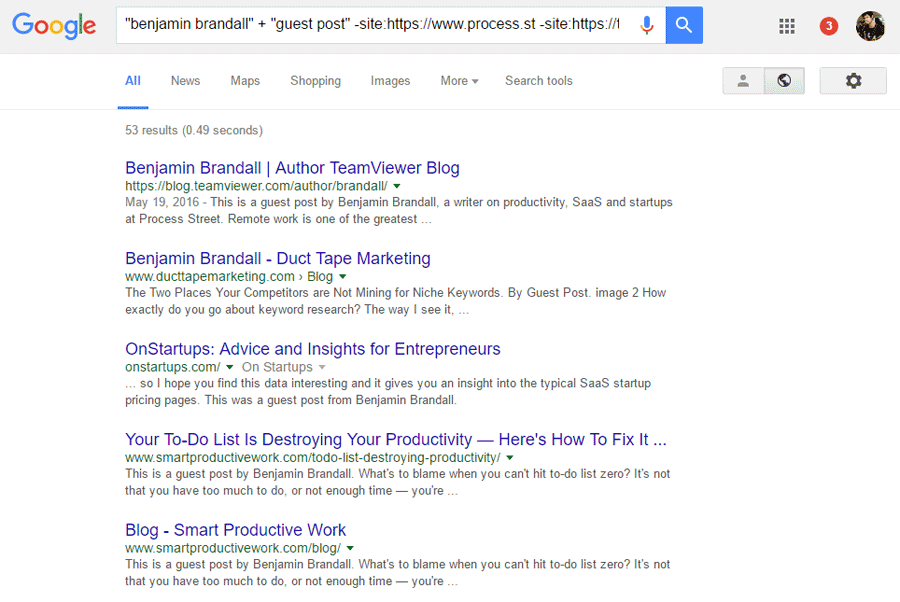 Method 2: Look for author pages
Technically this is another search query, but I'll list it here separately as it can often surface additional results.
"Author name" + inurl:author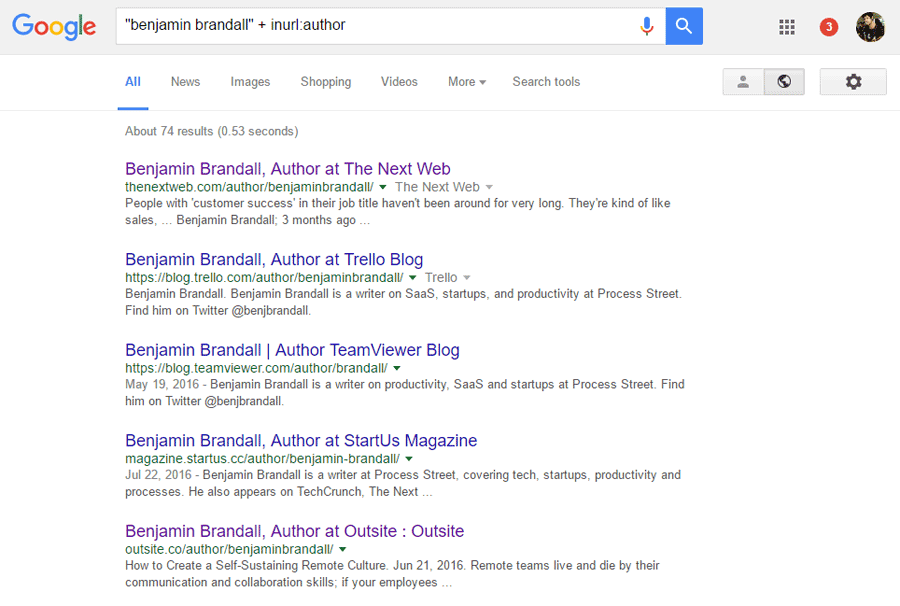 Method 3: Use reverse image search
You can use Google's reverse image search (right click an image while using Chrome) to find posts containing the author's headshot.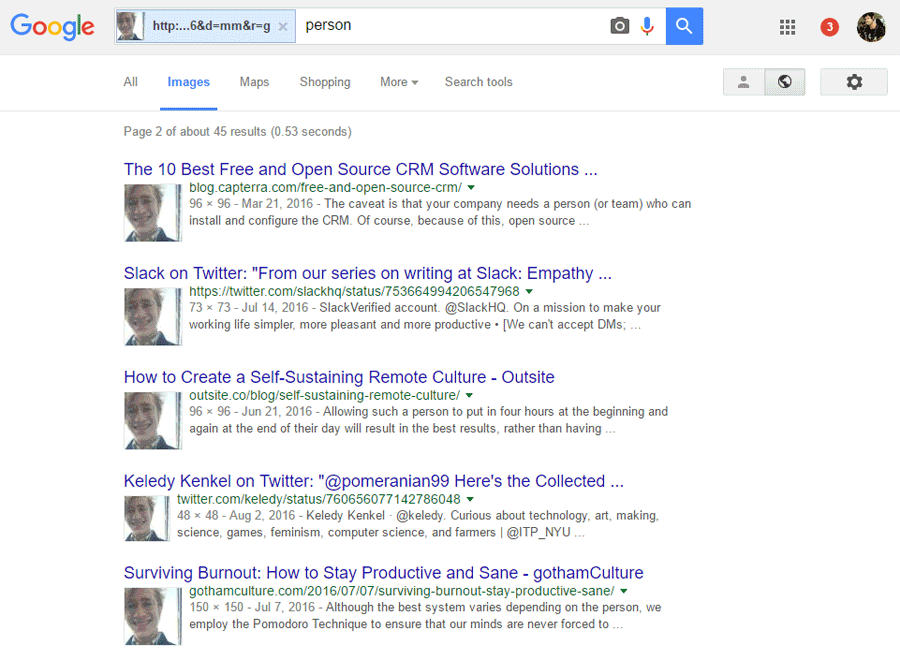 Looking good Benjamin!
Sidenote.
This method is also useful for finding "expert roundup" contributions.
Method 4: Use Ahrefs Content Explorer
You can also use Ahrefs Content Explorer to find content written by a particular author. Just like Google, this tool has a bunch of advanced search operators. Let's try the following query:
author:"Author name"
Here's what we found for Benjamin.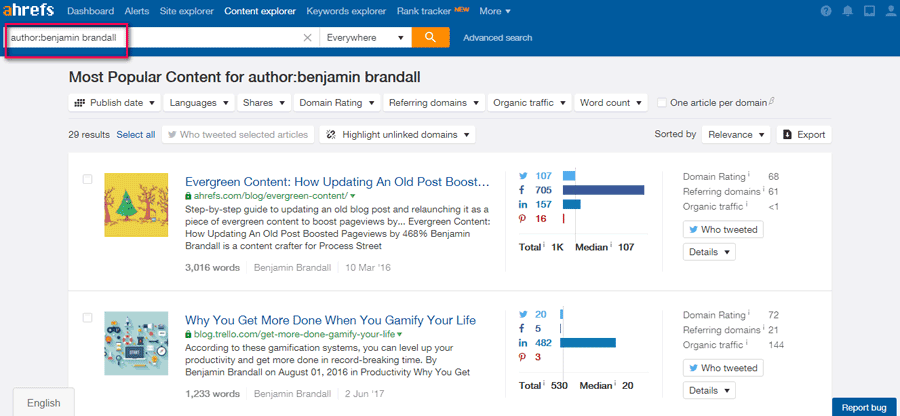 Recommendation
Guest blogging is a great way to get high quality backlinks that will boost your search traffic. If your competitor has already been accepted for a guest post on a particular site, then there is a good chance that you can get there too with your content.
5. Find Your Competitor's Most Popular Content
The skyscraper technique is well documented, so I won't go into too much detail on the process.
Here's an overly-simplified summary:
Find your competitor's most popular content > create something even better > promote it
It's a great way to build backlinks as you already have a list of sites that you can reach out to once your content goes live.
Finding your competitor's most popular content with Ahrefs is simple.
Find content that gets maximum backlinks to your competitor
Site Explorer > Pages > Best by links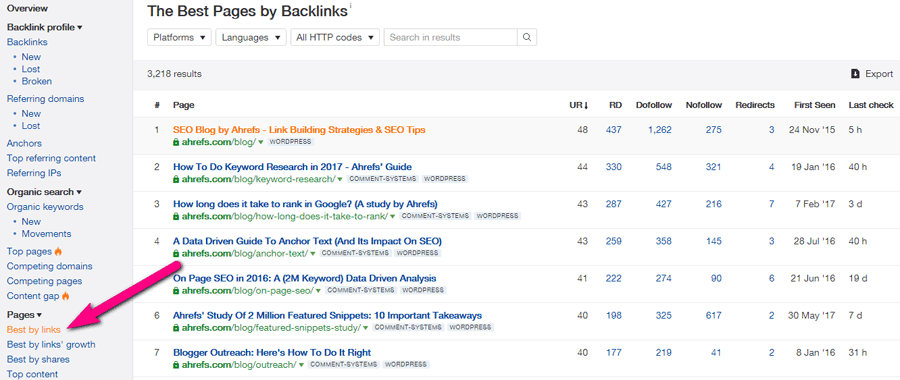 Find your competitor's most shared content
Site Explorer > Pages > Best by shares
When you are ready to promote your content, simply plug the URL of your competitor's page into Site Explorer and click the "Referring Domains" report to find their backlinks.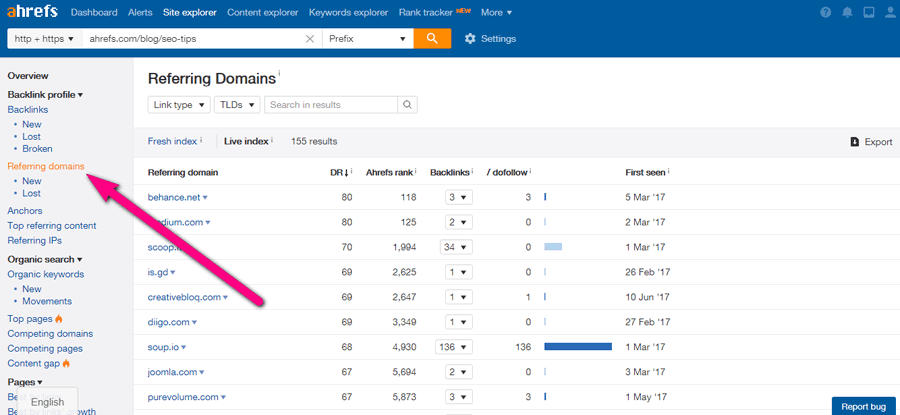 Recommendation
Use Ahrefs Site Explorer to find all backlinks for your competitor's content, then reach out to the linking sites and point them to your own similar (but improved) resource.
This post
will help you improve your outreach success rate.
It's also worth searching Twitter to find out who has recently shared your competitor's page.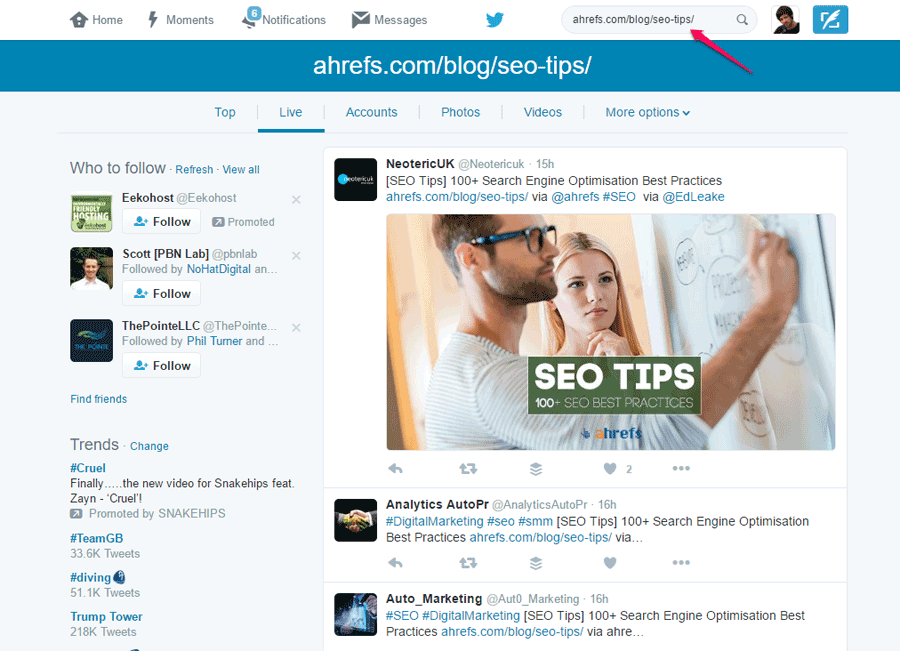 Or you can use the "Who tweeted" feature in Ahrefs Content Explorer.
Content Explorer > Enter URL > Explore > "Who tweeted"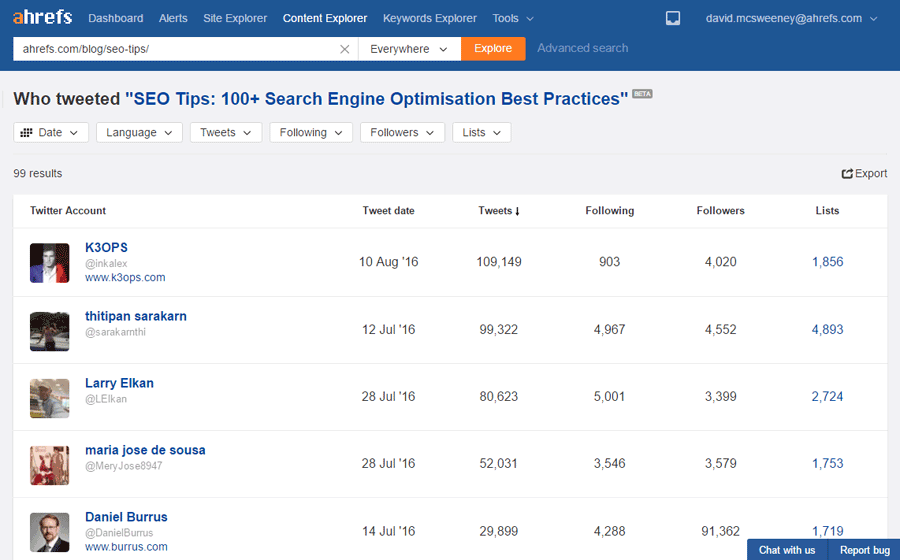 Recommendation
Reach out to recent sharers of your competitor's page by email (or a tweet), and send them the link to your content.
6. Fix Your Competitor's Broken Links
And by fix I mean grab them for yourself of course!
Broken link building is not as scalable as it once was (because SEOs can't have nice things), but it can still yield results.
A good place to start is to check for broken links pointing to your competitors. We can do that with Ahrefs.
Jumping back to quadcopters for a moment, here is a quick example.
If we plug one of the domains into Ahrefs Site Explorer and run the "Broken" report under "Backlinks" we can see that there are a lot of broken links pointing to this particular site.
Site Explorer > enter domain > Explore > Backlinks > Broken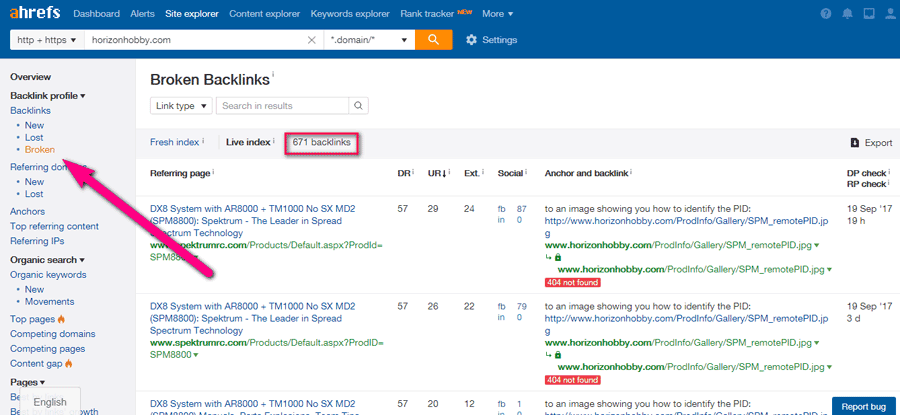 We would probably want to export these results for further examination, but with a quick scroll down I can see one that looks promising.

Clicking through and using the "Check My Links" Chrome plugin, confirms there are multiple broken links on that page.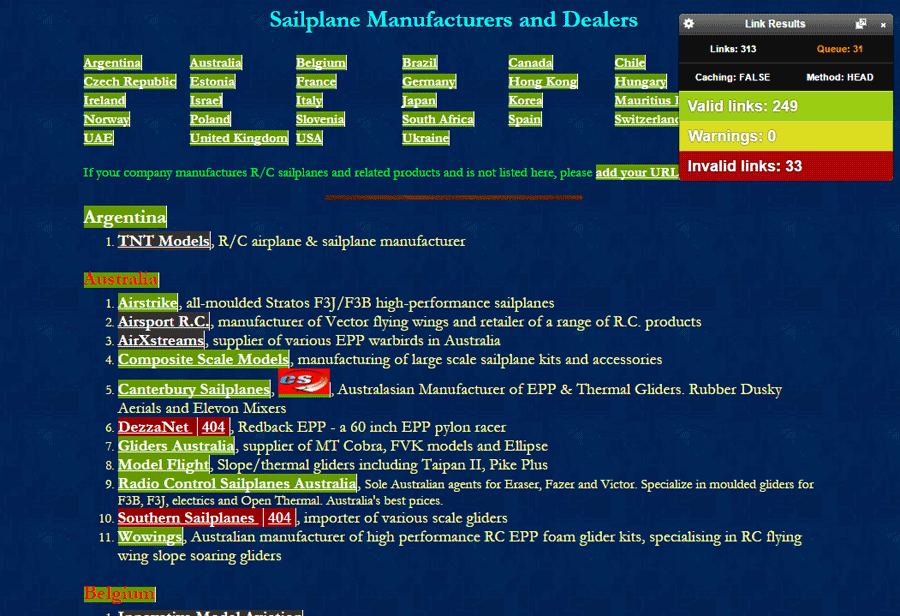 So we could reach out to the site, advise them of the broken links, and offer our site as an alternative (full process here). But even better, in this case we can simply add our link.

Recommendation
Check for broken links pointing to your competitors and offer your site/content as an alternative.
7. Find Your Competitor's Recurring Backlink Sources
This is a neat little Intersect Tool hack that I previously wrote about here.
We're looking for sites that are linking to multiple pages on our competitor's site, which will:
Give us an insight into their content promotion strategy
Surface regular linkers in our niche that we should be looking to build a relationship with
Generally uncover a number of quick backlink opportunities
The process is simple.
Step 1
Grab your competitor's top 10 pages from the "Best By Links" report.
Site Explorer > Pages > Best by links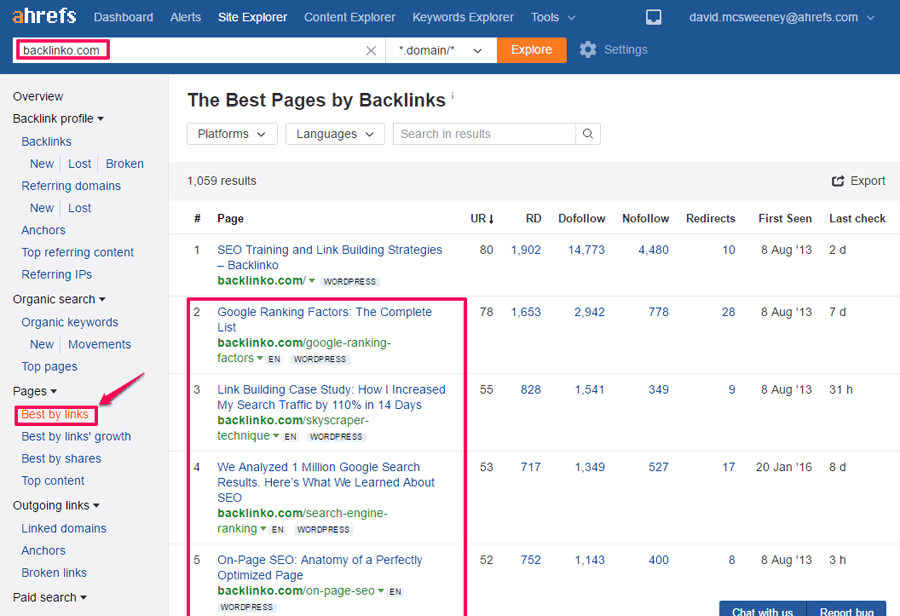 Step 2
Use the Link Intersect tool to find sites that link to 2 or more of your competitor's top pages.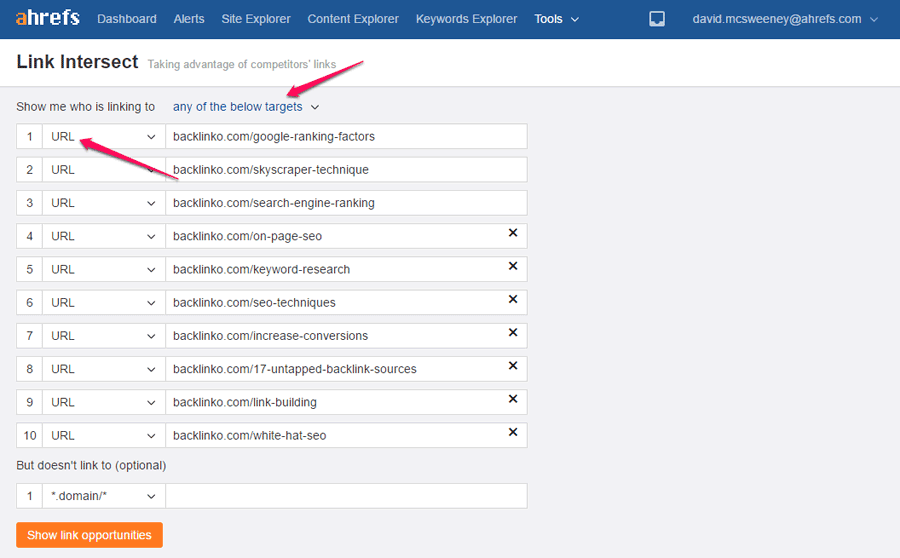 Tools > Link Intersect > Enter URLs > set filter to "any of the below targets" > set parameter to "URL" > click "Show link opportunities
Step 3
Analyse the results to find out which sites are regularly linking to your competitors.
Recommendation
Pay attention to content sharing sites (i.e. scoop.it, inbound.org above) that regularly link to your competitors. Add these to your own content promotion strategy.
If you notice a blogger regularly linking to a competitor, then that's probably someone you want to start fostering a relationship with.
8. Grab ALL Your Competitor's Backlinks
Ok, so I mentioned in section 3 that trawling through thousands of links was a pain.
But unfortunately it's still something you're going to want to do.
While the tips above should help you find some of your competitor's best links, it's still good practice (and recommended) to run a complete backlink analysis.
It can also reveal a lot about your competitor's link building strategies.
For example you might spot multiple product review posts, or perhaps they are sponsoring organisations or charities.
Either way, only a full analysis will reveal everything you need to know about your competitors.
You can export your competitor's entire link profile into spreadsheet format by running the "Backlinks" report in Site Explorer.
Site Explorer > Enter domain > Explore > Backlink profile > Backlinks > Export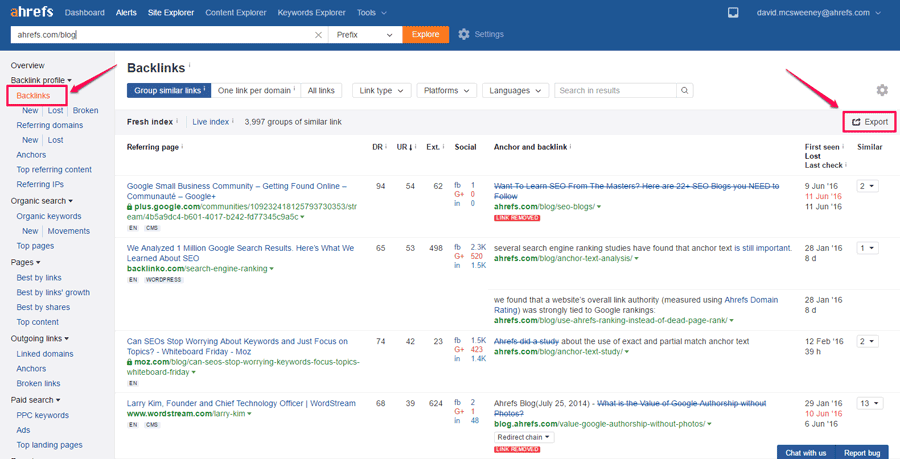 For an "at a glance" view — which is easier to digest directly within Ahrefs — use the "Referring domains" report.
Site Explorer > Enter domain > Explore > Backlink profile > Referring domains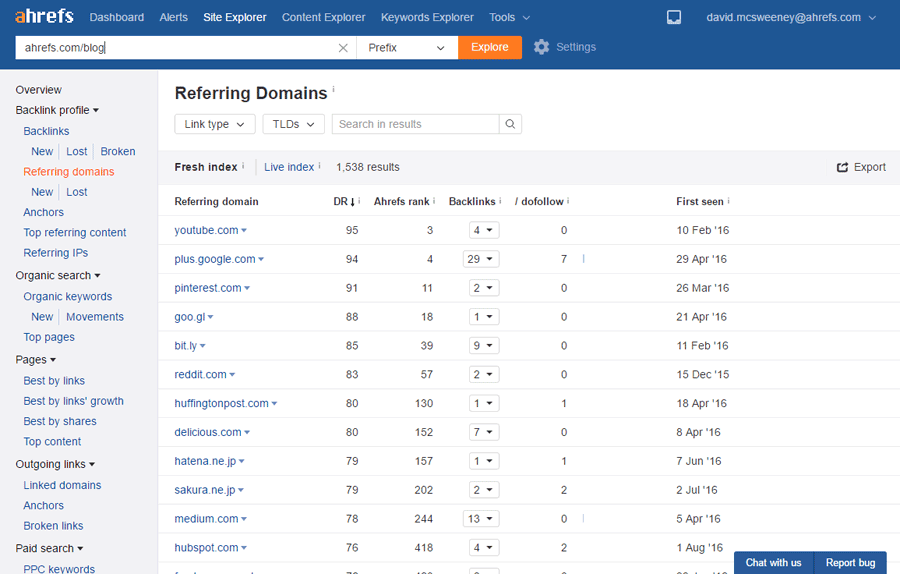 Recommendation
As with all the tips in this guide, start with the low(ish) hanging fruit.
For example, if a site is syndicating their content, or re-purposing into other formats (video, slideshare etc), then those are links that can be easily replicated.
Finally… Don't Rely On Just Replicating Your Competitor's Links
As you can see there are numerous ways you can spy on your competitors and "steal" their backlinks.
But replicating links should just be part of your overall link building strategy.
After all, isn't the purpose of any link building campaign to overtake your competitors, not just catch up with them?
To do that you're going to need to be both:
a) gaining new links that your competitors don't already have
b) doing so at a faster rate than they are (after all your competitors won't stand still)
But here's the good news…
By following the processes above you'll already have gained a deep insight into what's working in your niche.
Not only will you have identified backlinks you can replicate, you should now have some solid ideas about the topics and content formats that will resonate with your target audience.
Use that knowledge to create your own unique campaigns and your site will soon be climbing to the top of Google.
If you have any questions, comments, or link building tips you would like to share, then please leave them below.