Site Explorer 2.0
How to use the Top pages report
Video for this tutorial is coming soon.
The Top Pages report shows which pages on a target website, URL, or subsection get the most organic traffic.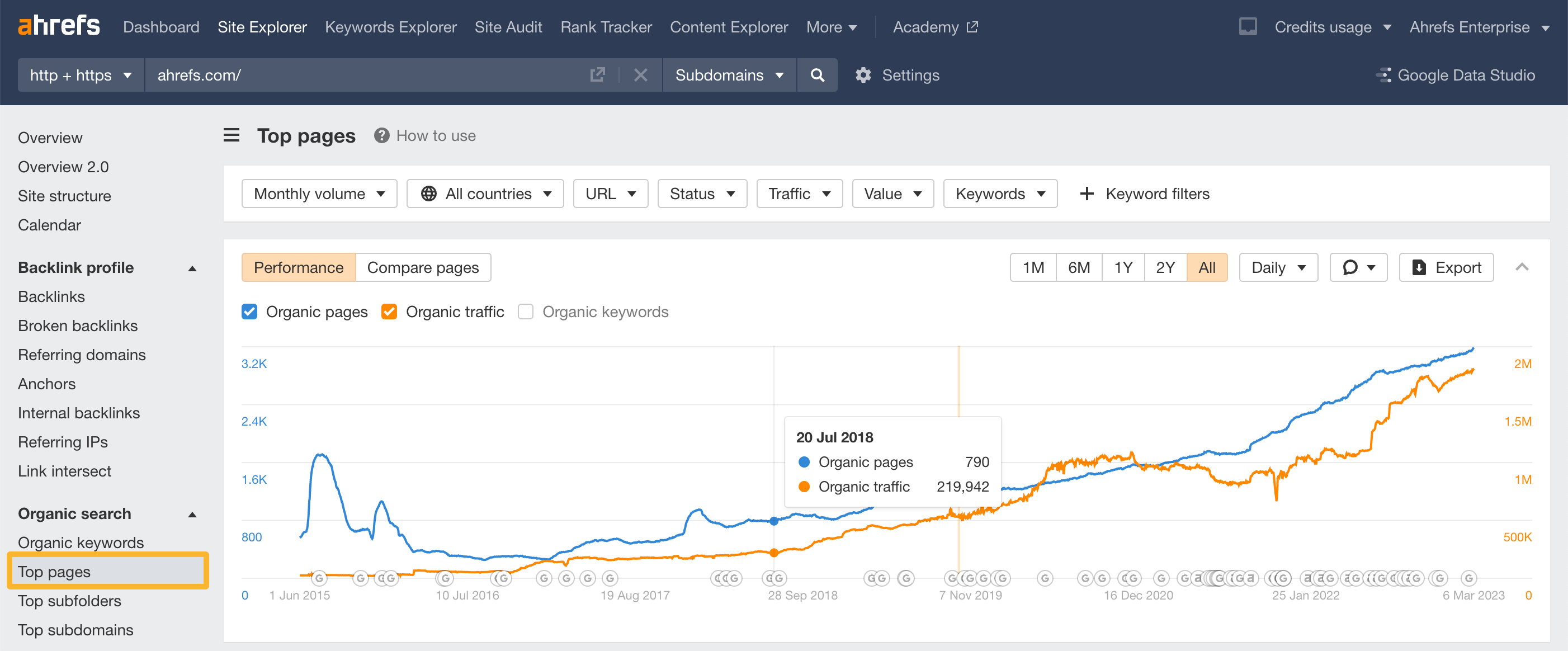 Here are some actionable use cases for this report.
See which of your competitors' pages get the most organic traffic
Enter a competitor's website and uncover their top performing pages.
For example, if you're doing SEO for a project management tool like Asana, you might look at Monday.com or Clickup.

Here, it looks like monday.com's blog post about the "raci model" is their second best performing page, with an estimated search traffic close to 40,000 visits/month from the U.S. and "raci" being the keyword that sends the most traffic. It also ranks for the featured snippet.
This is a great way to discover relevant topics with organic traffic potential.
See which keywords your competitors' top pages rank for
Click on the numbers under the "Keywords" column to see all the keywords a page is ranking for.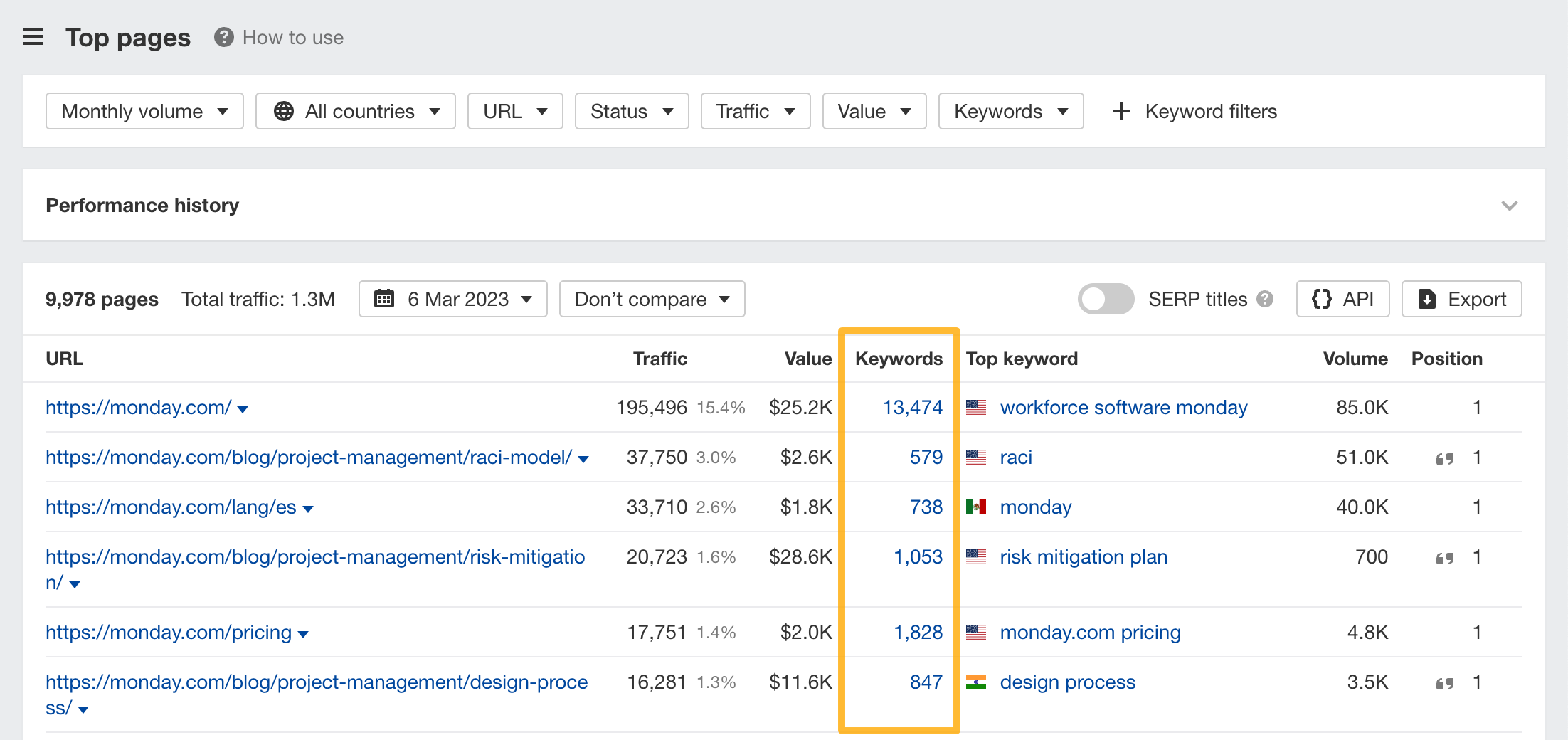 Use this information to find potential subtopics you could cover on your page if you're trying to rank for the same keywords as your competitors.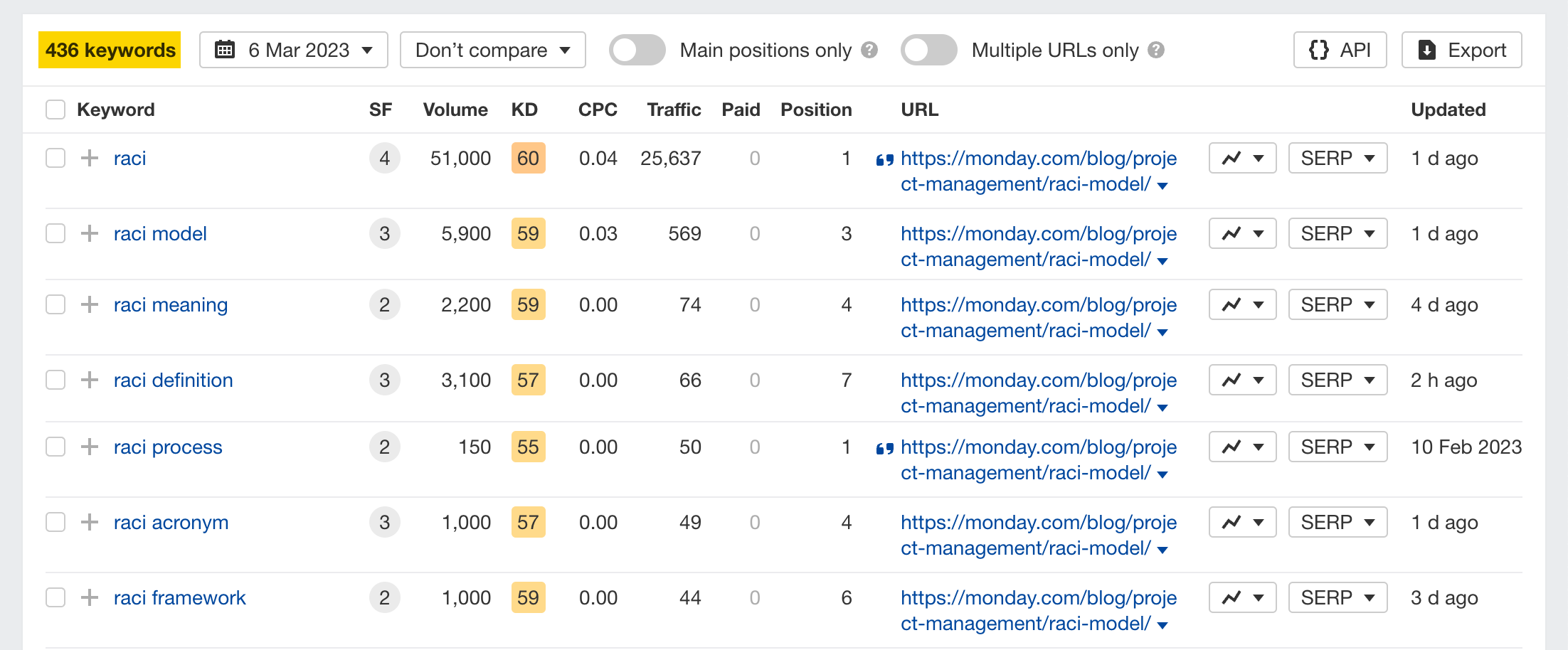 If we were to target the keyword "raci model", we could cover topics like:
What is raci model
Raci framework
Raci chart
Monitor your competitors' content output
See how much content your competitors are publishing each month.
Filter for New pages first, then use the Compare with filter to compare them with the output for - say - 3 months ago.
For example, monday.com has created well over two thousand pages in the past three months.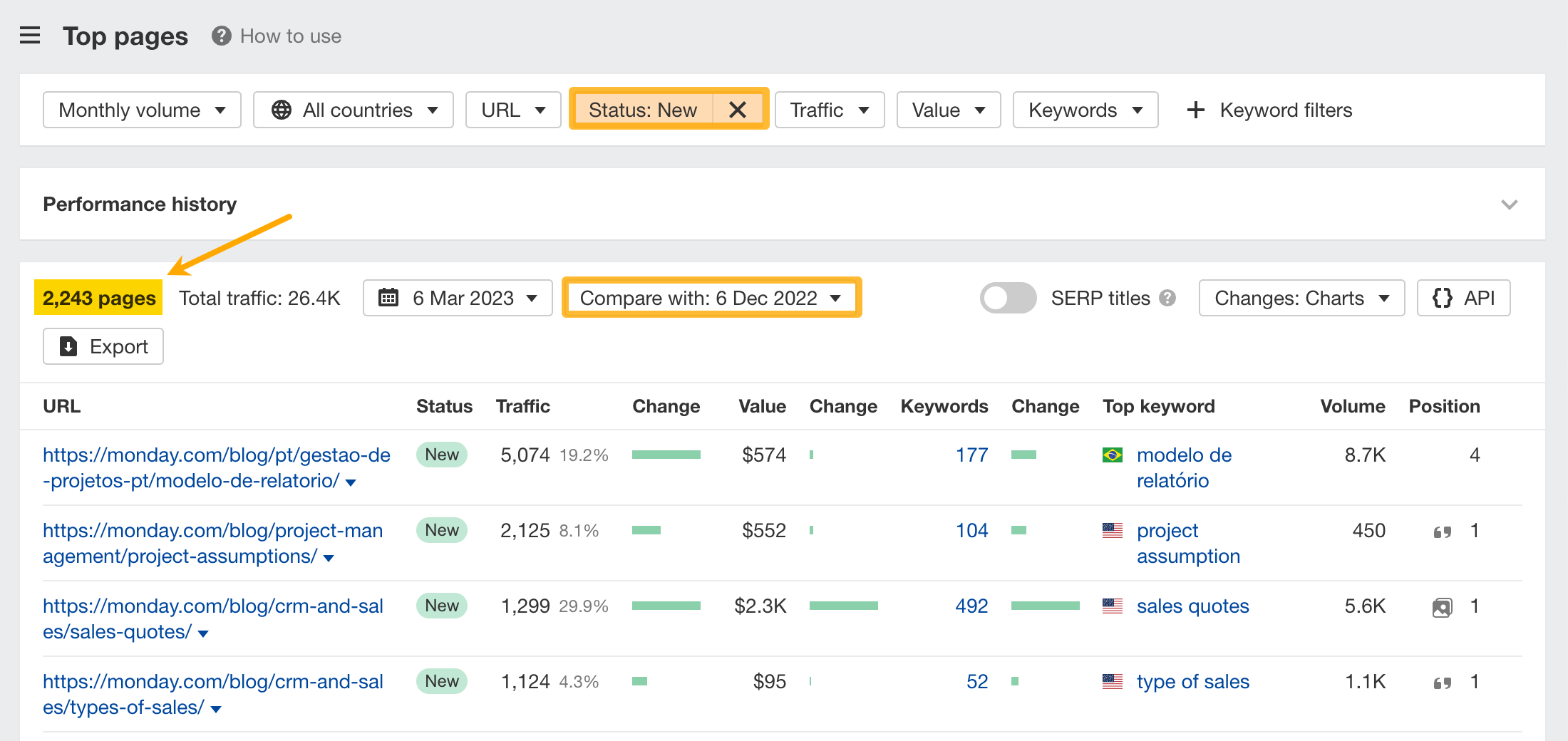 TIP
Use this as an argument to ask for a budget raise.
Compare the progress of your competitors' top pages
See how your competitor's top 10 pages have progressed over time using the Compare pages mode under the Performance chart.
Analyzing monday.com, it seems that the blog post about "design processes" went from 3,000 to 18,000 monthly organic visits for India in just six months. That's 6X the organic traffic. And a potential page you could replicate (if you're in the same industry.)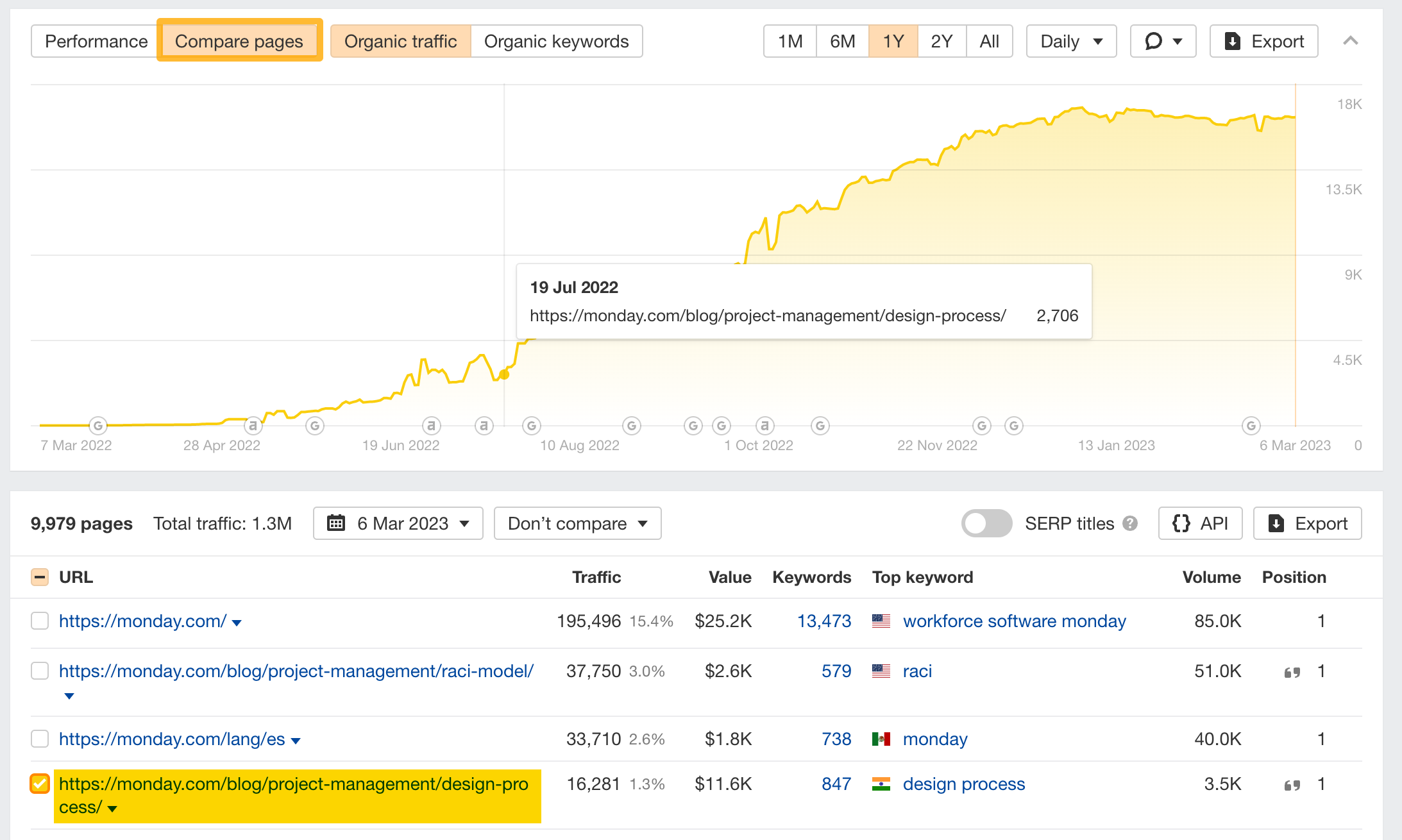 See top pages by traffic from 243 countries
By default, the Top Pages report shows you the top pages by organic traffic globally.
Pick a country from the dropdown to see all rankings in almost any other country.
See how the title of your top pages change over time
Google auto-generates page titles on its own, some of which may not be in line with your page content.
If you want Google to fetch your H1 titles, fix the content of your pages accordingly. To find such posts, follow title changes over time by toggling SERP titles and comparing the current titles with old ones.

Consolidate duplicate pages for your own website
Keyword cannibalization occurs when multiple pages target the same keyword. This is bad, since one page theoretically "cannibalizes" traffic to the other one.
The solution is to consolidate such pages either by redirecting old pages to more relevant ones, or combining multiple pages into something new.
To find them, enter your website and open the Organic keywords or Best by links report. We'll use buffer.com as our example.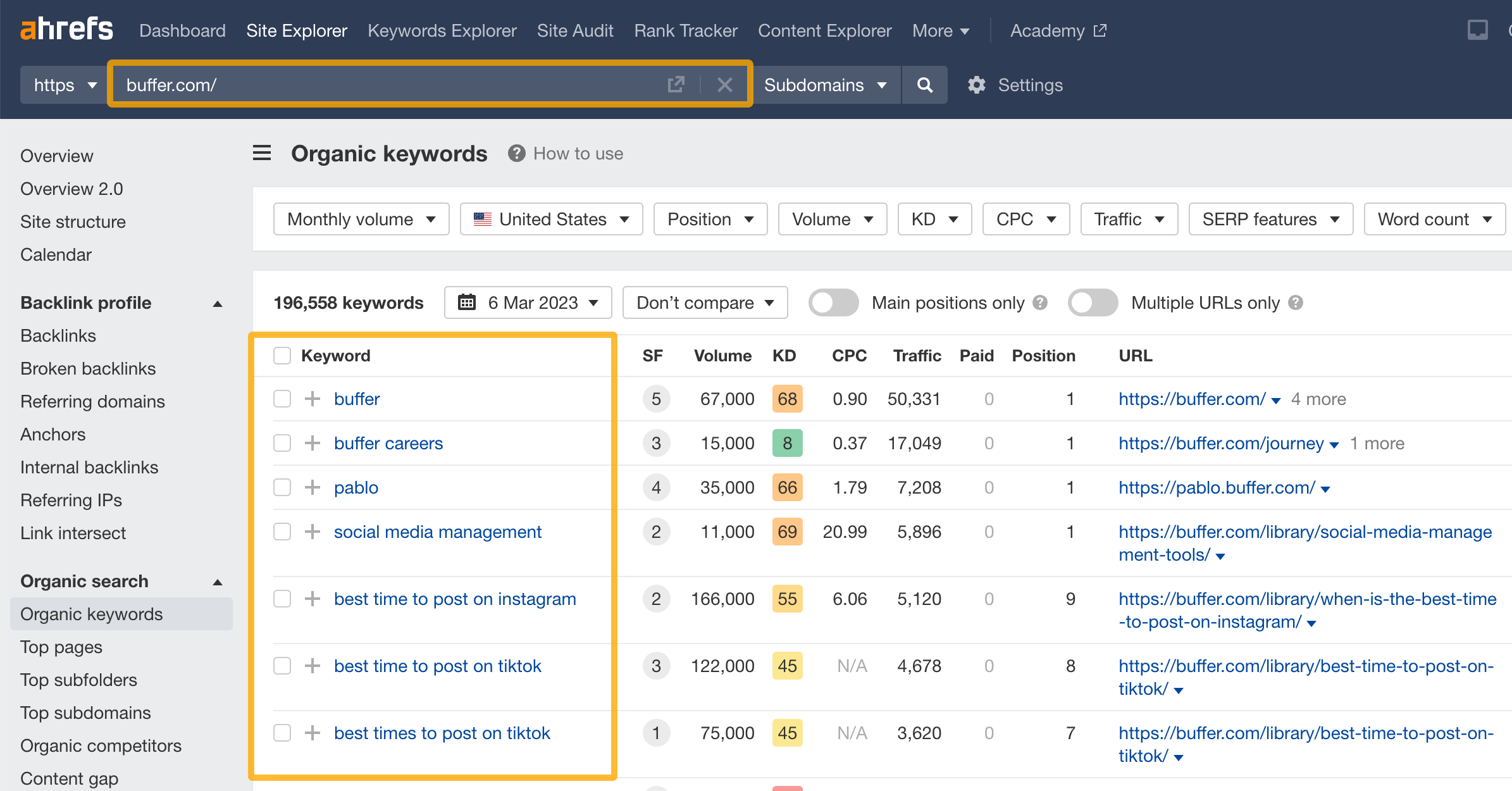 Next, check the position history graph for several keywords to spot pages with similar topics.
For example, here, the two posts "when is the best time to post on instagram" and also "best time to post on instagram" are ranking for the same keyword "best time to post on instagram".

Next, copy both URLs and paste them under the URL filter > Any rule.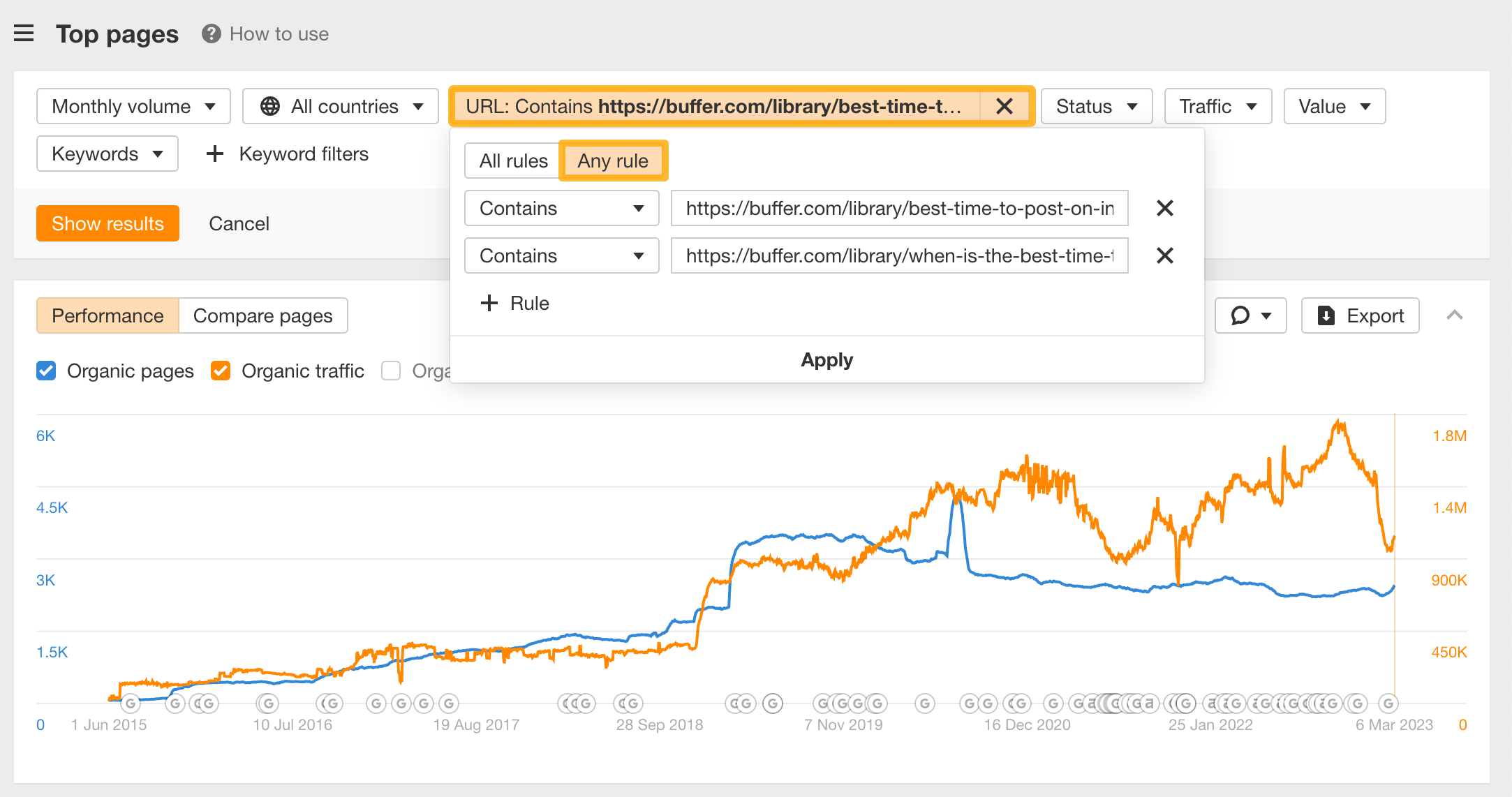 Then compare the pages in terms of organic traffic. This is not enough though.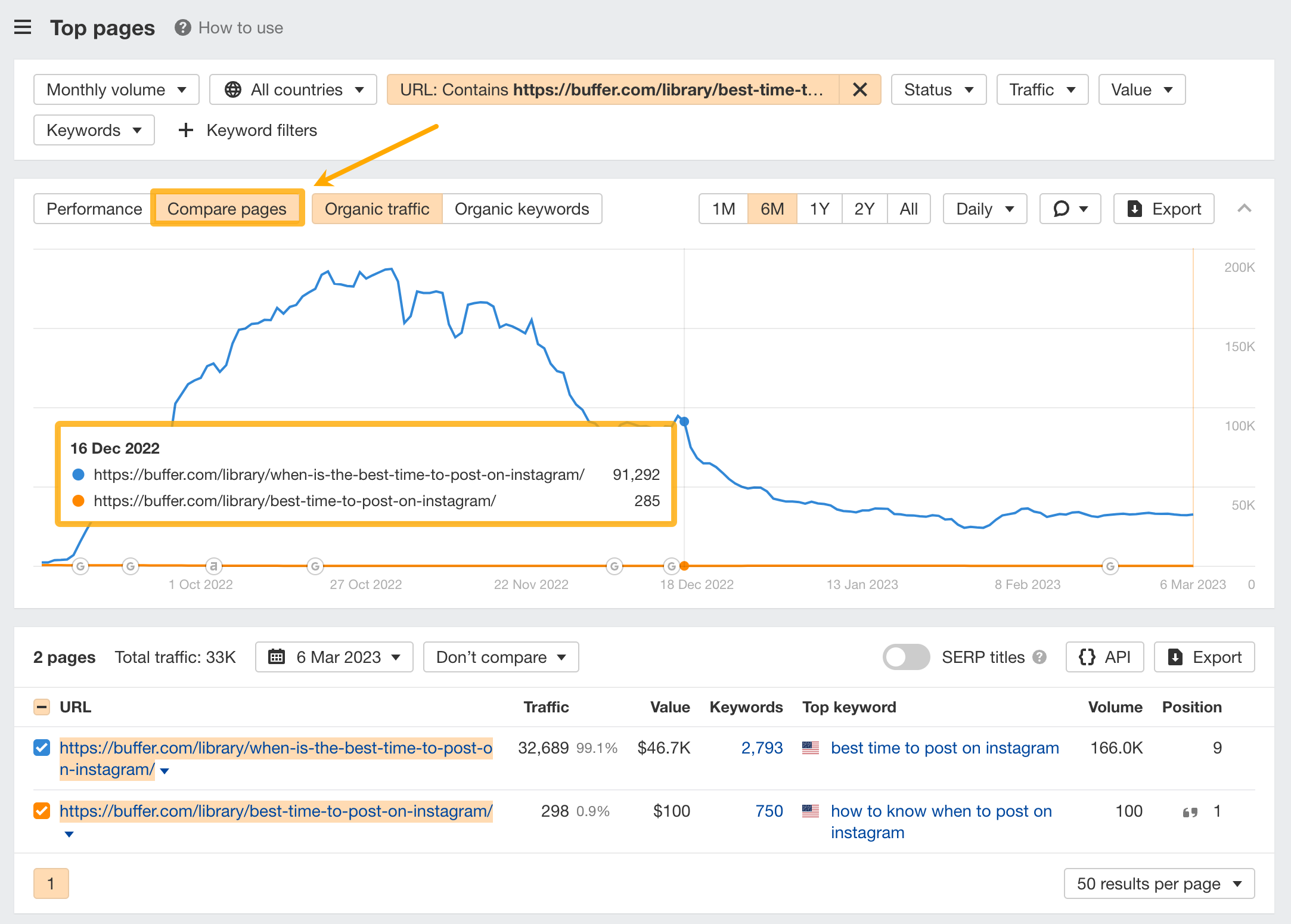 You also need to check the search intent and SERPs to see if Google is ranking similar pages. If so, they can be consolidated.

Keep learning
Learn more about the Top Pages report in this tutorial:
Or check out some of our tutorials on the Ahrefs blog:
Next lesson
Paid keywords