Site Explorer 2.0
How to use the Paid keywords report
Video for this tutorial is coming soon.
The Paid keywords report shows you the keywords that a target website, URL, or subsection ranks for in the paid search results.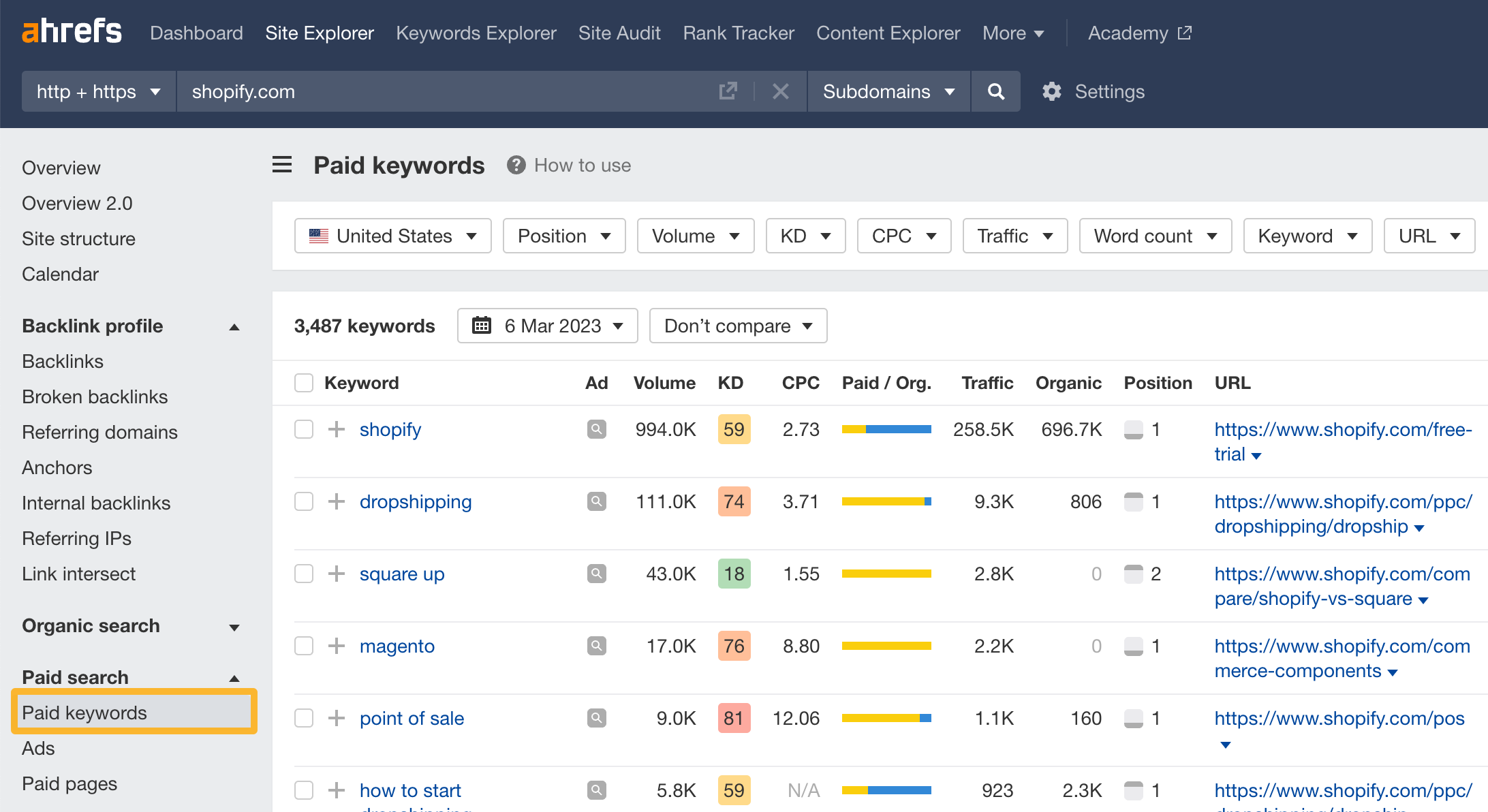 Here are some actionable use cases.
See the keywords your competitors are bidding on
Enter your competitor's domain and go to the Paid Keywords report.
For example, if we analyze asana.com, we can see they're bidding on 396 keywords in the U.K. alone.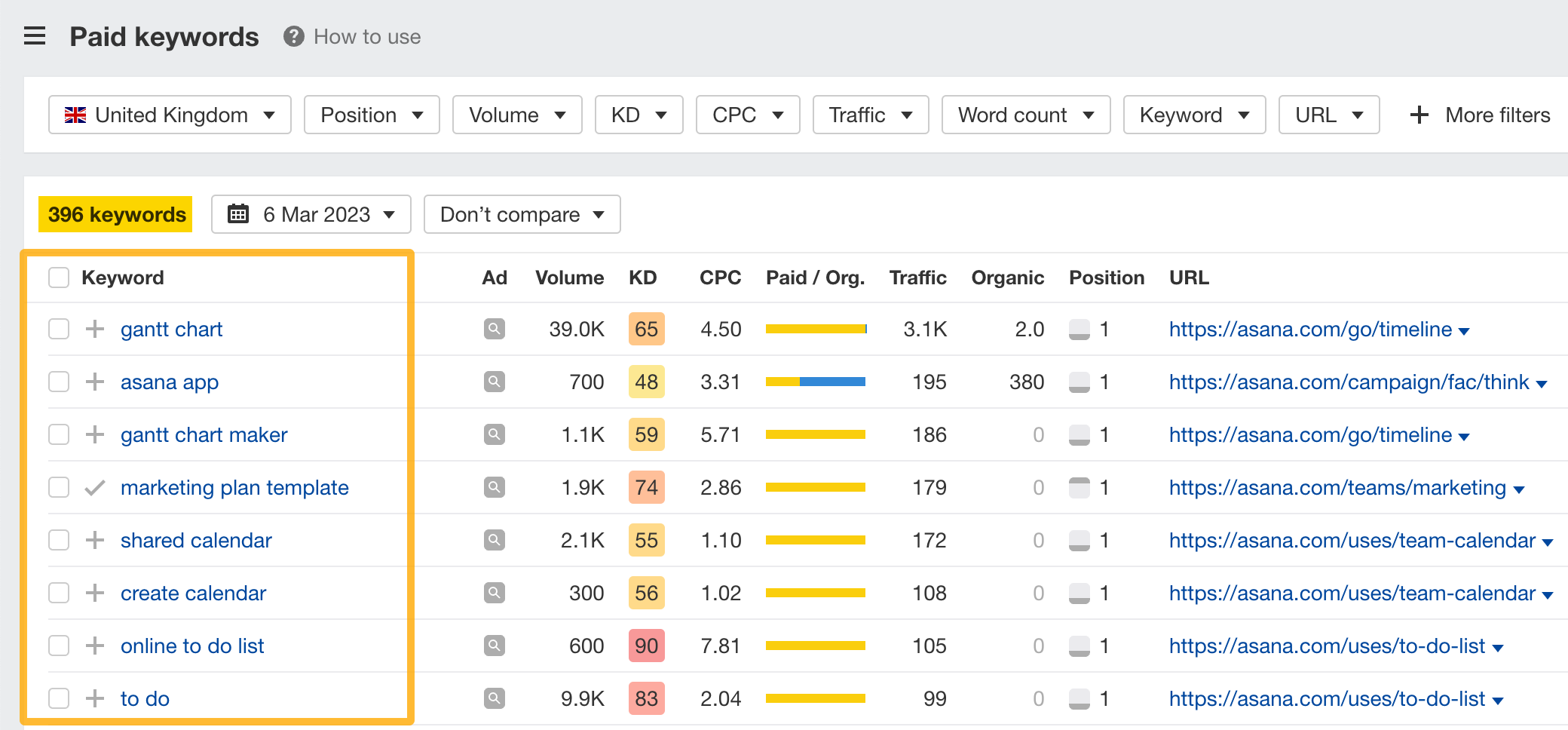 Since your competitors are paying for traffic from these keywords, it may indicate that they're profitable for them—and could be for you too.
TIP
See non-branded keywords using the Keyword filter. Enter your competitor's brand name in the Doesn't contain > Phrase match rule.

See the cost-per-click (CPC) for each keyword
The Cost-Per-Click (CPC) metric shows the average cost of a click on the paid search results for a given keyword. Use this to decide if it's worth bidding on given your current budget.
For example, the keyword "gantt charts" has an average CPC of $9.09 in the U.K., indicating that searchers are probably shopping for gantt charts tools.

See which keywords send the most paid traffic
Consider running ads for keywords that send the most traffic to your competitors.
For asana.com, the most lucrative paid keywords are "gantt chart", "asana app", and "gantt chart maker".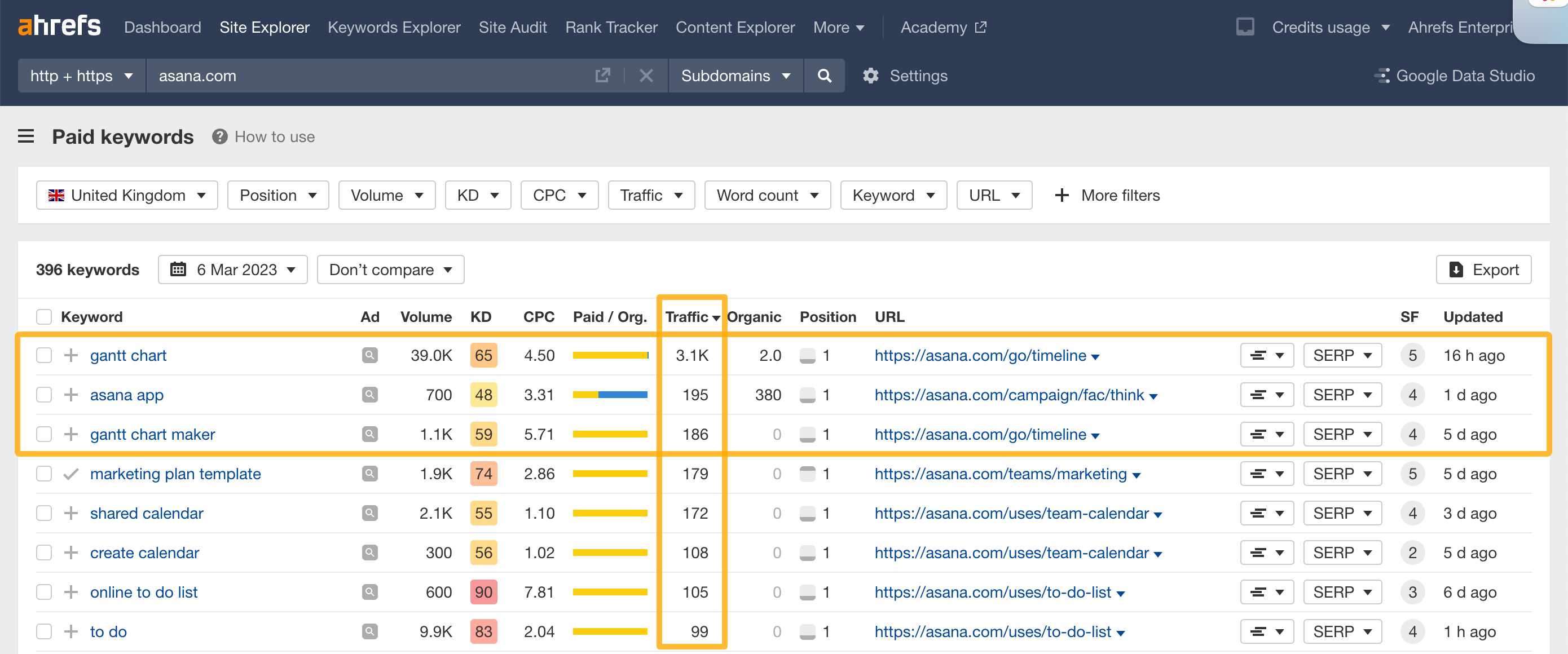 Understand the commercial value of a keyword
Open the Ad position history chart to get a visual snapshot of the pages that had Google Ads being run for your target keyword.
This can also inform you about the commercial value of a topic. In this case, "gantt charts" is quite an advertised topic.

See the exact ad copy your competitors are using
Find inspiration for your own ad copy. From the Ad position history chart, hover over the ad bar charts to see your competitors' ad copy.
TIP
If you're ranking organically for any of these keywords, you can also learn from your competitors' ad copy to improve your title tags and meta descriptions. This might help you get more clicks and generate more search traffic.
Learn more about crafting a good title tag and meta description here.
See the pages your competitors are sending paid traffic to
Find out which pages your competitors are sending traffic to under the URL column.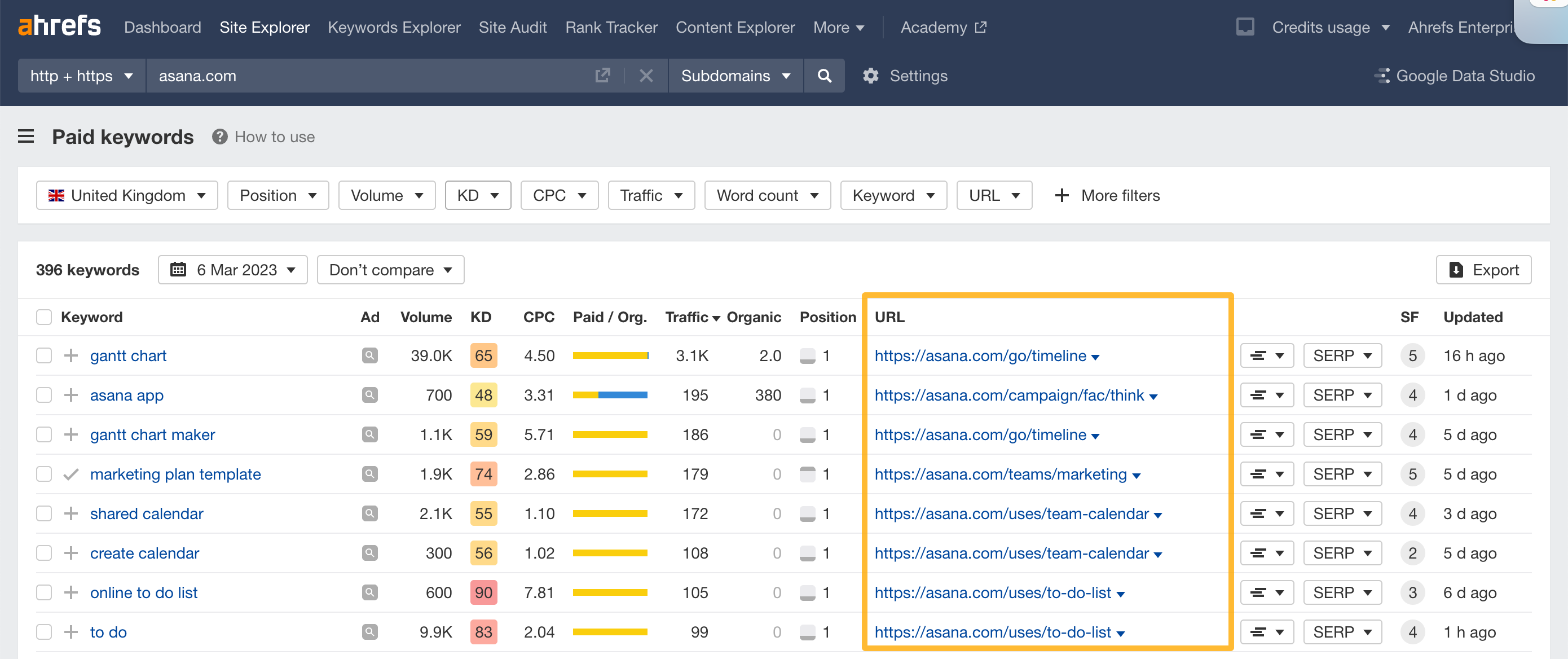 Click through to the URL to analyze their landing pages. This is a great way to find out what could be working for your competitors and find inspiration for your own landing pages.
See paid keyword metrics, ad copy and URLs from 170+ countries
Click on the respective flags to see how many keywords the target appears for in that country.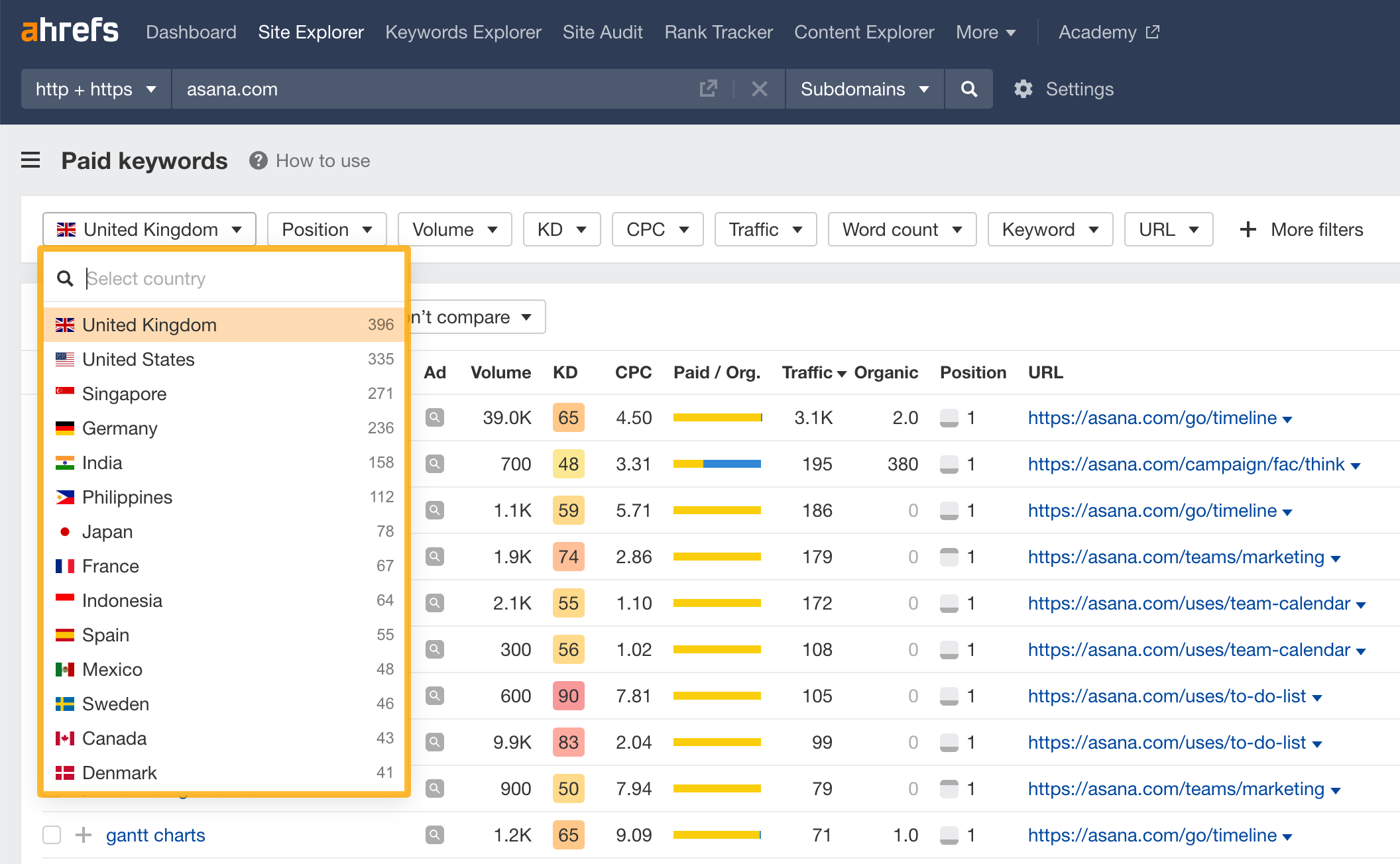 Find low-cost keywords to bid on
Find relevant, low-cost keywords that you can bid on. To do so, set the CPC filter to have a low maximum value (e.g., $1)
NOTE
Depending on your niche, you may need to play around with the max bid value. Low-cost keywords might be low cost because they don't have a lot of commercial value. Use your best judgment.
Find lucrative low-competition keywords to rank for
Set the KD filter to a maximum of 10 and the CPC filter to a minimum of $10. This will show low-difficulty keywords that may have high commercial value.
These keywords are often worth trying to rank for organically.

NOTE: The numbers suggested for the KD and CPC filters will vary based on your niche. Feel free to play around with them until you get a list of keywords you're satisfied with.
Keep learning
Check out some of the articles on the Ahrefs blog to learn about organic competitors:
Next lesson
Ads