Site Explorer 2.0
How to use the Backlinks report
The Backlinks report shows you all the backlinks pointing to a domain, URL, or subsection.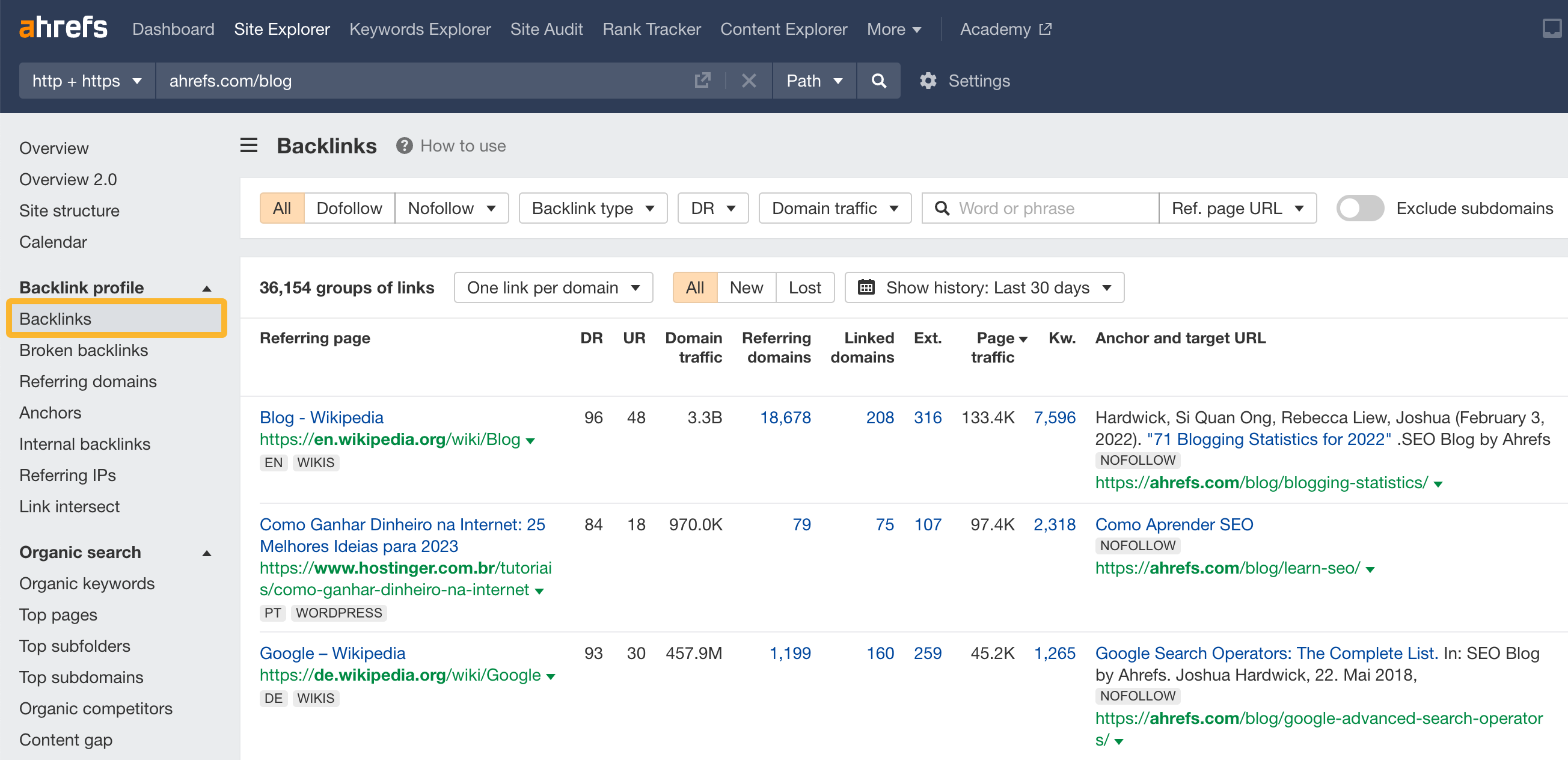 Here are some actionable use cases for this report.
See all your competitor's backlinks
Enter a competitor's website to see all their backlinks.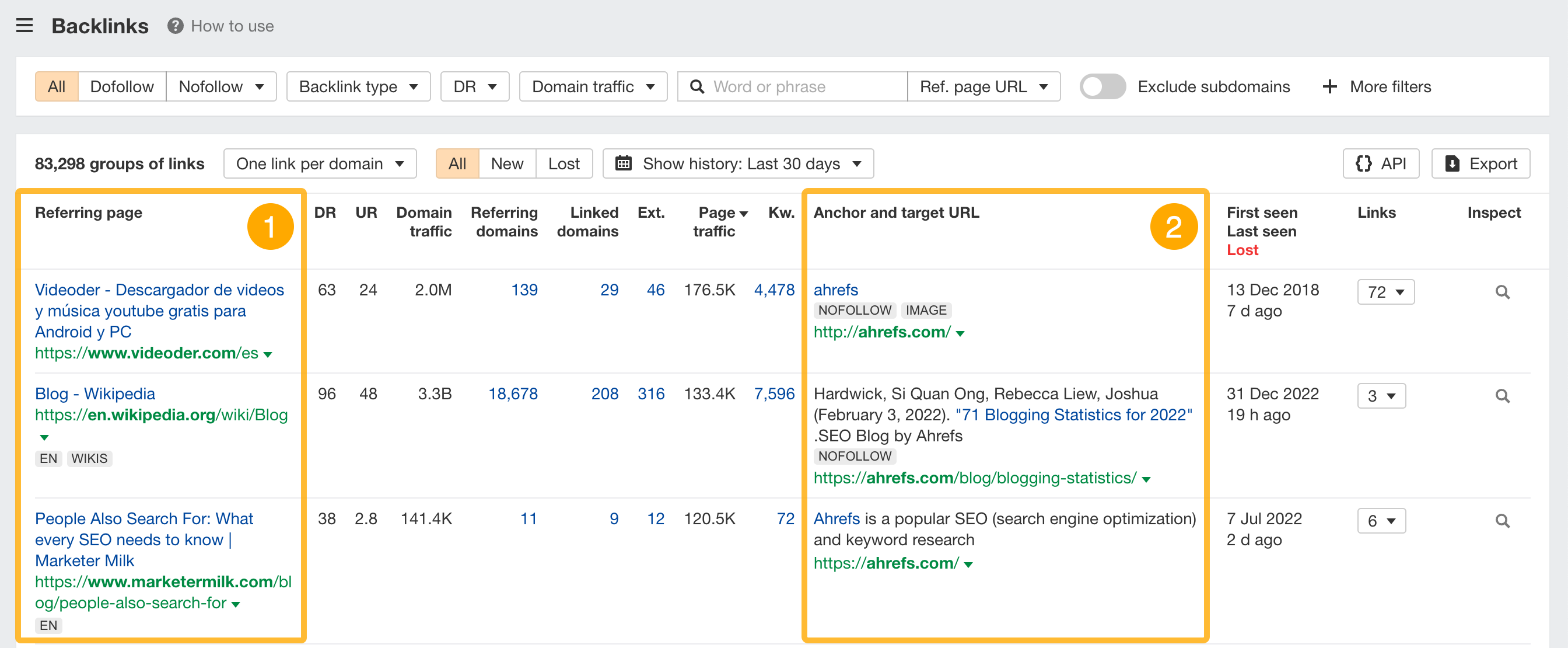 The page that the website is linking from (linking page) resides under the Referring page column (1) and the page that it links to (destination page) resides under the Anchor and target URL column (2).
You can also see view historical backlinks via the Show history dropdown.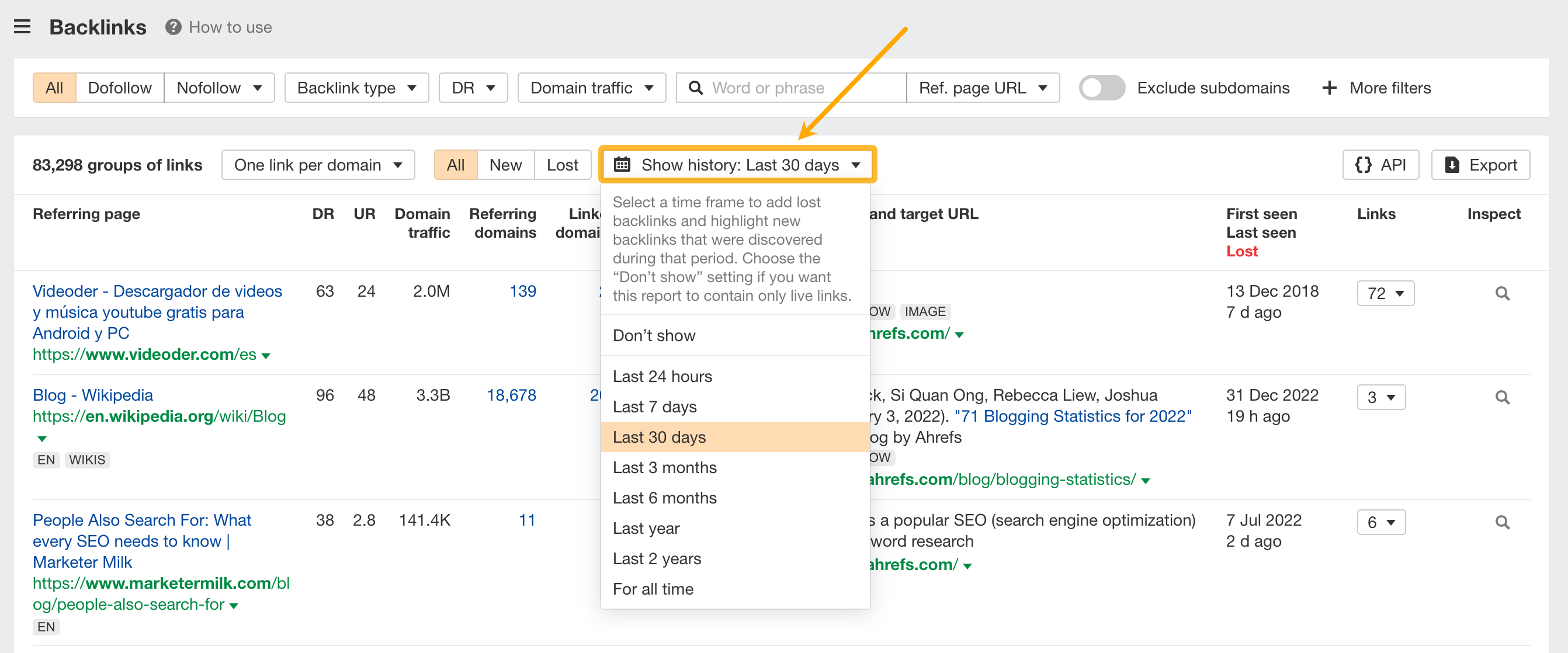 From here, we can apply all sorts of filters for different use cases.
See how many dofollow (followed) links your competitor has
Filter by link attribute and see all Dofollow links pointing to your target.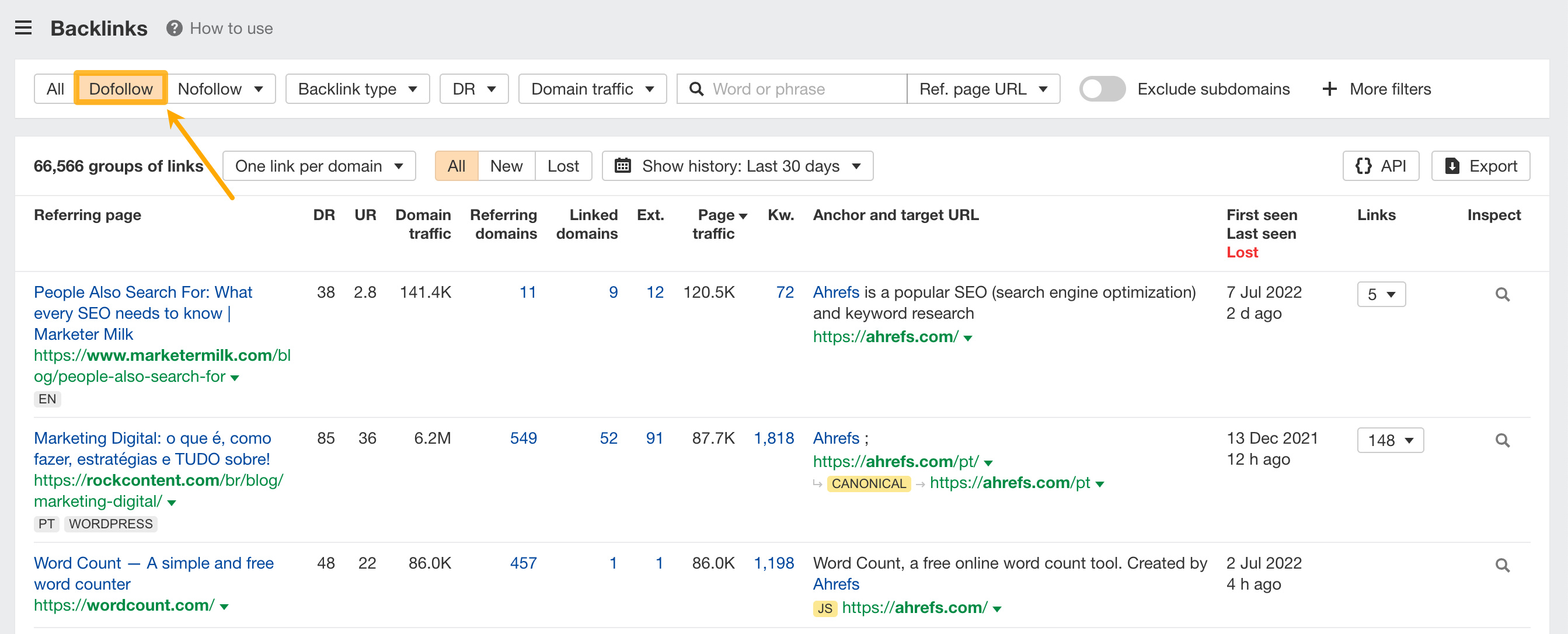 Dofollow links are important because they pass link equity to the destination page, which is one Google's most important ranking factors.
Alternatively, you can filter by other link attributes such as:
Nofollow - Instructs search engines to not follow the link, hence does not pass link equity.
UGC - Shows that a link is placed in user-generated content (like comments and forum posts).
Sponsored - Shows that a link is an ad, paid placement, sponsorship, or affiliate link.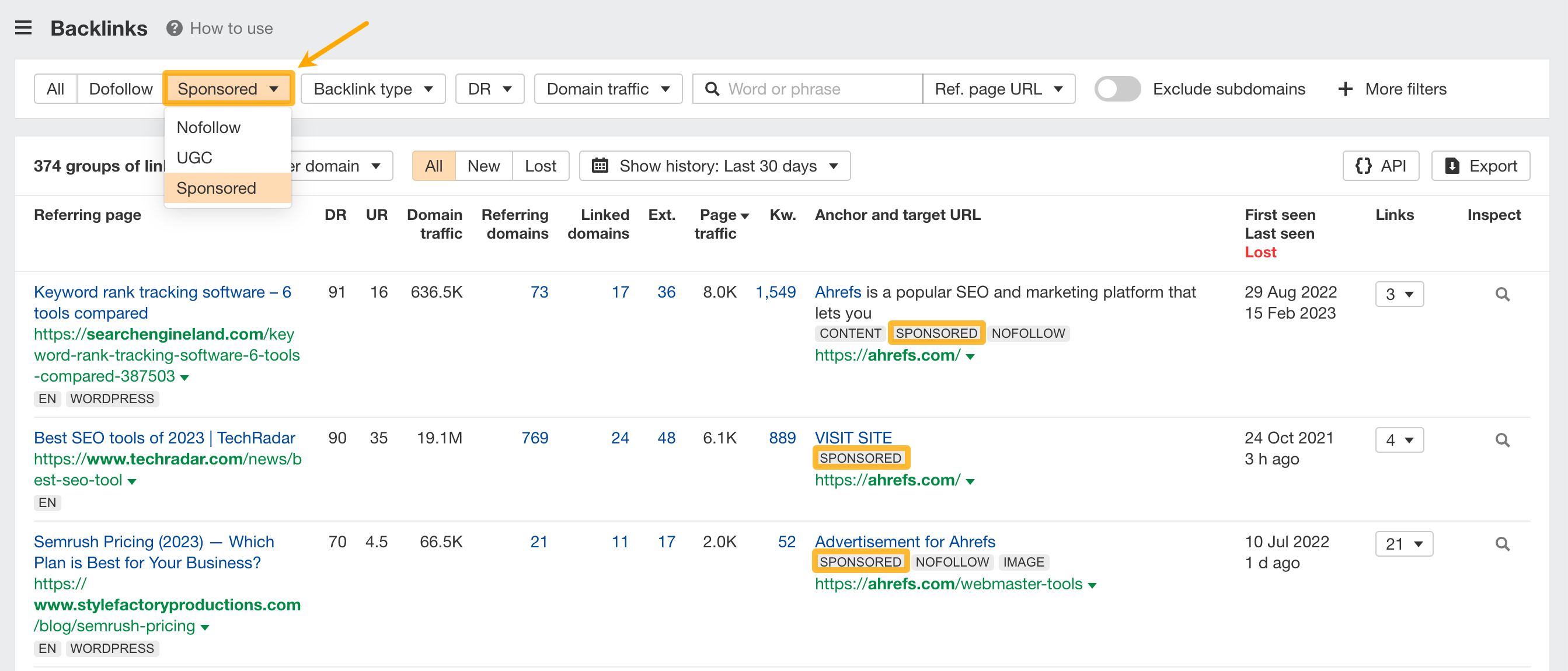 See only the "high-impact" links pointing at your competitor's pages
In general, high-impact links (also called "authoritative links" or "high-quality links") are links with consistent traffic AND authority. You can target them by setting these filters:
Domain traffic
DR
Exclude subdomains
In our example, we're looking at followed links from domains with a minimum DR value of 30, which generate at least 1,000 organic visits/month.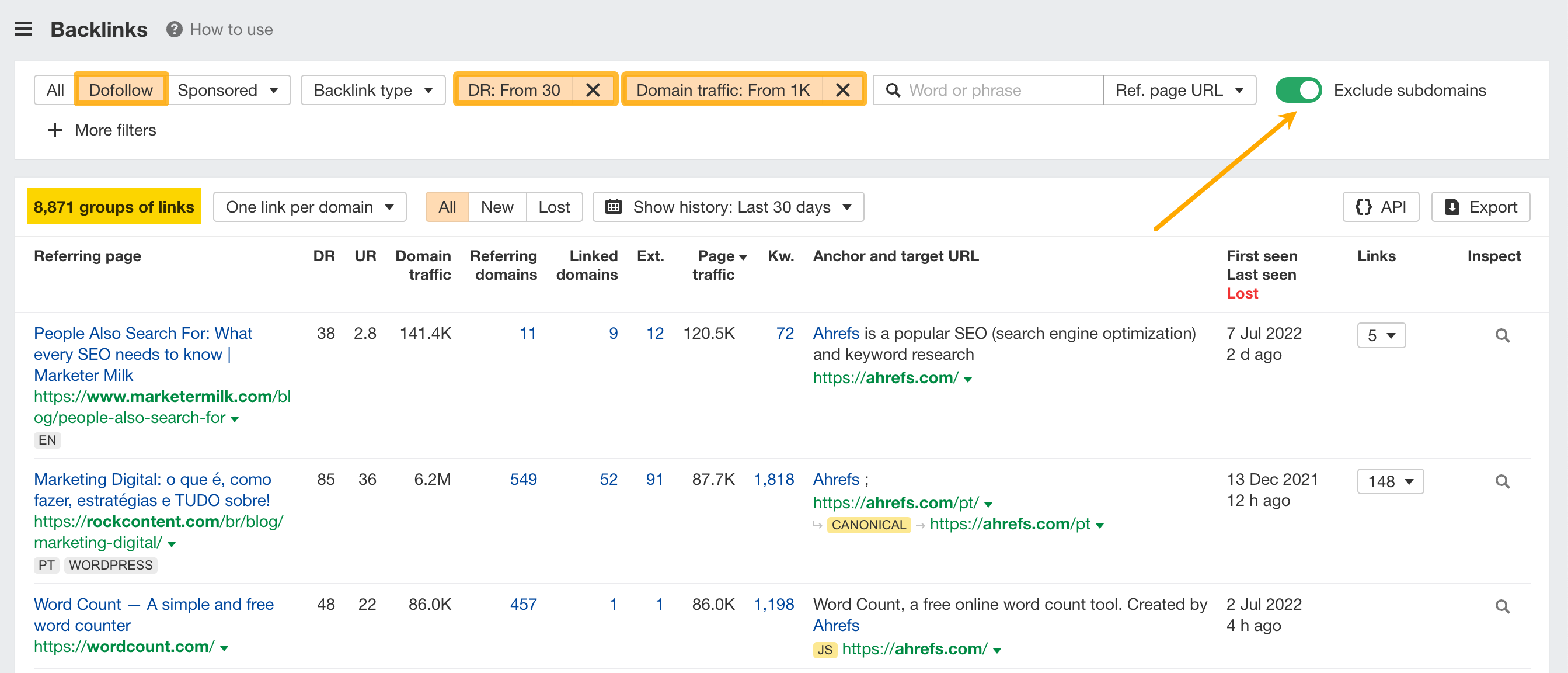 This should likely filter out most spammy and low-quality backlinks pointing at your competitor's website. From here, you can reverse engineer how your competitor has acquired links.
SIDENOTE
Applying these filters can filter out some perfectly good websites that currently do not drive consistent traffic.
Feel free to play with those filters until you are satisfied with the results you get.
See if your competition is proactively building links
Spot newly built backlinks by setting these filters:
Backlinks tab: New
Show history: Last 30 days
Status: Newly published/Link added
This will help you differentiate between new links that were added together with the page or to an already existing page.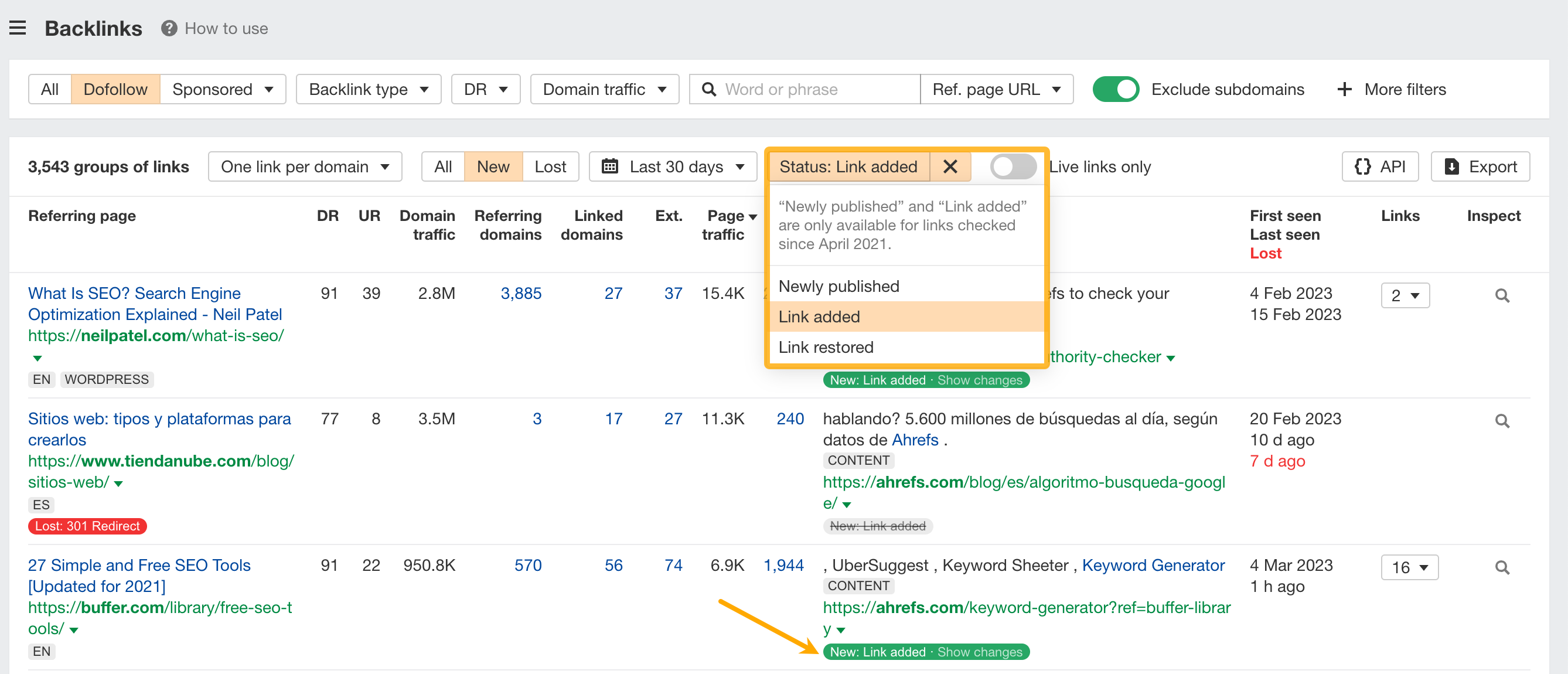 TIP
Set the Status to Link restored to see if a competitor is doing link reclamation. This will help you identify links that were lost, but then restored again.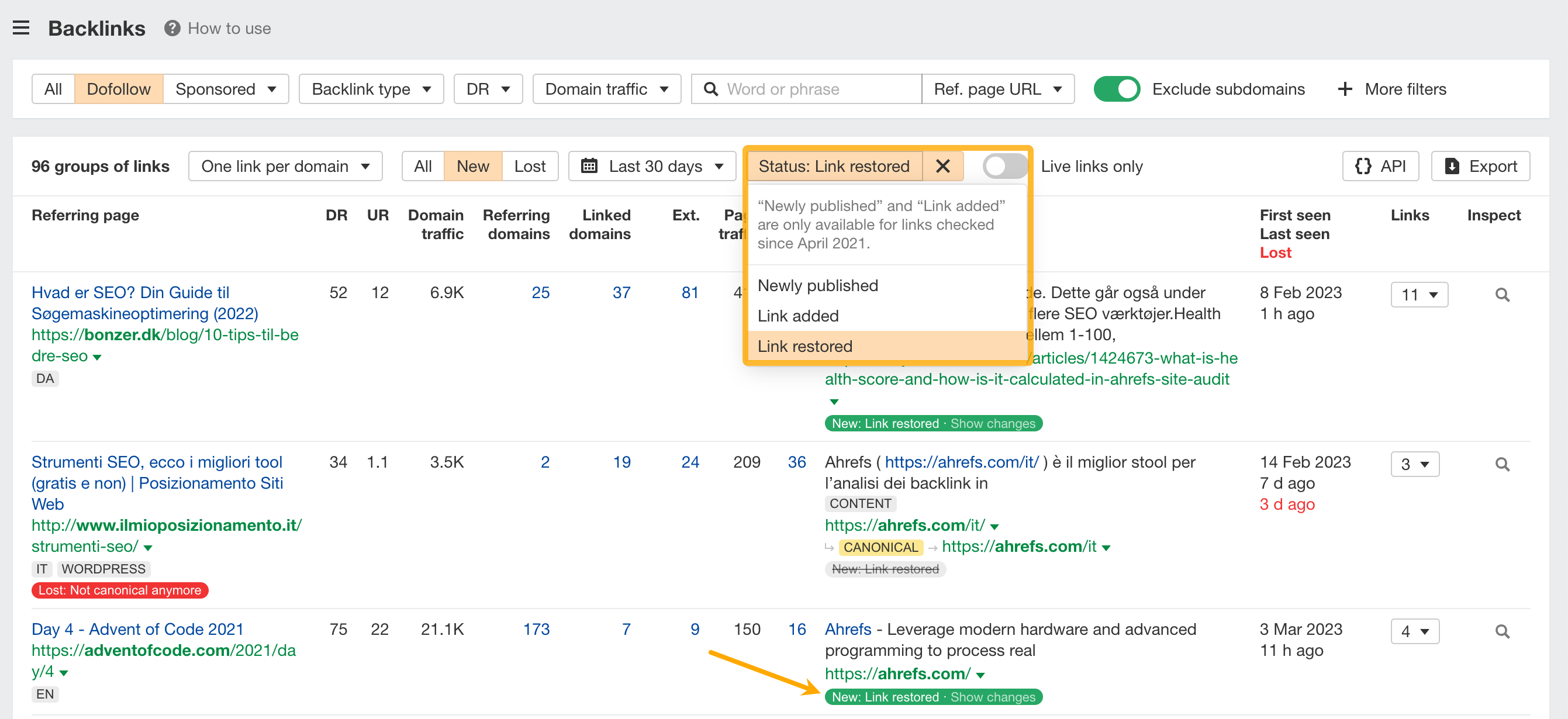 Figure out why your website lost links
Check the reason why your website lost links.
For example, if we set the Status dropdown to Noindex, we'll see backlinks from referring pages that are not indexed by Google. Such backlinks don't pass any link equity.
Usually, a noindex tag is used for specific reasons, like preventing search engines from crawling staging environments. Not removing it when pushed into production is a common accident.
If you see this might be the case, reach out to the webmaster to inform them about it.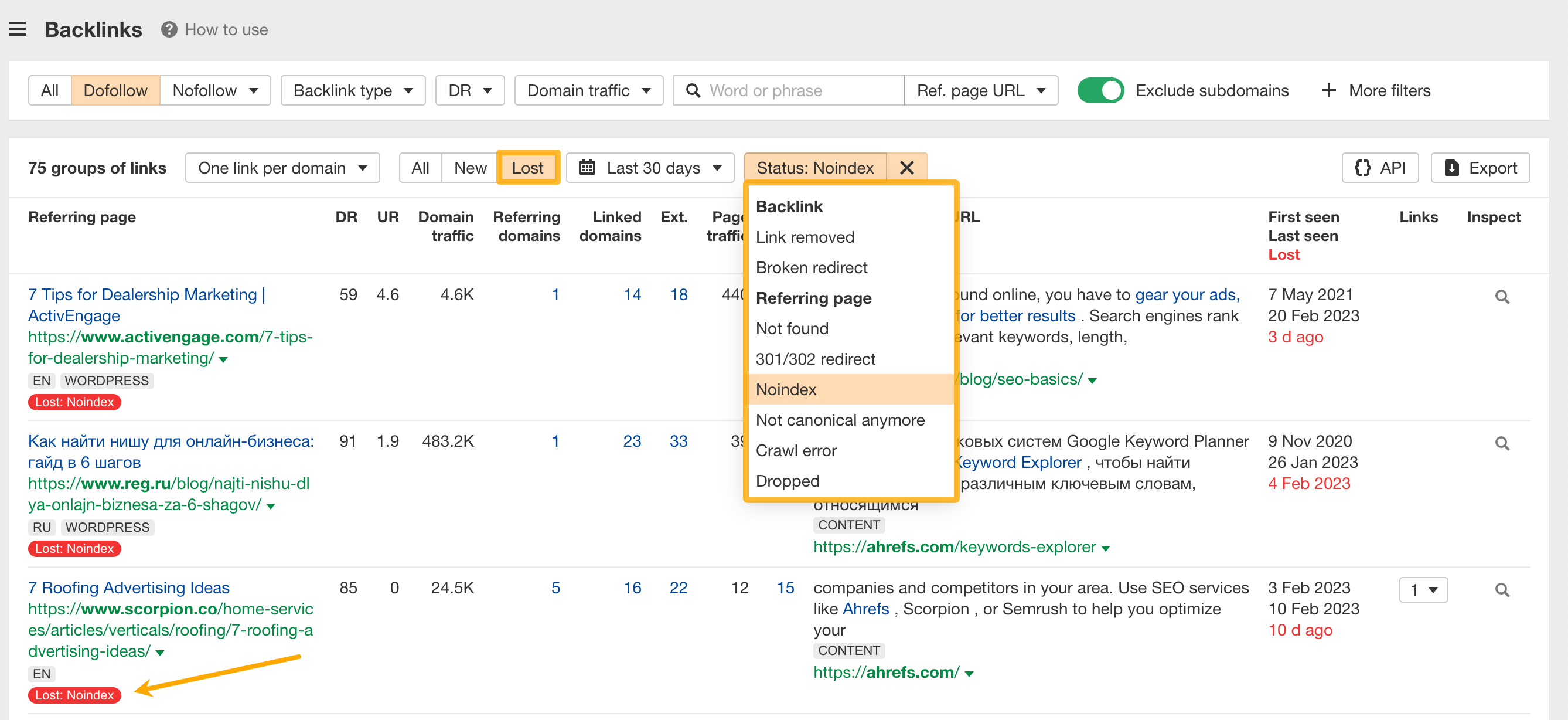 Build links for your website with images
If you've created unique images for your website (charts, graphs, infographics, etc.), chances are people are linking to them and not to the pages where they were initially featured.
Search for .PNG or .JPG in the Target URL to find and claim improper attributions.

Search competitor link profiles for specific link opportunities
Use the search to include or exclude backlinks with certain words or phrases in the:
Domain name
Referring page title
Referring page URL
Anchor
Anchor with surrounding text
Target URL
This is useful for mining specific link opportunities from your competitor's link profiles. Let's go through a few use cases below.

Find resources to get listed on
Resource pages are lists of curated useful industry resources, such as articles or tools.
Search for words like "resources" or "links" in the Referring page URLs to find resource pages from which your competitor has links.
If the website has listed your competitor as a resource, chances are they might want to list you too.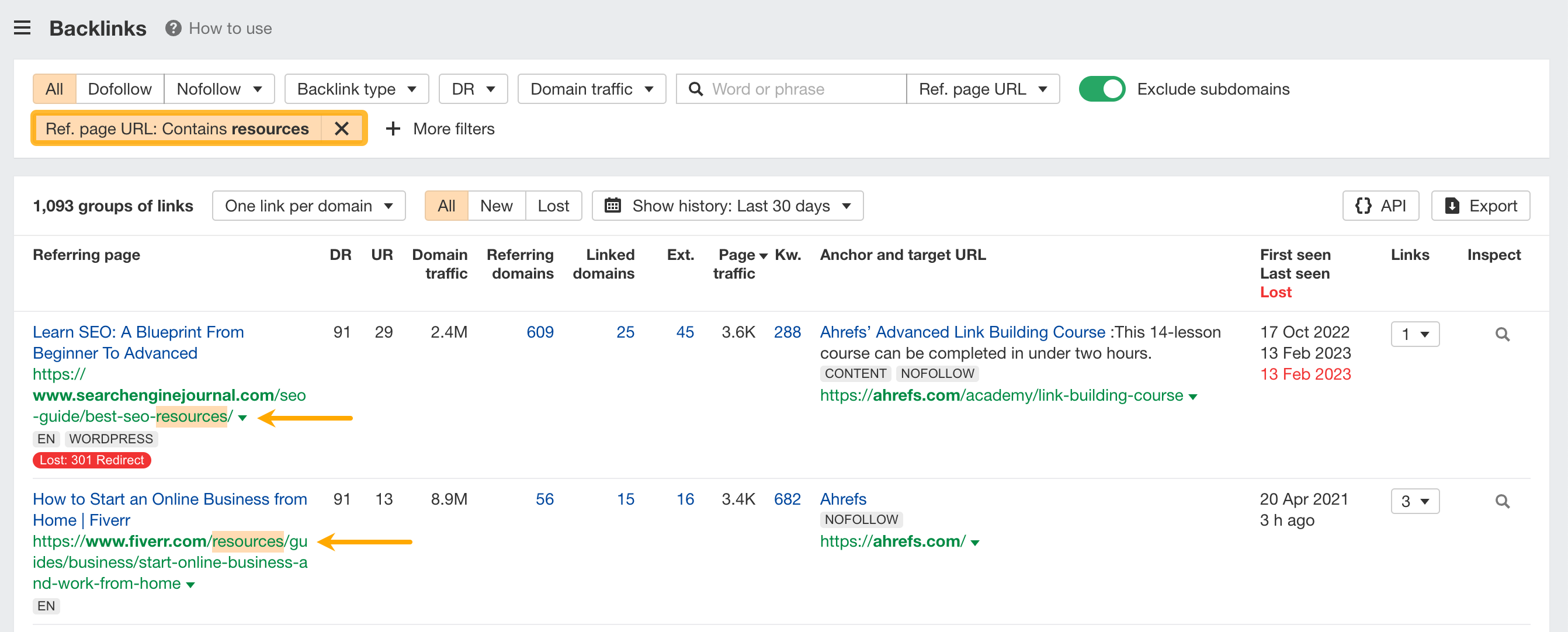 Learn more in this video:
Find podcasts to get interviewed on
Search for words like "podcast", "episode", "interview" in the Referring page title and/or Referring page URL to find podcasts to be interviewed for.

Learn more in this video:
Find guest posting opportunities
Search for words like "guest post" or "written by" in the Anchors or the Anchor surrounding text to find guest post opportunities.

Keep learning
Check out this video to learn how to do link building:
Or read some of the articles on the Ahrefs blog:
Next lesson
Broken backlinks