Site Explorer (Legacy Reports)
How to use the Content Gap report
Video for this tutorial is coming soon.
This report shows the keywords where one or more websites, web pages, subdomains (e.g., blog.domain.com) or subfolders (e.g., domain.com/blog/) rank but another target doesn't.
Below are some actionable ways to use this report.
See the keywords that your competitors rank for, but you don't
Enter up to ten competing websites in the top section, then your domain in the bottom section.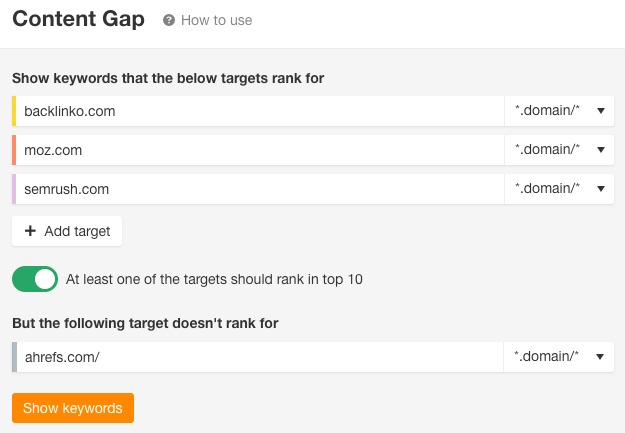 Sidenote.
The "At least one of the targets should rank in top 10" toggle is on by default to enhance relevance. Feel free to turn it off to expand the pool of results.
Hit "Show keywords".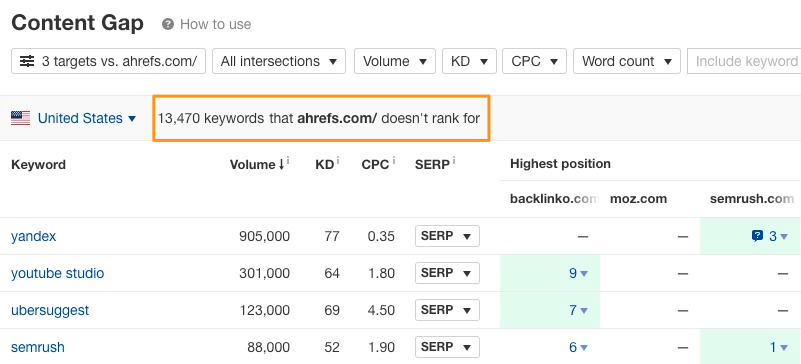 Right away, you can see that there are 13,470 keywords where at least one competing site ranks in the top 10, but ahrefs.com doesn't rank anywhere in the top 100.
Looking for hyper-relevant results? Use the "Intersections" filter to only show keywords where multiple or all competing websites rank.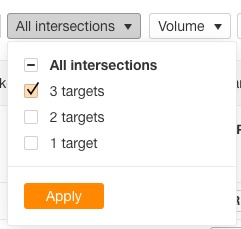 Pro Tip
Not sure who your competitors are? Click on the "Competing domains" report to see which websites rank for the same keywords as you.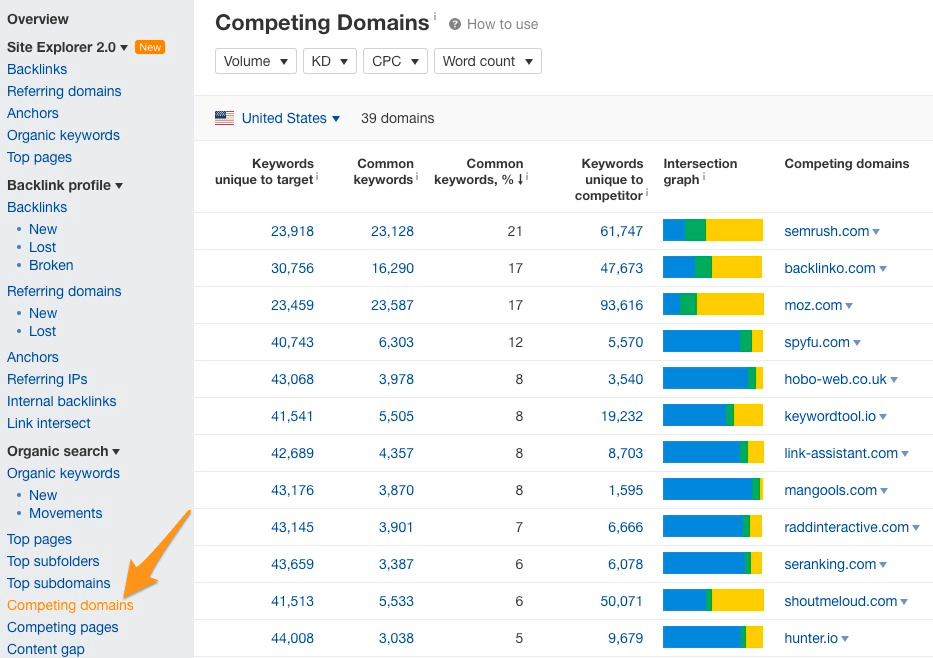 Fill content gaps in existing content
The more comprehensive your content, the more long-tail keyword variations it's likely to rank for. That means more organic traffic for your site.
You can use Content Gap to see which keywords other top-ranking pages rank for, but you don't. To do that, copy the URLs of a few relevant top-ranking pages and paste them in the top section, then enter your URL at the bottom.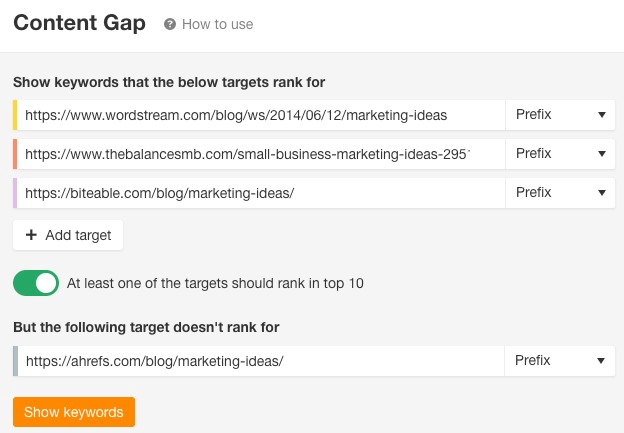 Here, we see other competing lists of marketing ideas ranking for 430 keywords where we don't: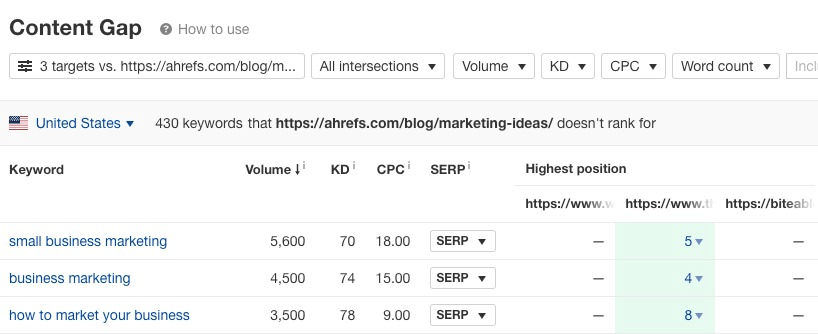 Some of these keywords clearly represent relevant subtopics that we neglected to cover in our content, such as:
publicity ideas
sales campaign ideas
We may want to include sections about these topics to increase the comprehensiveness of our article.
Create outlines for new posts fast
Targeting a particular keyword but have no idea what to write about? Use Content Gap to help uncover important subtopics that you may want to include.
To do this, copy and paste the URLs of a few relevant top-ranking pages for your target keyword in the top section. Leave the bottom section blank.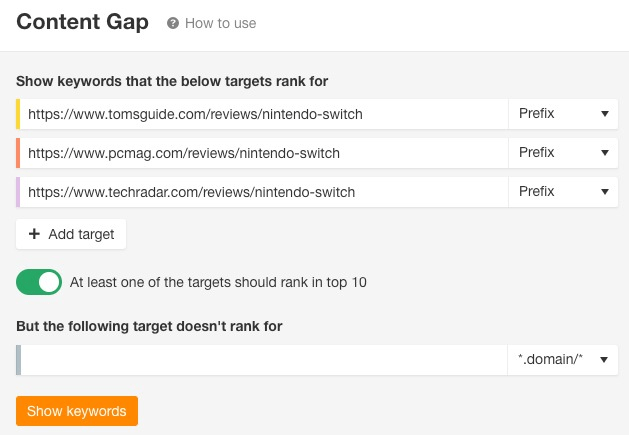 Hit "Show keywords".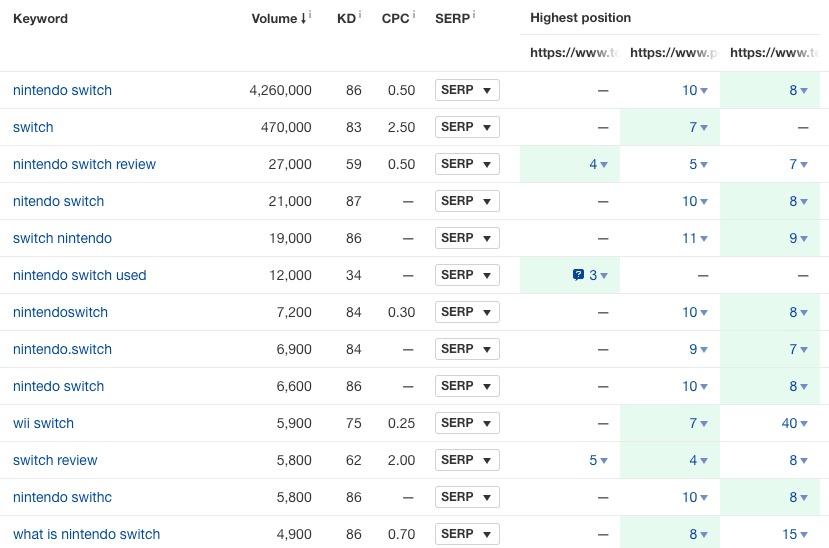 From this, we can infer that if you were to write a review of the Nintendo Switch, you would probably want to cover subtopics like:
How does the Nintendo switch work
Is the Nintendo switch worth it
Nintendo switch graphics
And so on.
IMPORTANT
Our advice here isn't to "sprinkle relevant keywords throughout your post" but rather to sift through the Content Gap report looking for keywords that infer topics. You should then write about those in your content to increase its comprehensiveness and "topical relevance."
Keep learning
Check out this video to learn how to do an effective content gap analysis:
Or check out some of the articles on the Ahrefs blog to learn about keyword research and content creation:
Next lesson
Best by links